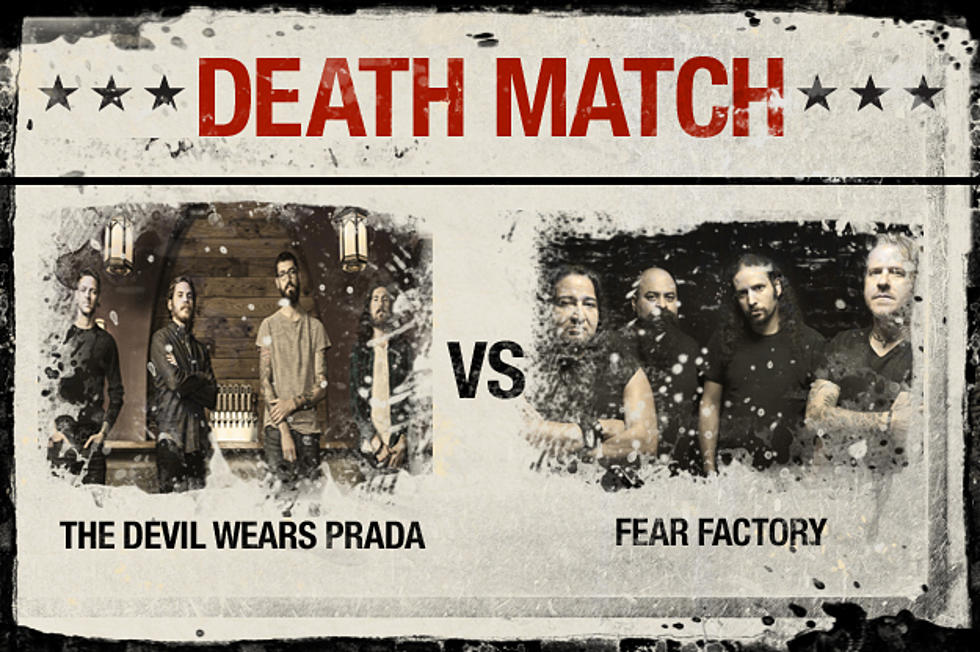 The Devil Wears Prada vs. Fear Factory – Death Match
Rise / Nuclear Blast
Congrats to the Devil Wears Prada for defeating Children of Bodom in our latest Death Match. This gives TDWP their first win of a potential four-victory series, which will result in a Death Match Hall of Fame induction.
Challenging the Devil Wears Prada for their Death Match throne is veteran metal band Fear Factory. From the band's ninth studio album, Genexus, Fear Factory enter the Death Match arena with "Regenerate." Fans have been going nuts for the album since it was released earlier in August and the reaction to "Regenerate" has been extremely positive, as can be seen in its YouTube comments section.
Will the Devil Wears Prada keep their space travels going with "Alien" or can Fear Factory take over with "Regenerate"? Your votes will decide. Choose your favorite track in the poll below and get the winning band all the way to the hall!
(This Death Match ends on Wednesday, Sept. 2 at 10AM ET. Fans can vote once per hour! So come back and vote often to make sure your favorite song wins!)
The Devil Wears Prada, "Alien"
Fear Factory, "Regenerate"
Rules of Death Match
Two bands fight to the death each week. Fans can vote once per hour. The triumphant band goes on to complete in the next Death Match. If a band wins four straight Death Matches, its song will be honored as immortal in the Loudwire Death Match Hall of Fame.