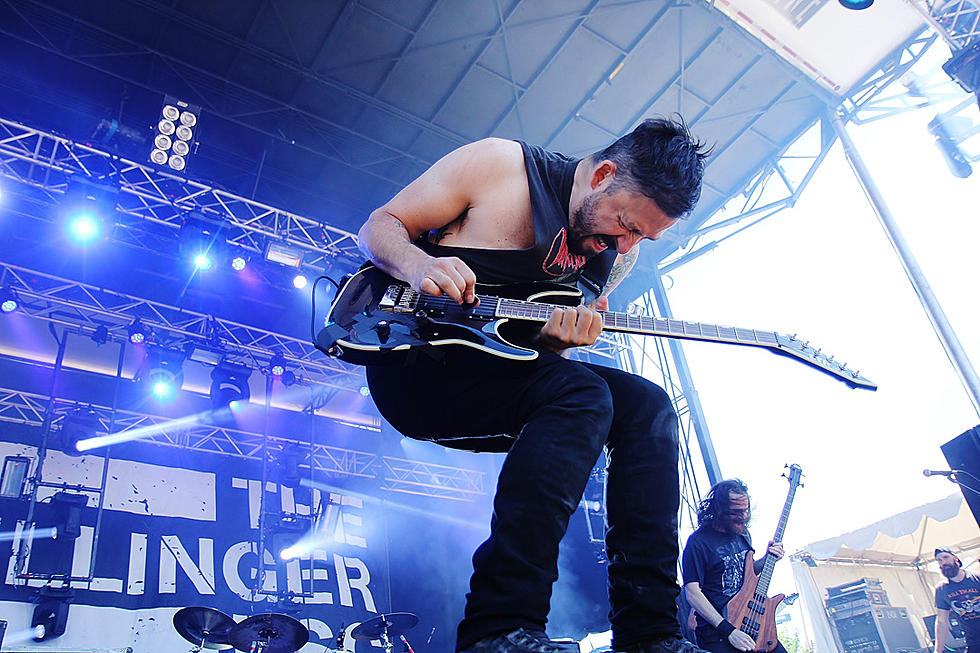 The Dillinger Escape Plan to Take 'Extended Hiatus,' Reveal More 'Dissociation' Album Details
Liz Ramanand, Loudwire
Say it ain't so! The Dillinger Escape Plan have announced their upcoming album, Dissociation, will be their last before taking an "extended hiatus."
Just last week, Dillinger invigorated fans by announcing the Oct. 14 release of Dissociation and premiering the track "Limerent Death" on BBC Radio 1's Rock Show with Daniel P. Carter. You can hear the song below. "['Limerent Death'] is one of my all-time favorite DEP songs," says guitarist Ben Weinman. "I feel that this song is one of the rare instances where all the members are feeling, and conveying, the same energy from start to end. A sharp focused dagger plowing its way through thick heavy walls."
However, in a new press release titled "Is this the end of The Dillinger Escape Plan?!", the experimental juggernauts teased an "extended hiatus." It will apparently come after Dillinger's short batch of August tour dates, their set overseas at Reading and Leeds, and a full-on live assault of the U.S. which has not yet been fully detailed.
Update: In a new interview with Noisey, Weinman confirmed that Dillinger will call it a day after one more run around the world. "We are going to do the cycle for this album and that's it," the guitarist says. "But there are a lot of things that go into this cycle. We have a full U.S. tour that we'll be doing in the fall and then we'll be doing a massive tour in Europe in the winter, and that will probably take us towards playing other areas like Australia or wherever we have to hit. Then I'm sure we'll come back around and hit summer festivals and figure out what our very last shows will be around that time."
During Ben Weinman's recent visit to our studio, he told us about the sound of Dissociation. "I'm never objective enough to actually say anything about the music, especially at this part of the process because I'm too close to it," Weinman said. "It's like asking someone if they're crazy. If they're crazy, they're gonna say they're not crazy. I will say, though, that there's elements of the process that remind me of the Calculating Infinity time. This record, we had our hands on every single thing. There's also something different about the sound of it. It doesn't sound like anything in our catalogue production-wise. Calculating didn't sound like any record I had ever heard, it sounded cold and weird. In that respect, it's kind of a bookend to Calculating."
In the interim, you can check out the track listing for the upcoming album as well as their August North American tour dates below. And be sure to circle Oct. 14 on your calendar for the release of Dissociation.
Dillinger Escape Plan, Dissociation Track Listing
1. "Limerent Death"
2. "Symptom Of Terminal Illness"
3. "Wanting Not So Much As To"
4. "Fugue"
5. "Low Feels Blvd"
6. "Surrogate"
7. "Honeysuckle"
8. "Manufacturing Discontent"
9. "Apologies Not Included"
10. "Nothing To Forget"
11. "Dissociation"
Dillinger Escape Plan, "Limerent Death"
Dillinger Escape Plan North American Tour Dates
8/5 -- Toronto, Ontario -- Hard Luck
8/6 -- Montreal, Quebec -- Heavy MTL
8/7 -- Boston, Mass. -- Great Scott
8/8 -- Brooklyn, N.Y. -- Rough Trade
8/9 -- Washington, D.C. -- DC9
8/10 -- Philadelphia, Pa. -- Kung Fu Necktie
8/13 -- San Francisco, Calif. -- Thee Parkside
8/14 -- San Diego, Calif. -- Casbah
8/15 -- Los Angeles, Calif. -- The Hi Hat
8/16 -- Santa Ana, Calif. -- Constellation
See The Dillinger Escape Plan in the Top 50 Hard Rock + Metal Debut Albums
10 Infamous Onstage Lunatics