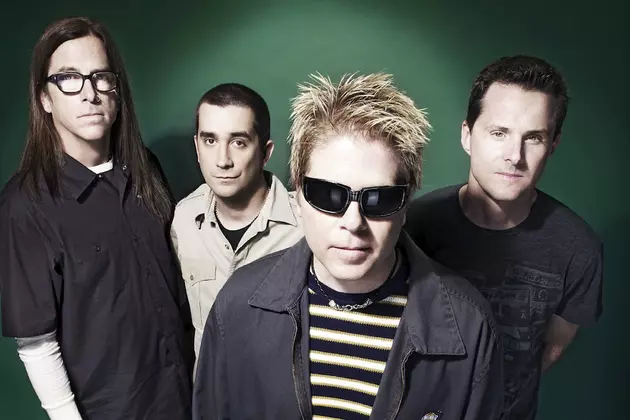 The Offspring Catalog Sells to Round Hill Music for $35 Million
Columbia
"I won't pay, I won't pay ya, no way" was not Round Hill Music's mindset when they decided to acquire nearly the entire Offspring catalog for a staggering $35 million. The purchase includes all of the band's records and a greatest hits album, though Epitaph will still retain ownership of the band's best-selling album, Smash. The Columbia portion of the catalog went up for purchase in August of 2015 and now the punk rock icons' legacy finally has a new home.
"We felt that having the right caretaker for our catalogue, both the masters and the publishing, is incredibly important to the future of our career," said frontman Dexter Holland in a Billboard exclusive. He added, "Round Hill understands that we are continuing to perform and record and that the visibility of our past is critical to our future." The past includes 17 million albums sold across nine studio albums and the aforementioned greatest hits record. Though the catalog has only yielded $3.1 million in gross profit, making the acquisition price appear high, diversifying and owning content as streaming revenues increase is vital to both newfound and continued success in the music industry.
Round Hill chairman and CEO Josh Gruss commented, "We have some masters like the Bush catalog and records from developing artists like London Souls and Nigel Hall, but we wanted more exposure and you won't get a more high-quality catalog than the Offspring." Noting the expanding musical spectrum, he continued, "Also, we didn't have some American punk rock in our publishing portfolio, and this acquisition helps broaden the genre representation."
Round Hill Music is entering its fifth year of business and has already offloaded about $100 million in acquisition investments, totaling around 15,000 songs with a worth of approximately $140 million.
The Offspring have slowly been working on their newest album, having released the single "Coming for You" back in early 2015. In July of last year, guitarist Noodles said, "We want to do a record, that's the plan, but it's taking forever." Speaking about the single, he stated, "We released this song because we felt good about it immediately. It was one of the first one or two songs we finished, so we were like, 'If we wait on this, it might be another year, year-and-a-half. Why don't we just put it out and see what happens?'"
See Where the Offspring's Smash Ranks Among the Top 25 Punk Albums of All Time
See the Offspring's Dexter Holland Make a Movie Cameo