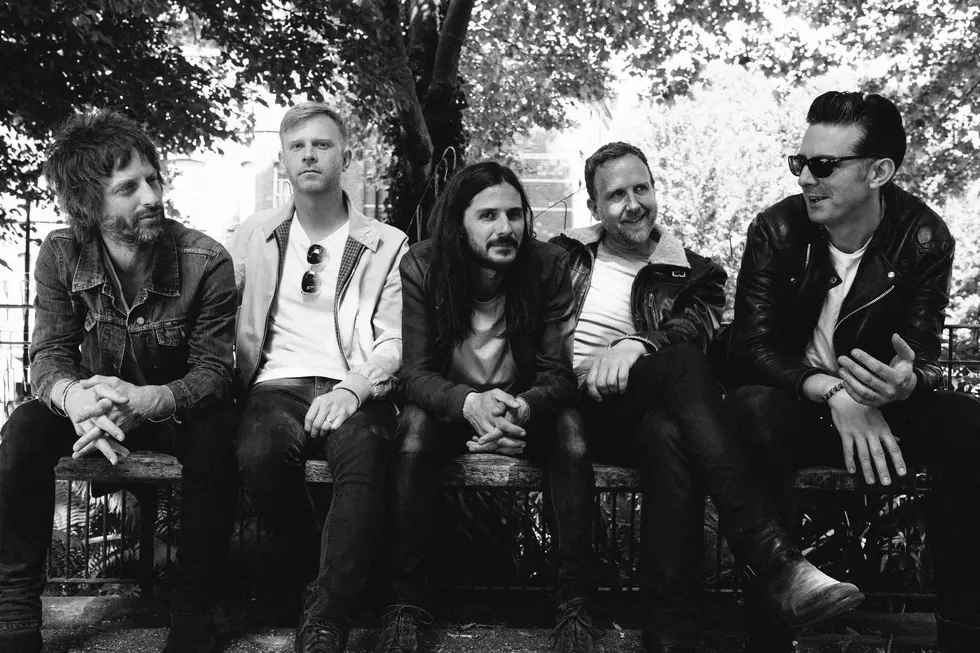 The Temperance Movement: An Older Sound for Newer Generations [Interview]
Rob Blackham
The Temperance Movement formed as a blues-rock band in the U.K. in 2011, comprised of session musicians with a yearning to call their own shots and create on their own music. They've released three albums starting with their 2013 eponymous debut; their most recent is A Deeper Cut, which was the first to feature new members Matt White (guitar) and Simon Lea (drums). The origins of their sound date back over half a century now, but they're not just a retro act, weaving these older sounds into a modern fabric rife with current alt-rock leanings and even some twangy country flair (at ease, rockhounds).
Opening for Deep Purple and Judas Priest (two bands with nearly 100 years of collective experience) seemed only natural. The tour has drawn considerably more baby boomers than pubescents and The Temperance Movement's style and stage wear wasn't far off from what some of those boomers wore in high school. Even so, this isn't a band resigned to nostalgia with plenty of avenues to pursue in terms of engaging new fan bases.
As Judas Priest closed out the main portion of their set with "Painkiller," I was taken backstage where I could still hear Rob Halford belting out piercing falsetto screams at the age of 67 in as convincing a manner as he did in the studio nearly three decades ago. Upstairs, The Temperance Movement singer Phil Campbell (who was quick to offer up a serving from a bag of nacho chips) and Matt White await, having already done their part to entertain the crowd at Northwell Health Jones Beach in Long Island, New York, and that is where our conversation begins.
You're a younger band and a lot of younger bands want to capture the new crowd, but if you look at what some of the rock bands like Greta Van Fleet are doing, they've got the older demographic too. This Deep Purple and Judas Priest tour seems like a great way for you to get exposure to an older audience who are still purchasing physical albums.
Phil Campbell: Sometimes. The longer than you play, you get younger fans. In Europe, there are a bit younger fans, but we've never really had the pop, young audience. That's just because of the music that we play because it appeals to people who are [in their] 30s or 40s or 50s.
Especially those who may have grown up with blues rock.
Phil: Grew up with that and maybe have seen the Stones a few times. They've been to some great venues. They've seen some great gigs. They're older people and they love rock 'n' roll music. So, younger people play rock and roll, you get that, you get older people coming to see you because of the sound.
Matt White: But you're also getting 18-year-olds coming to the gig, whose parents were listening to Soundgarden in the '90s or Pearl Jam in the '90s and they're growing up with that record collection that belongs to their parents. So it's kind of coming full circle again. We're kind of getting kids to come to see us, as well.
When the grunge era hit no band wanted to admit: "Yeah, we do like Led Zeppelin." Zeppelin were just out of fashion at that time. Do you think these kids are now going back through Soundgarden and those kinds of bands and finding their influences and working their way back?
Phil: Dave Grohl is honest enough to say that he dug Queen and a lot of '80s pop music that he loves. That's what he was listening to when he grew up. I think that it's cool - I think that the '80s sort of hair metal and rock, and also, some Don Henley and "The Boys of Summer" kind of thing, it's kind of involved in that kind of happy, quaint, kind of anthemic rock 'n' roll. It's cool. It's cool to listen to Def Leppard all of a sudden, you know what I mean? It's not because it's the most amazing music you've ever heard, it's just the kind of sound a bit.
I think your sound can kind of cross over a bit into the country audience too. You have a lot of that twangy guitar in the band. Have you played any country fairs or considered playing country festivals?
Phil: I'd love that. I mean, we haven't done that, but we certainly could. The country scene comes probably from The Black Crowes influence on some gospel, rock 'n' roll, soul music. We tend to accent it sort of like that. We have played a couple of songs where you may have said those are country songs or country rock 'n' roll songs.
Matt: There's quite a love for Americana in the band.
Matt: Various bands like Wilco, Ryan Adams, we all listen to bands like that going back to the '70s.
I want to talk about the new album, A Deeper Cut. You lost two original members throughout this process. Is the title an allusion to that?
Matt: Probably in the lyrics. It hurt a little bit. The band became a different band so the music reflects that as well. Matt brings different influences, playing the guitar different than Luke did. He's got his Queens of the Stone Age and kind of Smashing Pumpkins influences that he just brings into the music.
I've read interviews where you talked about the struggles of replacing the members. You got Matt in the band and then one year later and you lost another member, but I feel like it solidifies the band. There are tests that a band has to go through — opening a big tour like this, doing your first headliner tour, etc., and very rarely does a band retain all its original members. Did you see this as a big test for The Temperance Movement?
Phil: It happens with a lot of famous bands. You get MKI, MKII, MKIII — it happens at the time.
Matt: The Black Crowes are a great example of that [with] lots of different members throughout [their career].
Phil: There was a lot of soul-searching that went on around the time of making [this new album] and it was just a band finding itself and what everyone was capable of doing, what everyone wanted to do and which direction we wanted to go and we had to look a little bit deeper for that. It didn't just happen naturally.
The pacing of this album is great. It starts off a little more intense and then flows into more solemn songs and you mentioned the gospel influence earlier. Was that part of your upbringing?
Phil: I think it is more that I liked Tom Waits because Tom Waits wrote a song on the piano that sounded like a hymn. It was a street hymn; it was a broken-hearted love song. It had the blues and gospel kind of chords.
It's kind of funny. If you watch some videos of Ritchie Blackmore, he kind of deconstructs some of his more classic riffs and he is like, "That was just a couplet from Jeff Beck and then I combine this part..." He just kind of brushes it off. If you go back and listen to some music from the '50s and '60s — I don't know if you are familiar with the Nuggets compilation, a lot of '60s rock. I was listening to that and would go, "Oh, that's where Alice Cooper got that part from" and you can pick out where these bands took one part and it's fun trying to trace the history and evolution of the bands like that.
Matt: I like that because I use to love the Peter Green era of Fleetwood Mac and I'd listen to a lot of compilations and a lot of live stuff. Honest to God, I could hear [The Beatles'] The White Album['s influence] which was made in the late '60s and it got a bit heavier and it was just because that's what they were listening to. Peter Green's Fleetwood Mac - they were out there playing heavier rock and roll. The Beatles just ripped them off [laughs].
Matt, what do you feel your biggest contribution is to The Temperance Movement - I know we talked about The Smashing Pumpkins, Queens of the Stone Age sound. How are you looking to evolve as a player on the material going forward?
Matt: It was quite a few years gap between me being in a band and working with people, so it's about regenerating that side of my musicality. I'm recording ideas every day. I do one at every venue and I just name it after the venue then at the end of the tour, it's some live ideas and they're all little jumping off points.
So what's coming up next for The Temperance Movement?
Phil: We've got to write and record a new record. We discovered that we have to be doing that. We have to be recording in January, so we're gonna take a little rest after these six weeks and then get our feet back down on the ground.
Matt: I can't wait to do it, but it's daunting when you're at the start of it but it's really exciting at the same time. It's nice to have a quick turnaround. It's less than a year since A Deeper Cut came out in the U.K., in fact only eight months, but we're already gunning for the next one.
Phil: We'll be doing demos this year in [drummer] Simon's little garage studio or something. We have to be that focused and we have to get it out next year — early next year.
Would you ever consider working with Luke as a producer? I know he left the band to pursue production.
Phil: I'd like that, but I don't know if anyone else would. There has to be an awful lot of trust and stuff - everyone would need to be on the same page. Maybe we just don't to it [laughs].
See all upcoming tour dates for The Temperance Movement here and follow the band on Facebook to stay up to date with everything they're doing. Grab your copy of their new album, 'A Deeper Cut' at this location.
Where Does The Temperance Movement's White Bear Rank Among the 20 Best Rock Albums of 2016?