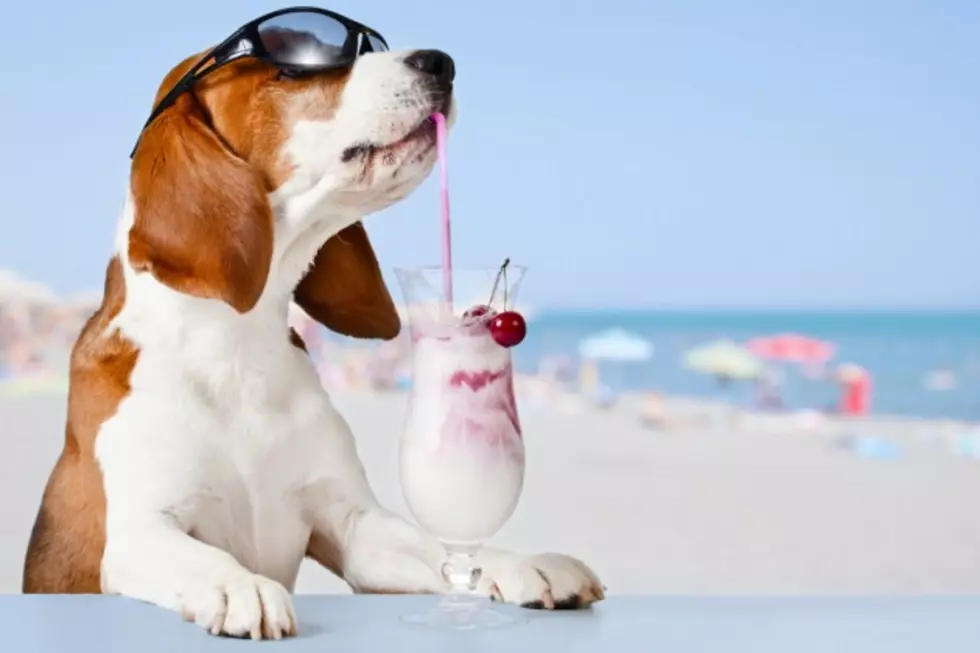 Thinkstock / Getty Images
Don Jamieson is a guest contributor to Loudwire. He is the co-host of That Metal Show, which recently completed its 14th season on VH1 Classic. You can also catch Jamieson on the stand-up comedy circuit. Keep up with him at his official website or his Twitter page. Please note that Don Jamieson's opinions do not necessarily reflect those of Loudwire. Check out his picks for the Top 10 Songs About Dogs below:
I had a girlfriend who barked like a dog during sex. And it kind of turned me on. Until all the other dogs in the neighborhood started barking. Then I hit her with a newspaper.
Now all the dogs on this list aren't necessarily the kind that sit, roll over or try to jack one on your leg. "Dogs" can also mean a dude who's a player with the ladies, an unlikely winner or my favorite sexual position: doggie-style.
There's so many meanings to the word dog you could actually form the sentence: I went to the bar with one of my dawgs who's a real dog with the ladies and after getting dogged by all the hotties he picked up this real dog, brought her back to his place and did it doggie-style til he was dog-tired.
So let me be your dog whisperer while we check out these 10 canine classics:
10

Canine Chorus: "Wild Dogs fight to be free, wild dogs turn your back on me…"

New York state has produced many amazing musicians but two of the best were actually related: Ronnie James Dio and David "Rock" Feinstein of The Rods. This album has one of the coolest covers ever: the mythological 3-headed hellhound known as Cerberus who guarded the entrance to the Greek underworld. And you thought Air Bud was cool.

9

"King of the Underdogs"

Newsted

Canine Chorus: "I am the king, underdogs rise, I am the king, from the flames, I am the king, underdog prize…"

Former Metallica bassist Jason Newsted comes out of metal-retirement to form a new band and make an amazing comeback album. Insuring that absolutely nobody could turn down his bass.

8

Canine Chorus: "Summoning the hounds of hell to do my deadly deeds, in the magic pentagram I plant satanic seeds…"

I wish I had a dog to do my deadly deeds. Not that I have any deadly deeds. But it would be nice to know if I did, there'd be an obedient hellhound there when I needed it.

7

Canine Chorus: "Dogs of war no surrender, dogs of war I kill the defender…"

A dissertation on the spoils of war from Biff and the boys. Saxon are Denim & Leather, Heavy Metal Thunder and the History Channel all rolled into one classic British band.

6

Album: Earth A.D./Wolfsblood

Canine Chorus: "Got a hellhound dog, that hellhound's gonna rip your face off…"

1:17 of raw and mighty Danzig and co. Finally…a song I can last all the way through during sex.

5

Canine Chorus: "You're all the same, you're all to blame you're dogs…"

I don't care if Lemmy writes about dogs, cats, chickens, lions, tigers and bears, oh my. He could write about a g--damn parrot and it would still be f--kin' cool. Enjoy this thorough dissection of politicians from a man who should be President. If it wasn't for the fact that he's already a GOD.

4

Canine Chorus: "You best be up if you want some more, cause if don't you'll be shot, dog, dog, dog eat dog…"

Sung by the legendary Derek St. Holmes whose voice, to this day, is mightier than Uncle Ted's crossbow and has more boogie than a Mark Wahlberg movie.

3

Canine Chorus: "Let me take my thoughts away to think about another day…to be the Dogman…"

I'd love to be a Dogman. Think about it. Lay around the house all day, eat out of a bowl and top it all off by licking my own sack.

2

Canine Chorus: "Hey, hey, hey every dog has it's day, it's a dog eat dog, dog eat dog…"

It truly is a dog eat dog world these days. But a little AC/DC always makes it better. For those about to bark…we salute you!

1

Canine Chorus: "Hey, hey mama said the way you move gonna make you sweat, gonna make you groove…"

One of the most classic lines in rock is contained herein: "I don't know but I've been told / Big-legged woman ain't got not soul." I'm not sure if that's true but just to be sure, I'm going to have sex with Adele.