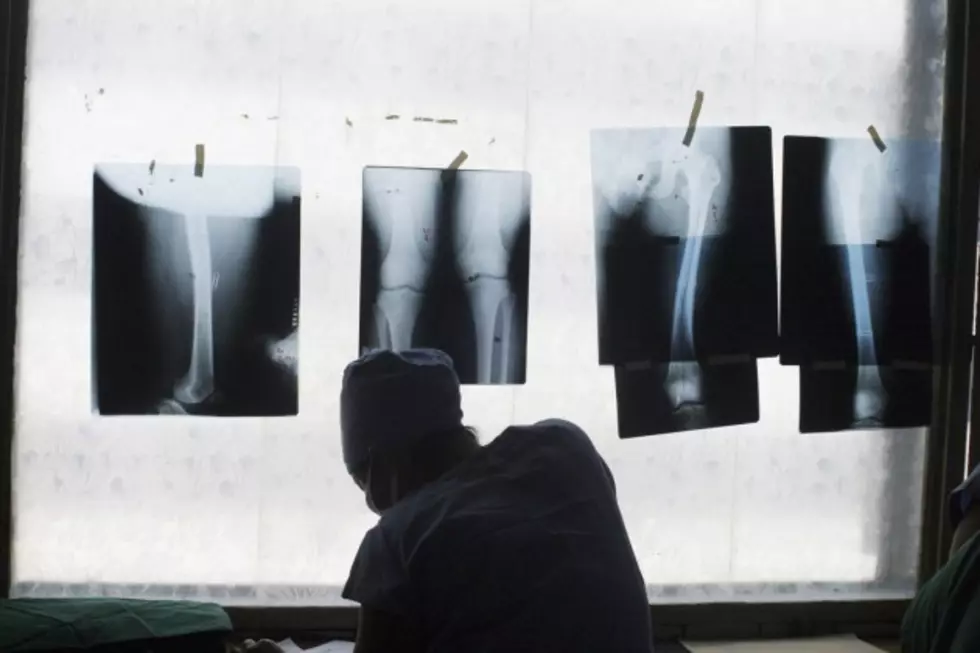 Top 11 Songs About Body Parts
Getty Images
Don Jamieson is a guest contributor to Loudwire. He is the co-host of That Metal Show, which airs Saturday nights at 9PM ET on VH1 Classic. You can also catch Jamieson on the stand-up comedy circuit. Keep up with him at his official website or his Twitter page. Please note that Don Jamieson's opinions do not necessarily reflect those of Loudwire. Check out his list of the Top 11 Songs About Body Parts:
As a sports fan, I'm always hearing about player injuries. Whether it's football, baseball, hockey or basketball it seems that every day there's a torn meniscus or rotator cuff here, Achilles tendinitis there, plantar fasciitis or shin splints. You gotta have a freakin' medical degree now to root for your favorite team.
That started me thinking about the body parts mentioned in hard rock and heavy metal songs. Most of the time they are being mutilated, severed, snapped, crushed, devoured or pulverized. But, not all of them. Here are the Top 11 Songs About Body Parts in their many different forms.
11

"Skull and Bones"

Overkill

Body Part: Cranium, Osseous

Lyrical Anatomy: "Hammer, hammer you down, skull and bones a full lifelong sensation…"

New Jersey thrash legends team up with Lamb of God's Randy Blythe for this skeletal symphony. And when he's not fronting the mighty Overkill, Bobby Ellsworth and his wife own a candy store in New Jersey that makes the best rum balls you've ever tasted. Their slogan: "You haven't lived until you've had Bobby's balls in your mouth."

10

Lyrical Anatomy: "How long does it take to break the spell / Straight to the top, tooth and nail…"

The title track from the album that put them on the map. It's a good thing singer Don Maynard changed his last name to Dokken. "Rokken like Maynard" just doesn't have the same panache, unless you're a Tool fan!

9

"Snap Your Fingers, Snap Your Neck"

Prong

Body Part: Digiti Manus, Collum

Lyrical Anatomy: "You want the good life you break your back / You snap your fingers you snap your neck…"

Not only is this one of Prong's mightiest compositions, the band name is a great double-entendre for a certain lower body part.

8

"Kicked in the Teeth"

AC/DC

Lyrical Anatomy: "Kicked in the teeth again / Ain't this misery gonna ever end…"

Pure Powerage from the days of the legendary Bon Scott. Would totally be my theme song if I ever became an MMA fighter. The teeth being kicked in ... likely mine.

7

"Lord of the Thighs"

Aerosmith

Lyrical Anatomy: "You got to understand / I'm your man, child / Lord of the Thighs…"

Steven Tyler really was the "Lord of the Thighs" back in the '70s when he was shooting coke and belting out Aero-classics like this one. He even got a 16-year-old's parents to sign her over to him so he could shack up with her. You know you're a rock star when you have a girlfriend younger than your track marks.

6

"Close My Eyes Forever"

Lita Ford Featuring Ozzy Osbourne

Lyrical Anatomy: "If I close my eyes forever / Will it all remain unchanged…"

Without a doubt the greatest power ballad of all time by two of the best in their prime. Loved the video, but it was really hard to masturbate to it because they kept cutting back to Ozzy and you didn't want to end on the Prince of Darkness. I preferred Lita's "I Remember You"
video for doing that. Or was that Sebastian Bach? Whatevs.

5

Body Part: Cavitas Oralis

Lyrical Anatomy: "Hold your mouth for the war / Use it for what it's for…"

Pantera classic about channeling your hate into something productive. This song unleashes more fury than Yngwie Malmsteen on an airplane.

4

"Achilles Last Stand"

Led Zeppelin

Body Part: Tendo Calcaneus

Lyrical Anatomy: "So fast the heart should beat / As proud the head with heavy feet…"

OK, this one is a stretch as it's not actually about an Achilles heel but it was recorded while Robert Plant was recovering from a foot injury from a recent car accident. It's also 10:25 of guitar genius from Jimmy Page that will have you running for lessons so fast that you'll probably snap your Achilles in the process.

3

"Balls to the Wall"

Accept

Lyrical Anatomy: "They're coming to get you and then you got your balls to the wall, man…"

Could you imagine a metal world without this song? The ultimate headbangers' anthem and it has the word balls in it. I've never actually had my "balls to the wall" but once you hit 40 they get a lot closer to the floor.

2

Body Part: Membrum Inferius

Lyrical Anatomy: "She's got legs / She knows how to use them…"

Back when MTV actually stood for "Music Television" this video took the channel by storm. Nowadays it's: she's got legs, she knows how to open them and that's why she's 16 & Pregnant. Ecch.

1

"Heart of Stone" and many others

Motorhead

"Heart of Stone," "Over Your Shoulder," "On Your Feet or On Your Knees," "Listen to Your Heart," "Devils in My Head," "Blackheart," "Talking Head," "Dog-Face Boy," "Iron Fist," "Limb From Limb," "Shoot You in the Back," "(Wearing Your) Heart on Your Sleeve," "One Track Mind," "Snaggletooth," "Steal Your Face," "Shut Your Mouth" and "Motorhead."

There are so many body parts mentioned throughout the Motorhead catalog that you could create your own Heavy Metal Frankenstein. Make sure to give him a couple facial moles and a pair of boots for an extra cool Motor-monster.