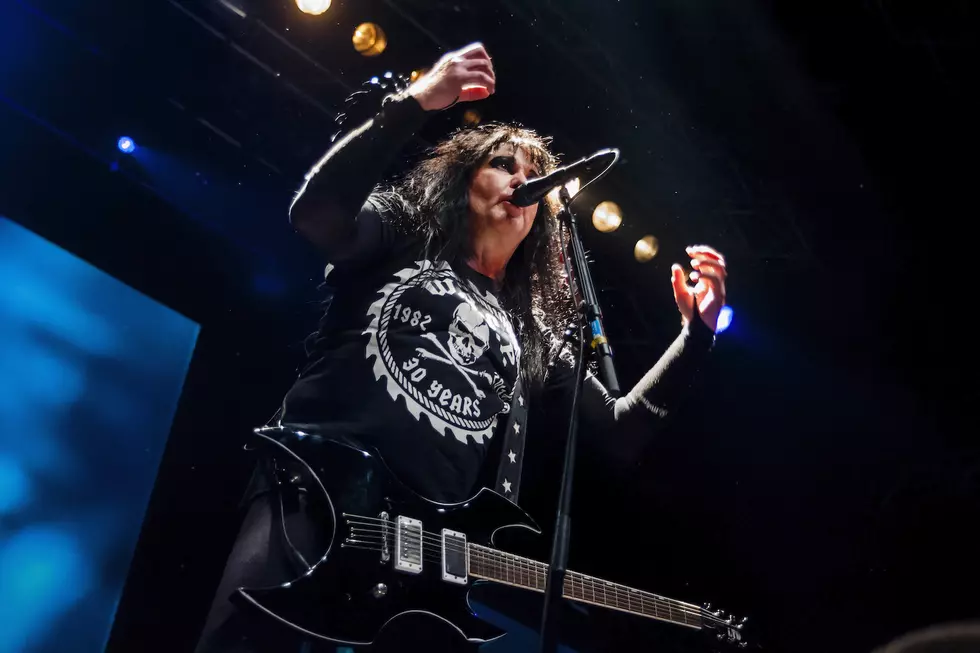 W.A.S.P.'s Blackie Lawless Denies Using Backing Tracks for His Lead Vocals Live
Dimitri Hakke, Getty Images
Have W.A.S.P. been using pre-recorded backing tracks live for Blackie Lawless' lead vocal? The rocker has responded.
It happened during an interview with The Metal Voice, where Lawless defended W.A.S.P.'s use of backing tracks for extra instrumentation when they perform onstage — it's something the band has readily admitted to doing. But the founding W.A.S.P. singer and bandleader denied using pre-recorded tracks for his lead vocal when they play.
It's a topic Lawless has previously addressed, most notably after the group's use of backing tracks seemed to reach a new degree of scrutiny last year. At that time, the W.A.S.P singer explained why, for him, the pros outweighed the cons when it came to supplementing songs live, which is something he reiterated to The Metal Voice.
READ MORE: Marty Friedman Makes an Excuse for Bands That Use Backing Tracks
"Until about five years ago, we did everything," Lawless explains to The Metal Voice. "What you heard is what you got. And I came to the conclusion that when we did the anniversary tour for The Crimson Idol (1992), we then brought in all that orchestration. And I stood in the middle of the room, and I listened to that in rehearsal for the first time, and it was like an out-of-body experience. I mean, it was unbelievable. And I remember thinking I've never heard this sound like this other than the record. And I thought this is what I want to do from now on.— I want this. I want it to sound exactly like the record."
He continues, "If you listen to a record like Live at Leeds (1970) by The Who — that's a rock band doing a three-piece musical version of Tommy (1969) or some of the other earlier songs. It's great for what it is, but it doesn't sound like Tommy. What they do now with all the pieces that they take out, those performances sound like the record. So, you have to make a decision. As an artist, what do you want that performance to sound like?"
Lawless says, "As a singer, I take a lot of pride in what I do. When you've been given a gift like I've been given, most singers I know want to show that thing off. And I'm no different. So, yeah, that's me singing out there. But as far as any other orchestra tracks or backing vocal tracks, I'm sorry, there's just not enough of us on stage to make it sound like that record — it's impossible."
He adds, "Again, the artist has to [decide] what they want to sound like when they go out. And from that first time, as I said, I stood in the middle of the room and I listened to that orchestration, it blew me away, and I thought this is what I'm doing from here on out."
It's a widely-used strategy for artists to use backing tracks to add bass, drums, keyboards and/or even vocals to their live shows without the cost of hiring additional musicians. But the practice has drawn a fair degree of criticism from some rockers.
W.A.S.P. + Backing Tracks
In answer to a W.A.S.P fan last year, Lawless said, "Yes, we are using backing tracks. Do you want to know why? When we go into a studio — and let me clarify that statement; that's me singing — but when we go in a studio, we do choruses, we double, triple, quadruple the vocals. o my feelings were when I listened to live YouTube [recordings of W.A.S.P. shows] and we weren't doing that, it sounded thin. When we started supplementing it, it sounded better."
Use of Backing Tracks in Rock + Metal
During a performance last year, KISS reportedly flubbed part of their song "Detroit Rock City," seemingly exposing pre-recorded backing vocal tracks for Paul Stanley. In 2015, KISS bassist-vocalist Gene Simmons criticized bands who use backing tracks live.
But the debate about backing tracks extends far outside KISS, though the classic rockers are often fingered for a group that utilizes lip-synching in their live show. In 2019, former Skid Row singer Sebastian Bach defended KISS, claiming that they did not lip-synch.
Last year, Falling in Reverse pulled out of a festival after their laptops went missing, prompting subsequent speculation around bands' reliance on technology for live gigs. Around the same time, a video seemed to show Motley Crue using backing tracks.
Watch some of Lawless' interview below.
Want more rock news delivered to you daily? Subscribe to the Loudwire newsletter and download Loudwire's app for the latest.
Blackie Lawless on The Metal Voice - Nov. 8, 2023
Bands Who Have Admitted to Using Backing Tracks
These musicians say backing tracks help them put on the best show they can and have no shame in confessing it.
Gallery Credit: Todd Fooks