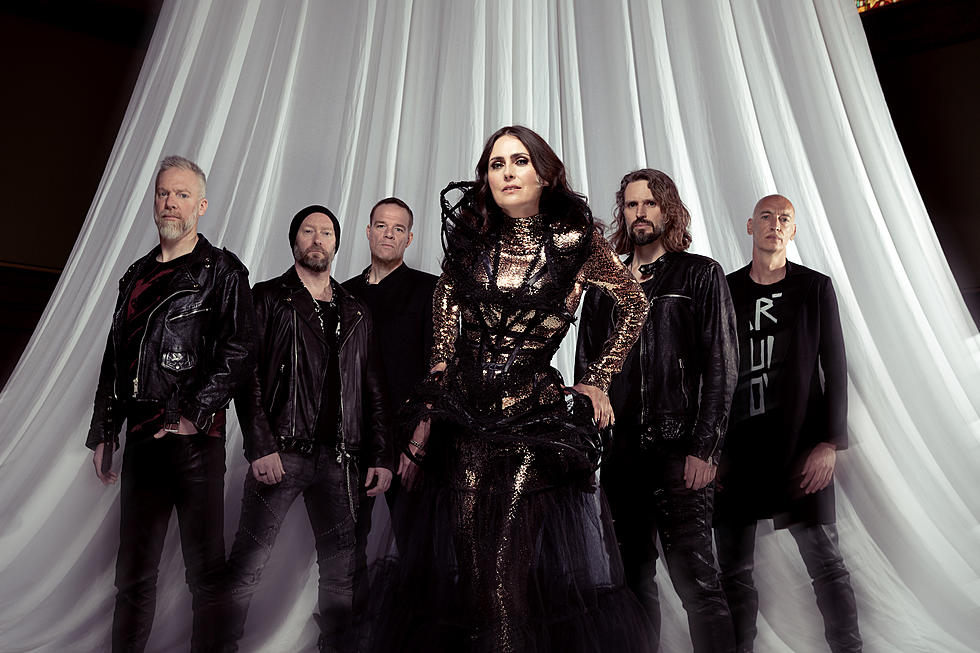 Within Temptation's Sharon den Adel Hopes to Find Closure With Upcoming Album, 'Bleed Out' – 'Every Song Is About Freedom'
Force Music Recordings
On Oct. 20, Within Temptation will release their latest studio album, Bleed Out. Ahead of that, co-founder and lead singer Sharon den Adel joined Chuck Armstrong on Loudwire Nights for the show's latest Artist Spotlight interview.
"I think it's an interesting album," she admitted to Chuck. "It's an album that's split in two. We started writing this album before corona, thinking of maybe releasing some singles while being on a co-headline tour with Evanescence throughout Europe."
Within Temptation were ready to release new music and then everything was postponed due to the global pandemic. So, they started writing more.
"[We did it] to keep ourselves busy and also for our fans to stay connected," den Adel explained.
Finding Inspiration in an Unexpected War
As if the pandemic wasn't enough to disrupt plans the band had, the war between Russia and Ukraine hit particularly close for Within Temptation.
"That was really a complete shock," she said, "because for us, [Ukraine's capital] Kyiv is a two-and-a-half hour flight from Amsterdam. I spend a lot of time in Spain because I live there part of the year and that's also two-and-a-half hours away. To make it feasible in everyone's mind how close that is, [imagine a town that's two-and-a-half hours away] and that's where a war is starting. And it's a heavy war. It's a war that really affects everybody."
As Within Temptation continued to write new music, they felt the need to keep the subject of the war alive because, as den Adel told Chuck, a lot of times wars will be talked about at the beginning but then fade away into the background.
"We were inspired by what happened because we never thought something like this would happen in Europe. It's 2023. We thought the Second World War would be the end of everything, in Europe at least. Maybe that's a bit naive, but I was hoping for it."
"We Got to War" and "Bleed Out" are great examples of what this war inspired in the band. "This whole album — if you look at every song, [they're all] about freedom. Personal freedom. Freedom of religion. That's what we're talking about on this album."
READ MORE: Bad Wolves' Doc Coyle Discusses New Album, Die About It
When Chuck heard this, he acknowledged how difficult the last few years must have been on Within Temptation, but also how great it must feel to have Bleed Out ready for the world to hear.
Den Adel agreed.
"We can have closure ... I'm happy that this album is coming to an end now. We've been performing a lot of it live and also talking about it onstage, like why we've written these songs and what the meaning is behind the songs."
What Else Did Within Temptation's Sharon den Adel Discuss on Loudwire Nights?
Why one of her favorite live shows she's ever seen is Bruce Springsteen
The craziest experience she's had while out on the road
What she'd be doing if she wasn't creating music
Listen to the Full Interview in the Podcast Player Below
Sharon den Adel joined Loudwire Nights on Tuesday, Oct. 10; the show replays online here, and you can tune in live every weeknight at 7PM ET or on the Loudwire app; you can also see if the show is available on your local radio station and listen to interviews on-demand. Stream "Bleed Out" at this location and then check out Within Temptation's full tour schedule.
10 Ways Not to Be an A--hole at Concerts
Because wtf is going on lately?
Gallery Credit: Lauryn Schaffner
LOOK: Controversial songs from the year you were born
Stacker
celebrates history's most boundary-pushing—and thereby controversial—songs from 1930 through today.
Gallery Credit: Stacker