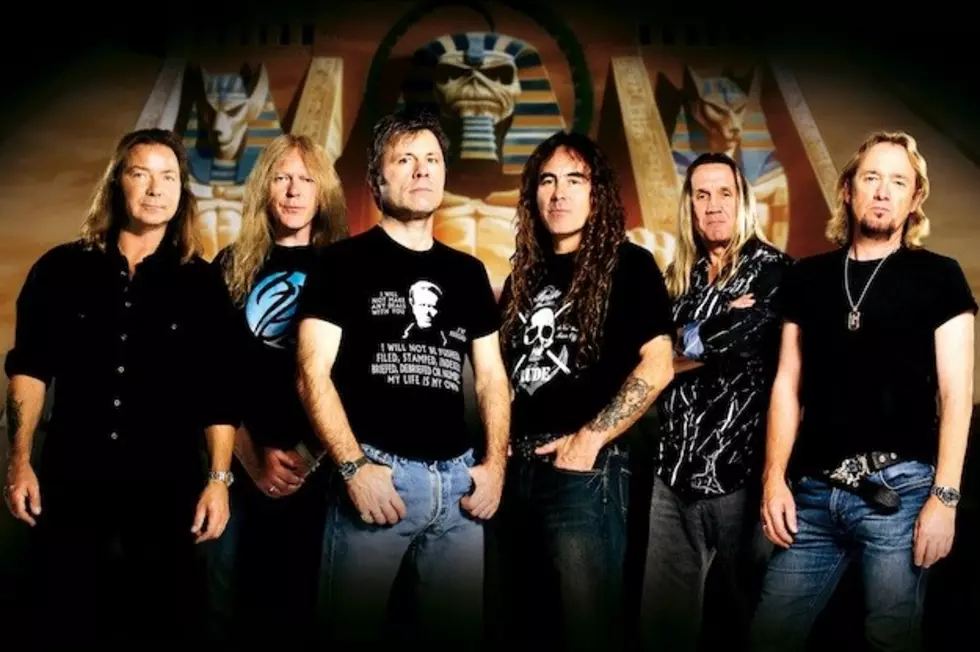 20 Facts You Probably Didn't Know About Iron Maiden
EMI
As one of heavy metal's most popular and most well-documented bands, Iron Maiden have seen their fans leave almost no stones unturned when it comes to random trivia and obscure facts associated with their historic, four-decade career. But we think we've identified a few, which we bring to you now in these 20 Facts You Probably Didn't Know About Iron Maiden. Enjoy!
1

No overnight sensation, Iron Maiden formed on Christmas Day, 1975, and spent the next four years scraping and fighting for recognition before finally scoring their deal with EMI Records.

2

Iron Maiden's celebrity mascot, Eddie the Head was thus named because, at first, he was nothing but a modest stage prop, consisting of a ghostly mask (or giant head) hung over the band's logo and drum kit.

3

Maiden guitarists Dave Murray and Adrian Smith were childhood friends. Smith bought his first electric guitar from Murray for 5 British pounds, and the pair formed some of their first bands together.

4

The main character of the song 'Charlotte the Harlot,' from the first Iron Maiden album, later appeared in songs like '22 Acacia Avenue' (1982), 'Hooks in You' (1990), and 'From Here to Eternity' (1992).

5

Before he was deemed too "unreliable" and replaced with Bruce Dickinson, Maiden's first recorded singer, Paul Di'Anno, had replaced an even less suitable singer named Dennis Wilcock, who had tried convincing Steve Harris to base Maiden's image on Kiss.

6

The striking cover art developed by Derek Riggs for 'The Number of the Beast' featured a blue, instead of black night sky, due to shoddy quality control at the printing factory! The color blunder was finally rectified in 1998.

7

Producer Martin Birch was involved in a terrifying car crash during sessions for 'The Number of the Beast,' and when he received the repair bill, it was for precisely £666. He refused to pay it until they added an extra pound.

8

Steve Harris still regrets placing the excellent 'Number of the Beast' outtake 'Total Eclipse' on the B-side of 1982's 'Run to the Hills' single, instead of the inferior 'Gangland,' which made it onto the album.

9

After taking a lot of flak from religious groups over 'The Number of the Beast,' Maiden recorded a backwards message for the 'Piece of Mind' song, 'Still Life,' featuring drummer Nicko McBrain doing one of his trademarked comedy accents, but nothing satanic.

10

Depending on where you bought your copy of 'Piece of Mind,' the last song can be listed as 'Dune' and/or 'To Tame a Land.' That's because author Frank Herbert, creator of the acclaimed science fiction series, was no fan of heavy metal and refused to give his blessing.

11

Look closely at the numerous Egyptian hieroglyphs covering the detailed 'Powerslave' album sleeve and you'll find hidden messages like "bollocks," "Indiana Jones was here" and "Wot, no Guinness?"

12

After vehemently rejecting synthesizers during the early part of their career, Iron Maiden surprised many fans by using them all over the 'Somewhere in Time' LP. Every song, in fact, except its biggest single, 'Wasted Years.'

13

The 'Can I Play With Madness' video marked one of the final on-screen appearance of Monty Python legend Graham Chapman (he's the ornery professor). Chapman passed in October of 1989.

14

Before becoming part of the Iron Maiden family, guitarist Janick Gers was part of the competition. In 1980, he was the driving force behind Maiden's N.W.O.B.H.M. foils White Spirit, best remembered for their serious sonic fixation with Deep Purple.

15

Bruce Dickinson wrote 'Bring Your Daughter…to the Slaughter' for his first solo album, but wound up relenting when Steve Harris pestered him to let Maiden record it for 1990's 'No Prayer for the Dying.'

16

Maiden's ninth album, 'Fear of the Dark,' was their first whose Eddie cover wasn't designed by Derek Riggs. A submission by Melvyn Grant was utilized instead.

17

Blaze Bailey, who replaced Bruce Dickinson in Maiden between 1994 and '99, had enjoyed mercurial success with his former band, Wolfsbane, which in 1989 became the first UK group signed to Rick Rubin's Def American label.

18

Believe it or not, after Blaze Bailey's dismissal in 1999, Steve Harris was not initially sold on inviting Bruce Dickinson back into the Iron Maiden fold. Thank Eddie all involved eventually saw the light!

19

'Journeyman,' which closed 2003's 'Dance of Death' album, is Iron Maiden's only song to be fully recorded on acoustic guitars.

20

Bruce Dickinson coauthored the script for the 2008 motion picture, 'Chemical Wedding,' which, as diehard fans know all too well, shares a title with one of the singer's 1990s solo albums.