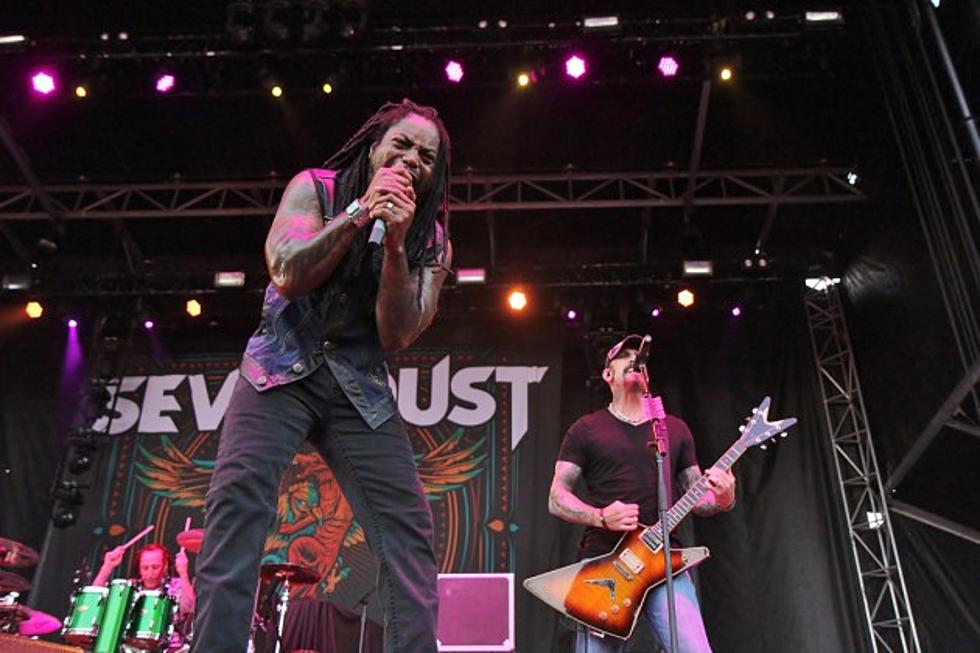 5 Questions With Sevendust's Lajon Witherspoon: New Album 'Kill the Flaw,' Solo Music + More
Liz Ramanand, Loudwire
It's a big year for Lajon Witherspoon! Sevendust are about to release their new album Kill the Flaw, plus they're on some massive tours for the rest of the year and the frontman is welcoming a baby boy to his family (check out the scoop he gave us below). We had the chance to chat with Witherspoon about new music, his solo record, which is still in its very early stages, as well as his excitement for his new baby and much more. Check out our interview with Lajon Witherspoon of Sevendust below:
The new album is Kill the Flaw. What does the title mean to you personally?
It's a testimony to the struggle that we've gone through. We're just trying to kill those flaws. People are trying to keep us down and I think it's made us stronger. The song "Thank You" kind of goes back to that. It's the angst, to strive and to motivate us to continue.
How was the overall recording and creative process on this album?
Oh it was incredible because we were so boxed up with that acoustic thing. It was time to get back out, plug in and go outside of the box and not be afraid. I think with the acoustic stuff we went down that avenue long enough where people said, "Okay they did it they gave us a good show, now let's get back to business."
Was it difficult to get out of the acoustic mentality to head into this new record?
Not at all, we were so ready to get out of it even though it was fun. It was time to stand back up and do what we do. My feet needed to start hurting again. [Laughs] We brought it though, I didn't want to do an acoustic thing where people thought they were going to be sitting around a campfire, it had an electric vibe to it.
Any updates on your solo record?
Yes, after this slows down that's still in the making, too. A lot of people are interested in that, I am too. Sevendust is definitely my first baby and my first love. I'll definitely be doing a solo project. I don't exactly know the date but after this ship settles down for a minute I'll be doing that. I'm excited about that.
What does the rest of the year have in store for you and Sevendust?
We're on this run with Godsmack then we go out with Breaking Benjamin and Shinedown on an arena tour. Bam, lock it up. We'll take a break and my baby boy will be here Dec. 17 -- Kingston Lajon Witherspoon. You guys are the first people I've told on record. I can't wait. We'll take some time off and then in March, we go to Australia and we come back to the States again.
Our thanks to Lajon Witherspoon for the interview. Pick up the new Sevendust album Kill the Flaw via iTunes.
Check Out the Lyric Video for Sevendust's New Track "Not Today"