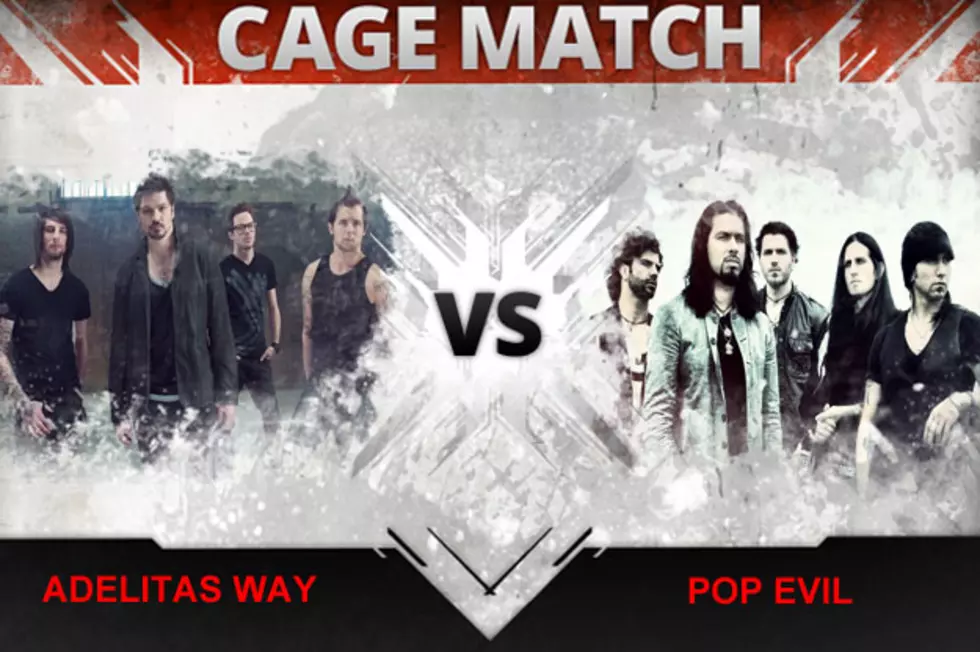 Adelitas Way vs. Pop Evil – Cage Match
Photos: EMI / Facebook: Pop Evil
Adelitas Way and their latest single 'Alive' beat out Danko Jones' 'Just a Beautiful Day' in a close match in the last Cage Match, but will Adelitas Way be able to prevail against a new challenger?
Pop Evil enter the matchup with 'Purple,' their most recent single off the album 'War of Angels.' After being a part of this year's Trespass America Festival, the Michigan band is currently on a Canadian trek with Black Label Society. They follow that up with a gig on the ShipRocked cruise followed by a U.S. trek in December. For a full list of dates, go here.
So will Adelitas Way continue to stay 'Alive' in this competition or will Pop Evil have them seeing red with 'Purple'? Get in on the action and vote for your favorite track below!
(This Cage Match will run until Friday, Oct. 26, at 8AM ET. Fans can vote once per hour! So come back and vote often to make sure your favorite song wins!)
Listen to Adelitas Way, 'Alive'
Listen to Pop Evil, 'Purple'
Rules of Cage Match:
Fans can vote once per hour for their favorite song. If a song remains the reigning champ for five straight cage matches, it is retired to the Loudwire Cage Match Hall of Fame. With so many great songs out there, we have to give other bands a chance!