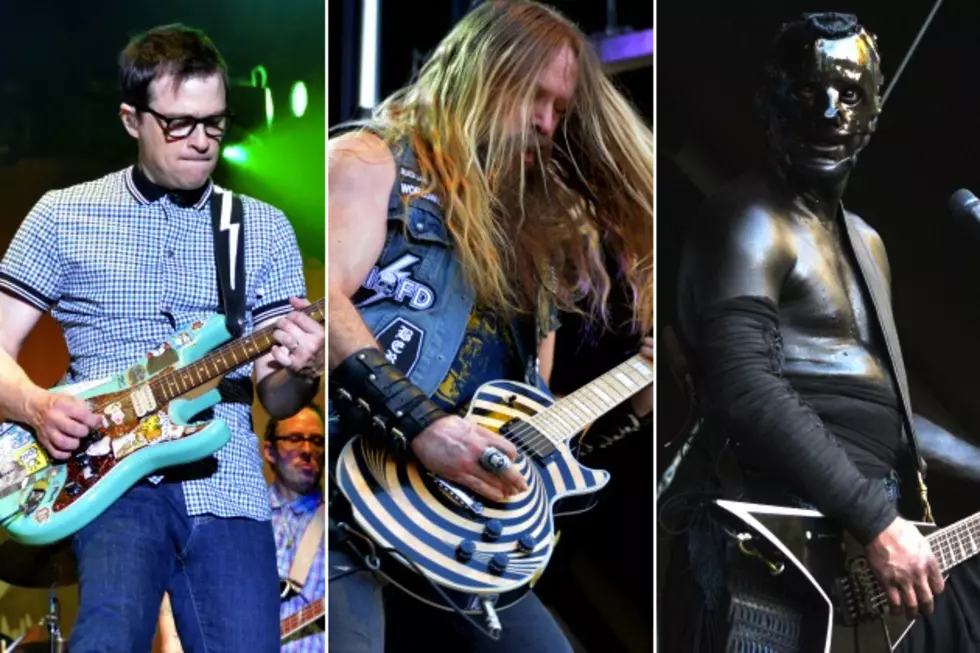 Aftershock Day 1: Weezer, Offspring, Limp Bizkit, Hellyeah, BLS, Chevelle + More Rock Sacramento
James Stafford, Loudwire
Two days, four stages, 46 bands, and 37,000 of your closest friends enjoying triple digit heat at Sacramento's No. 1 music event. That was this year's Aftershock Festival by the numbers: a sweaty, dusty celebration of punk, alternative and almost all 31 flavors of metal.
San Francisco's Dig the Kid opened day one on the Coors Light stage with a cool, alterna-poppy set heavy on good beats. That sort of set the theme for opening day: Although there was plenty of heavy music on the bill, Saturday overall was a much more accessible lineup. Pepper's Brett Bollinger was a real crowd pleaser with his blend of funky bass and funny stage patter, for example, as was Awolnation's keyboard-driven power pop.
Delila Paz wasn't the only frontwoman at this year's event. The Butcher Babies were back again this year, and the ladies turned in another blistering set of crowd favorites and cuts so fresh they still had their umbilical cords attached. Hopefully next year they'll get moved up to the main stage where they belong.
Dead Sara had no trouble commanding the main stage. Lead singer Emily Armstrong's powerhouse vocals are rivaled only by Siouxsie Medley's heavy guitar. Their midday set proved a bright spot in the lineup.
Oklahoma's Anti-Mortem brought the heavy, too. Brothers Nevada and Laredo Romo cook up a stew that's part Southern rock, part Motorhead, part Zakk Wylde. 'Ride of Your Life' rocked particularly hard. Check out 'New Southern,' their latest album, when you get a chance.
Did we just mention the great Zakk Wylde? He and the rest of Black Label Society wrapped up a Reno show Friday night and were at it again on Aftershock's west stage Saturday afternoon. Both Wylde's guitar and voice sounded better than ever, but Zakk wasn't the only veteran on the west stage Saturday afternoon. Vinnie Paul and the guys in Hellyeah turned in a monster set just 45 minutes before Zakk's Black Label Society laid waste to everything within sonic boom distance.
In fact, veteran bands crowded the top of the bill. Chevelle kicked off the '90s-flavored rock for the evening and Limp Bizkit ran with that momentum. Fred Durst and company turned in a crowd-pleasing set of fan favorites like 'Rollin',' 'Take a Look Around' and a faithful cover of Rage Against the Machine's 'Killing in the Name.' Say what you want about Fred Durst, but that guy's fans are rabid.
Punk fans got theirs, too, with standout performances from Bad Religion and the Offspring, the latter playing 'Smash' in its entirety. But did they play 'Pretty Fly (For a White Guy)'? Of course they did. Do you really think Dexter and Noodles would leave their fans hanging?
That left Weezer to close out this full day of power pop, punk, hard rock and metal. Rivers and the boys played well, and no band is better suited to sum up such a diverse cross section of musical genres. Unfortunately, the triple digit heat and the need to get some sleep so that they could do it all again on day two cut into Weezer's crowd, but listen, Rivers: Don't take it personally. Hendrix didn't play to a full house at Woodstock, either, but nobody questions the brilliance of that set.
See Our Exclusive Aftershock Photos Below:
Zakk Wylde's Black Label Society