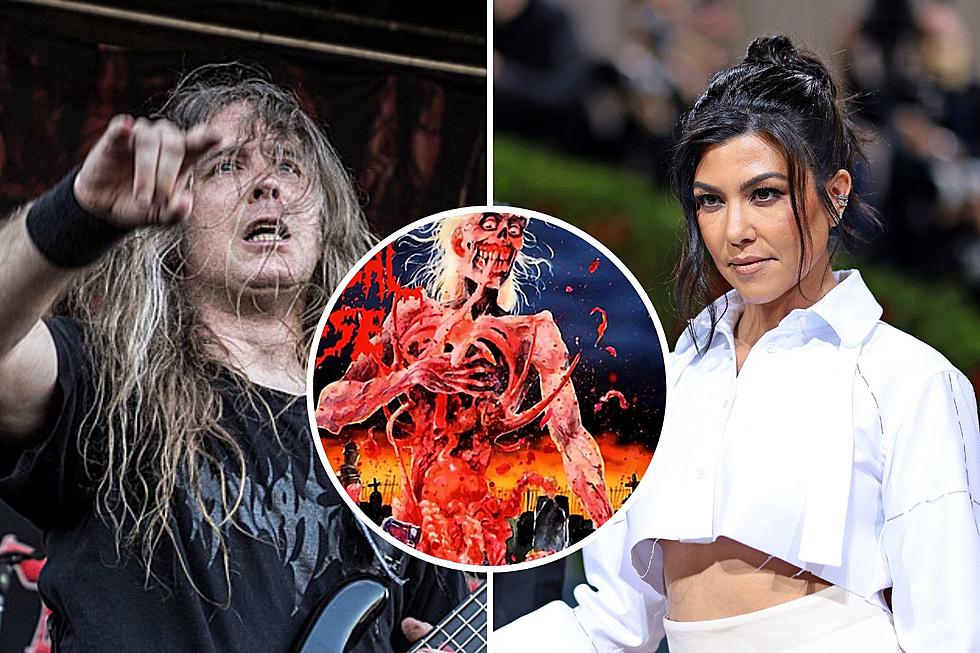 Sorry Elitists, Alex Webster Is Totally Cool With a Kardashian Wearing a Cannibal Corpse Shirt
Kathy Flynn, WickedGoddessPhotography.com / Metal Blade / Dimitrios Kambouris, Getty Images
Cannibal Corpse bassist Alex Webster has weighed in on the much-talked-about 2021 moment where celebrity Kourtney Kardashian (now married to Blink-182's Travis Barker) wore the band's shirt in public. It was met with criticism from fans and even from Cannibal Corpse's former vocalist, but Webster sees things differently.
"We're lucky to be in that position," Webster says on The Rockman Power Hour with Jason Rockman.
Cannibal Corpse are more than 30 years deep into their career and just put out their 16th studio album, Chaos Horrific. As death metal's premiere band and with decades of history, they remain as relevant as ever, which means being the benefactor of the occasional mainstream bump. Oddly enough, that includes Kardashian sporting an Eaten Back to Life long sleeve shirt while out with Barker.
"I remember I'd see these classic shirts. You'll see a Motorhead shirt or Ramones shirt or Slayer logo shirt, Iron Maiden shirt, AC/DC shirt… Those kinds of things you'll see in pop culture, not just in the music scene," Webster says, surveying the mainstream infiltration so many classic heavy bands have enjoyed.
The bassist continues, "For us to start dipping into that a little bit... That was something I always kind of hoped would happen. I think anyone in a band [would want to] have that kind of growth in your career. To be able to really just be no one universally, in a way. It's something you can kind of hope for, but you can't really plan on it happening."
Anyone, except perhaps original Cannibal Corpse vocalist Chris Barnes, who slammed Kardashian, branding her and Barker as "posers" back in 2021.
"So I think just by us having been around for a long time, it's sort of gotten there over the years. Every now and then, there'll be this weird pop culture kind of reference to us that you wouldn't expect. And it can be it can be with merch or something like that. And to be fair, we've just been lucky in that way," Webster humbly adds.
Alex Webster on The Rockman Power Hour
READ MORE: Good Guy Corpsegrinder Donates Dozens of Plushies to Johns Hopkins All Children's Hospital
What Travis Barker Said About the Online Controversy
Last year, Barker spoke out about the 2021 moment that garnered so much attention from the metal community.
He called it "the lamest shit ever" and acknowledged that Kardashian "obviously" doesn't listen to Cannibal Corpse. Barker does, however, and the drummers contended that Kardashian was wearing the shirt "because she's cold" and that "she's not claiming to know every song."
"I bought every album and I learned how to play every album," he said of his fandom of the death metal legends.
Cannibal Corpse's Paul Mazurkiewicz: 10 Favorite Albums When I Was A Teenager
Cannibal Corpse drummer Paul Mazurkiewicz recollects the metal albums he was the most obsessed with during his teenage years (1981-1988)
Gallery Credit: Paul Mazurkiewicz