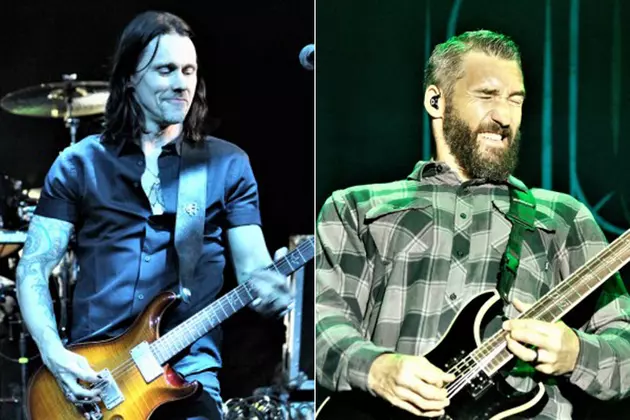 Alter Bridge's Myles Kennedy + Sevendust's Clint Lowery Play 'Would You Rather?'
Liz Ramanand, Loudwire
This latest installation of 'Would You Rather?' is a special one featuring both Myles Kennedy of Alter Bridge and Clint Lowery of Sevendust. The two musicians were both part of this year's ShipRocked Cruise and we had a chance to speak to them together. Find out about why both of these musicians hate being late, their love of being in the studio and much more. Check out our game of 'Would You Rather?' with Myles Kennedy and Clint Lowery below:
Would you rather be really late for the show or f--- up onstage?
Myles Kennedy: Oh, f--- up onstage. Punctuality is important. I mean I f--- up onstage every night so I'm used to that. Being late, that would be new. It's funny, the older I get the more I want to be on time, if I'm running late anxiety just sets in.
Clint Lowery: You're not on that singer time. The world will wait for me time!
MK: [Laughs] I try not to be that guy, singers get that bad rep.
CL: I'd rather f--- up onstage too, typically I love being on time. It's just a weird thing to do especially for the fans, no matter what happens. We were two hours late on this thing [ShipRocked] because the gear wasn't ready and I don't like having fans wait. If I'm watching I band that I love and if I have to wait two hours for them to get it together, the band's going to be blamed at the end of the day no matter what. I just love being on time, it shows more respect to people. 
Would you rather be in the studio or on tour?
MK: Oh man. That's really hard, probably in the studio because it's the idea that you're documenting an idea and it's so exciting when it's finally done and it's such a rush. Not to take anything away from road life but as a songwriter I think studio time is a big part of the joy we get.
CL: The studio, 100 percent! The live experience is incredible but there's so much hope and ambition in everything that's recorded. I love the process of recording and listening to it, tearing it apart and putting it back together again.
Would you rather play small clubs forever or large festivals forever?
MK: I think clubs. There's an intimacy there that's really special and I like that.
CL: Gigantic festivals. [Laughs] We've never headlined any kind of arena thing. We know clubs and they've kept us alive.
Would you rather have an accordion for legs or a drum sticks for hands?
MK: [Laughs] I'll take accordion for legs. It'll give me a real swagger when I walk and make noises.
CL: It'll take some pressure off of the knees. That's a great question, I want drumsticks for hands. I always wanted to be a drummer. I was too poor to get a drum set, got a guitar instead.
So every day is a personal vendetta against Morgan Rose.
CL: Oh yeah, he's in my seat. [Laughs] I program drums now so that's my thing. I love drums.
Would you rather have lunch with a music icon who has passed or a living artist, and who would it be?
MK: I would have loved to have met Jeff Buckley so that would have been a big one for me. To talk to him and be able to ask, "What were you thinking when this happened?" would have been great.
CL: That's a good one. For me, Trent Reznor. I just love the fact that he's going into film and his relationship with Atticus [Ross], his voice, his intelligence – if he was willing to listen and endure me for a little while I'd ask him about music. He does talk to people on Reddit, I have posted on there but he didn't respond to my actual thing. It was about technical things that I didn't have a good question for but yeah he's on there.
Our thanks to Myles Kennedy of Alter Bridge and Clint Lowery of Sevendust for playing 'Would You Rather?'
Myles Kennedy Plays 'Wikipedia: Fact or Fiction?'
Sevendust Play 'Wikipedia: Fact or Fiction?'