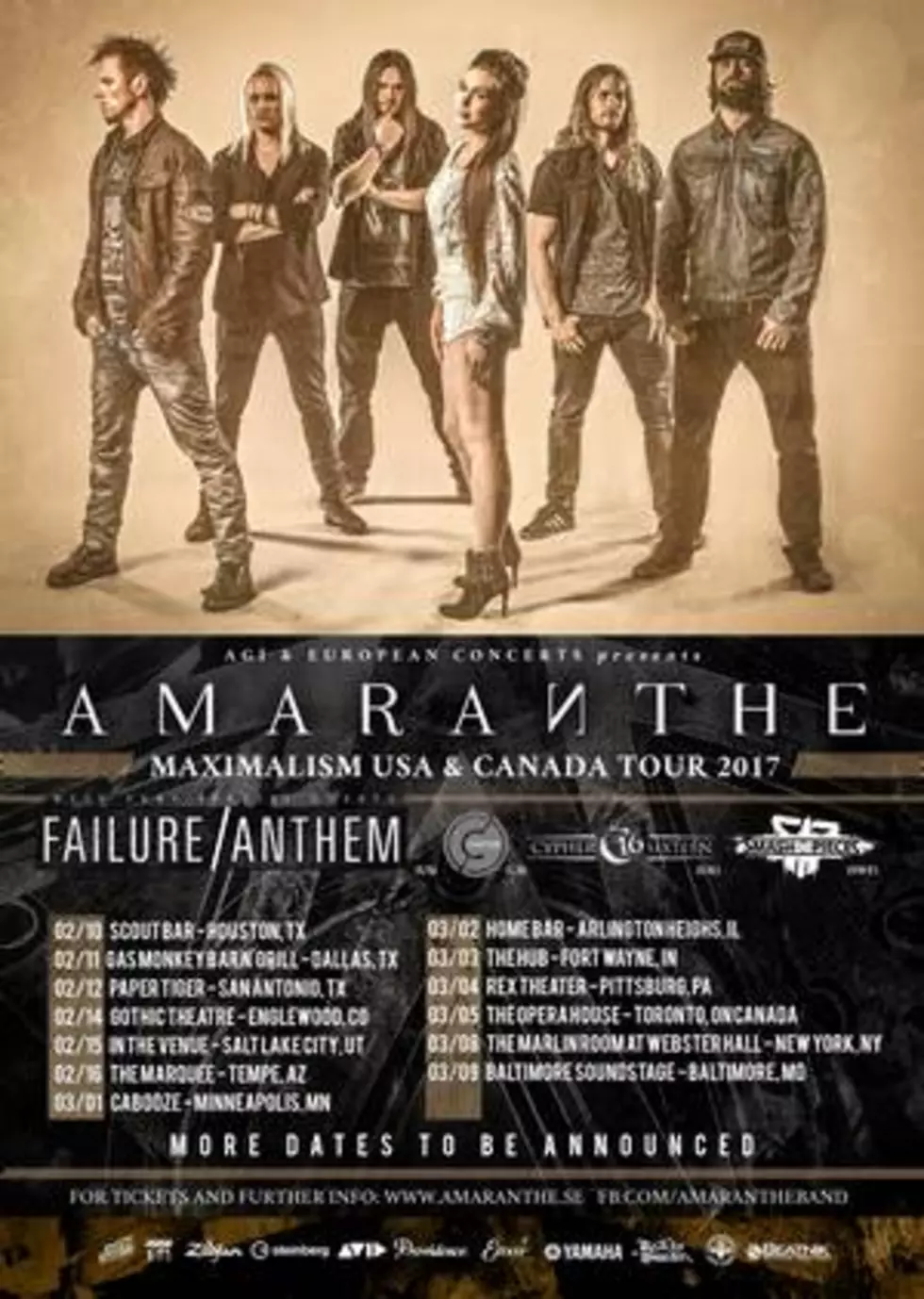 Amaranthe to Embark on 2017 North American Tour With Failure Anthem, Citizen Zero + More
Amaranthe Tour
The Swedish band Amaranthe and their triple vocal attack will be returning to North America for a tour in support of their latest album Maximalism.
Guitarist Olof Mörck says, "It is with great excitement that we can now confirm the next leg of our 'Maximalism World Tour: North America'! A year has passed since our last visit and we have been looking forward greatly to return!"
Morck continues, "Joining us on this trek will be very special guests Failure Anthem, along with special guests Citizen Zero, Cypher 16 and Smash Into Pieces for a full evening's worth of cutting edge metal from both sides of the Atlantic! Prepare yourself as the juggernaut known as the 'Maximalism World Tour' prepares to lay siege to YOUR city in early 2017. All shall march to the sound of Maximalism!"
Vocalist Jake E. recently announced that he is taking a break from the group for an indeterminate time. His fill-in has been Chris Adams, who just happens to be the frontman for Smash Into Pieces, who are also on the North American tour.
2017 Amaranthe, Failure Anthem, Citizen Zero, Cypher 16 + Smash Into Pieces Tour Dates
2/10 - Houston, Texas - Scout Bar
2/11 - Dallas, Texas - Gas Monkey Bar N' Grill
2/12 - San Antonio, Texas - Paper Tiger
2/14 - Englewood, Colo. - Gothic Theatre
2/15 - Salt Lake City, Utah - In the Venue
2/16 - Tempe, Ariz. - The Marquee
3/1 - Minneapolis, Minn. - Cabooze
3/2 - Arlington Heights, Ill. - Home Bar
3/3 - Ft. Wayne, Ind. - The Hub
3/4 - Pittsburgh, Pa. - Rex Theater
3/5 - Toronto, Ontario 0 The Opera House
3/8 - New York, N.Y. - Webster Hall – Marlin Room
3/9 - Baltimore, Md. - Baltimore Soundstage
Watch Amaranthe's Elize Ryd + Jake E. Sing "A Whole New World" From 'Aladdin – Loudwire Karaoke