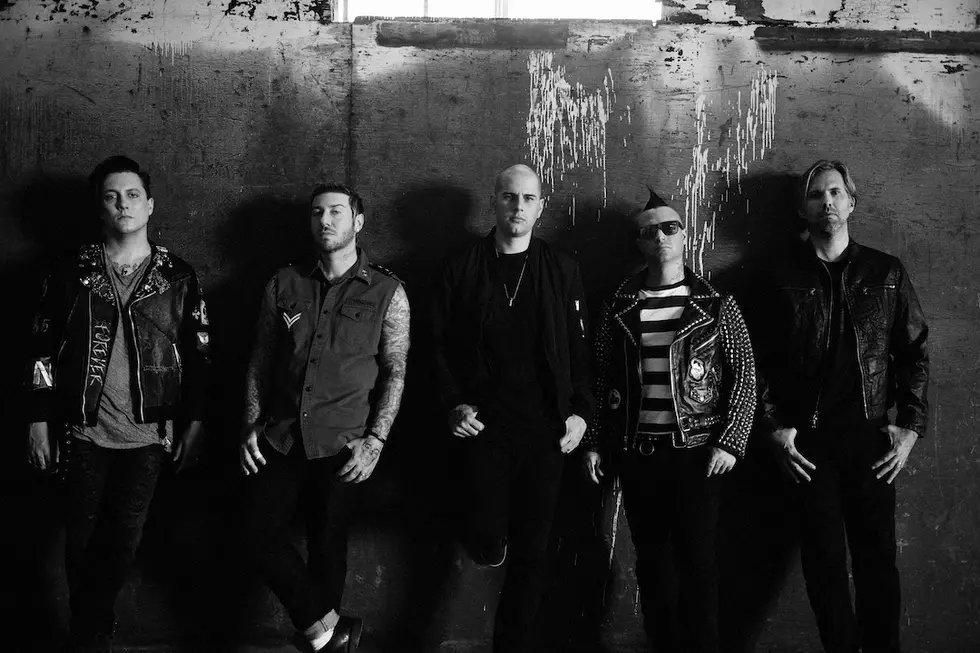 Avenged Sevenfold Plot Global 3D, 360 Degree Virtual Reality Live Concert Stream
Universal Music Group
Avenged Sevenfold have been building up anticipation for their new album with a wild teaser campaign. The band promised something special would be happening on Oct. 27 and now the plans have finally been revealed and it's a doozie! In the first-ever event of its kind, Avenged Sevenfold will offer a global 3D, 360 degree virtual reality live stream of an unannounced concert.
The band will be pairing with Universal Music Group, along with their Universal-owned record label Capitol Records and VRLIVE. The stream will be accessible through the VRTGO app, which is available for both iOS and Android. Additionally, 50 Samsung Gear VR headsets will be distributed to those in attendance so they can experience the show from the stage rather than the floor.
Michelle Jubelirer, COO of Capitol Records, commented, "We are constantly working to create opportunities for our artists to connect with their fans in new and exciting ways. We're thrilled to work with Avenged Sevenfold and VRLIVE to bring this unique experience to Avenged Sevenfold fans around the world."
"VRTGO is a truly immersive and creative platform for our artists to tell their stories and invite their fans around the world to experience live performances and music videos like never before," added Deborah Hyacinth, Universal Music Group's SVP of Digital Marketing Innovation, finishing, "We've employed state of the art technology to make VRTGO a cross-device platform and home to some of the world's best VR content."
VRLIVE founder and CEO Heiner Lippman also weighed in on this event, stating, "We are excited about our partnership with Universal Music Group as it gives us the opportunity to provide the viewing audience with unprecedented levels of access." He went on to note the impact this has on the future, offering, "Virtual Reality is destined to change the media landscape, which will enable users to not just view entertainment, rather, it allows them to experience it, and VRLIVE will continue to transform how people view and interact with the world around them."
Avenged Sevenfold has been guarded in interviews when commenting on the successor to Hail to the King, surprising fans when they suddenly dropped a music video for the epic new track "The Stage." Chris Jericho potentially leaked the news about the record, tweeting it will arrive in December under the title Voltaic Oceans.
See Avenged Sevenfold's Deathbat in the Top 25 Metal Mascots
10 Unforgettable Avenged Sevenfold Moments