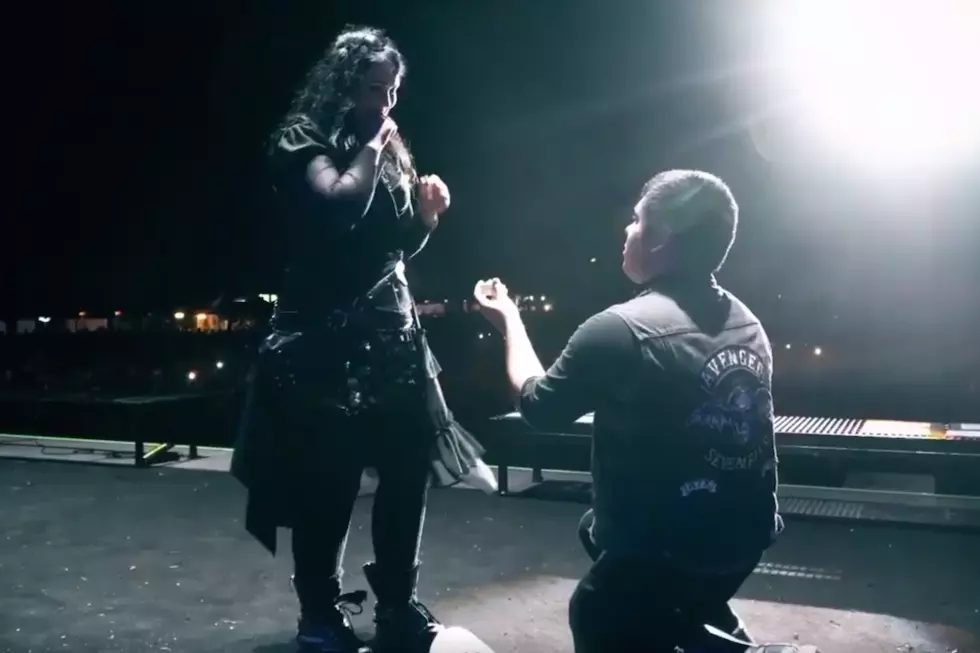 Fans Get Engaged After Onstage Proposal at Avenged Sevenfold Festival Show
Twitter: Avenged Sevenfold
Congrats to the happy couple that got engaged during Avenged Sevenfold's Aftershock Festival performance! Vocalist M. Shadows invited the two fans onstage to make it official in front of tens of thousands of people.
Avenged Sevenfold headlined the closing night of Aftershock, the day after Tool's Danny Carey performed a full set despite battling a serious staph infection. During Avenged's show, Shadows seemed to spot a fan near the front who held up a sign asking to propose onstage. "I'm telling you, man, she'd better say yes," Shadows said as security let the man hop over the barricade.
Luckily, a video crew was on hand to document the beginnings of an unholy union. After sharing a memory from high school with his bride-to-be, the young man proposed and got the desired "yes" to a roar from Aftershock's massive crowd:
What makes this moment even better is Avenged Sevenfold's Facebook post of the engagement has been set to "A Little Piece of Heaven" — a little ditty about murder, cannibalism and necrophilia! We're sure the two now-engaged fans appreciate the morbid humor.
Avenged Sevenfold are expected to release their seventh studio album, likely titled Voltaic Oceans, on Dec. 9. A7X will be streaming a special live event on Oct. 27, where the record will presumably be announced officially.
See Where Avenged Sevenfold's Albums Landed on the Top 100 Hard Rock + Metal Albums of the 21st Century
10 Unforgettable Avenged Sevenfold Moments