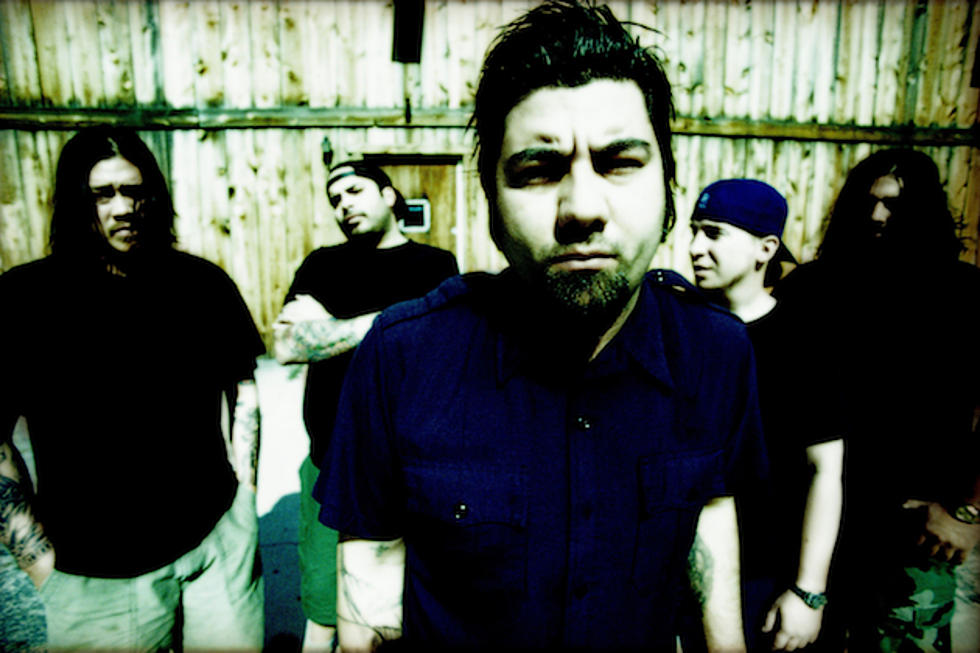 Maverick Records
Deftones have perfected the quiet-loud dynamic in hard rock. They expertly mesh frontman Chino Moreno's love of PJ Harvey and guitarist Stephen Carpenter's Meshuggah worship in their songs. Those two forces collide in Deftones music, which is often dubbed "alternative metal." That's too simple of a classification, since the band vacillates between meaty, heavier-than-granite parts and pretty, lush, utterly feminine passages. Choosing the 10 Best Deftones Songs was difficult, since they have an extensive body of work. Our list is heavy on 'Around the Fur' and 'White Pony' songs, as those albums truly represent the band's artistic and commercial pinnacle. Since the Sacramento band has been active since the early '90s, choosing 10 songs was a task that was muy difficile. But here's what we came up with.
10

'Rocket Skates'

'Diamond Eyes' (2010)

Guns! Razors! Knives! Never did verbal/vocal/lyrical utterances of instruments of torture and death fit a song so perfectly. 'Rocket Skates' focuses squarely on the heavy side of the 'Tones, where Carpenter's riff weigh in the tonnage. Then's there's Moreno, tempering the whole thing with his "oooohs" at the end. Even when it's not overtly quiet-loud, it's still quiet-loud with Deftones.

9

'Lotion'

'Around the Fur' (1997)

Deftones were always a band that could straddle the line between the Ozzfest and Warped Tour crowds, and a song like 'Lotion' is emblematic of how they were able to live comfortably and happily in both worlds. It has just enough of that scrape-your-teeth-to-the-pavement bluster but there is artfulness in all that ferocity. That's why it is one of the 10 Best Deftones Songs.

8

'Back to School (Mini Maggit)'

'White Pony' (Reissue)

'Back to School (Mini Maggit)' was added to the reissue of 'White Pony,' and it was a fun romp that should've inspired a legion of Deftones fans to skateboard. It was almost a gateway song for the 'Tones, incorporating the crunch and the rhythmic, rap vocal patterns that earmarked 'Adrenaline' with the fine-tunedness of 'Around the Fur' with the artsy nature of 'White Pony.' It was the best of all worlds. The spirit of Deftones past, present and future define this song.

7

'My Own Summer (Shove It)'

'Around the Fur' (1997)

Most songs in the Deftones catalog are exercises in tension building. They build you up to break you down, like the Marine Corps! Perhaps no other song in that extensive catalog demonstrates this nature of their songs as 'My Own Summer (Shove It.)' We ride sidecar while Moreno ebbs and flows, against Carpenter's rolling riffage, which crackles vividly, like electric shocks against the skin.

6

'Leathers'

'Koi No Yokan' (2012)

While not an official single off Deftones' stellar 2012 album 'Koi No Yokan,' the track 'Leathers' was the first song unleashed from the disc. And it's as powerful a tune as Deftones have ever recorded. Chino Moreno is on top of his vocal game on this cut with his intense verses and the infectious 'Shedding your skin' chorus.

5

'Teething'

'The Crow: City of Angels' Soundtrack (1996)

A bit of a lost gem that casual fans may not be super familiar with or remember, this jam remains a favorite among Deftones diehards. It's Abe Cunningham's propulsive, smashing-away-like-a-caveman percussion that anchors the song and launches moshpits. 'Teething' is one of the 10 Best Deftones songs because, like 'Back to School' which came several years after it, it allowed access to all sides of Deftones. Moreno raps in the verses and choruses, threading the song with rhythmic, hip-hop tones. But make no mistake; this was not nu metal by any stretch.

4

'Passenger'

'White Pony' (2000)

Tool's Maynard James Keenan lends his vocal talents to 'Passenger,' coming in like a haunting voice inside Moreno's head. Their vocal interplay is nothing short of brilliant, since both are deft at singing and screaming, and infusing gnarly metal with highbrow touches. It's moody, melanchoic, sombre and sobering and will have you looking over your shoulder with its chilling aura. 'Passenger' is a rich, constantly renewing, headphones song; listen to it with earbuds, at maximum volume, and you'll uncover flourishes that you didn't notice last time you listen.

3

'7 Words'

'Adrenaline' (1995)

Deftones churned out anthems on 'Adrenaline,' their 1995 major label debut. But the most well-crafted, moshpit-inducing, singalong-inciting of the bunch is '7 Words.' It is one of the Deftones' best songs since no matter where you are or what you are doing, it will make you jump. It's choppy, chunky and full of chest-beating energy. Squeal like a pig when you...

2

'Be Quiet and Drive (Far Away)'

'Around the Fur' (1997)

The fact that the word 'Far' is in the title (and the sonic similarities) always made us think that Deftones' Sacto bros in Far co-wrote the song with them. This maudlin but pretty song was one of the earliest indications of how androgynous Moreno could (and would) get with his voice. It was also a signpost for the fact that the Deftones could write a commercial viable song. But despite the catchiness, and the fact that it was radio-friendly, the song still had balls the size of apples. As we stated earlier, Deftones mastered quiet-loud, soft-heavy dynamics throughout their catalog and this is best example of such.

1

'Change (In the House of Flies)'

'White Pony' (2000)

The most commercially successful Deftones single, 'Change (In the House of Flies)' is largely considered the best Deftones song as it proudly displayed new elements of the band's musical personality, which were beloved by fans. There is a neo nu wave mood undulating throughout, and miraculously, the song remains heavy, albeit in a different way, despite the fact that Moreno keeps a slow, restrained, non-screaming tempo throughout. You can be heavy with melody, and heavy without bashing someone over the head. That's 'Change (In the House of Flies)' from stem to stern.