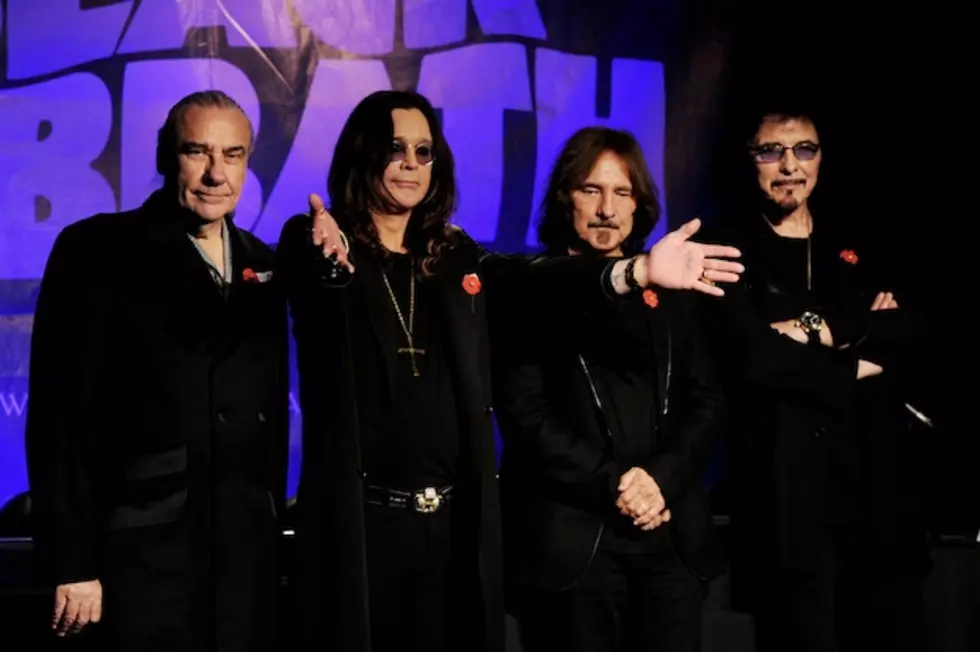 Black Sabbath's Geezer Butler Reveals Health Was Bigger Concern Than Money With Bill Ward [Update]
Kevin Winter, Getty Images
Update: Bill Ward has responded to Geezer Butler's comments on Twitter. Check out his tweet below:
As Black Sabbath prepare for "The End" of their career, there's one notable absence -- drummer Bill Ward. The band's original stickman was part of the 2011 announcement when the founding four members revealed they were getting back together, but shortly afterward, he backed out of the reunion claiming that he was not presented a reasonable contract. In the time since, Ward has dug in on his stance and it appears his return will not happen.
During a recent interview with Classic Rock Revisited, bassist Geezer Butler addressed Ward's absence from the band's final performances. When asked bluntly why Sabbath wouldn't just give Ward the money to bring him back for the final shows, Butler responded, "It's beyond the money thing. It is not really anything to do with that. It is whether he's capable of touring or not. On the '13' tour, he was not on that tour. About a week after we started he had to go into the hospital for major surgery. We would have had to cancel the tour if Bill was still with us. He hasn't been well for a long time. He's had a couple of heart attacks."
Butler continued, "You have to face facts when you get to our age and you're not in great, great health rather you can go out on the road for two years, or whatever. It is a hard life to do. The easy part is when you're on stage playing. It is all of the traveling and everything else that comes with it that is the hard part."
The bassist says that Ozzy Osbourne in particular was not certain Ward could complete the touring. Osbourne's public statements expressing his concerns over Ward's health also led to expanding the divide between he and Ward.
Butler concluded, "We started out with [planning for] Bill on the '13' tour. That is the way we all thought it was going to be, that Bill was going to be part of this whole thing. It just turned out that is wasn't to be. His health has to come first before anything."
Brad Wilk handled drumming duties on the band's 13 album in Ward's absence, while Osbourne's solo band drummer Tommy Clufetos has taken over the drum kit during their touring. Butler says of Clufetos, "Tommy is absolutely phenomenal. I've played with other drummers, but Tommy really gets the way Bill Ward played. A lot of drummers don't play like Bill does. Tommy is just so versatile. He always asks me if he is playing the part right. If he is not doing one particular thing we will tell him and he will take it in. There are no big ego trips. He just loves playing."
Check out Black Sabbath's tour dates for "The End" trek here.
See Which Black Sabbath Albums Made Are One of the Top 50 Metal Albums of All Time