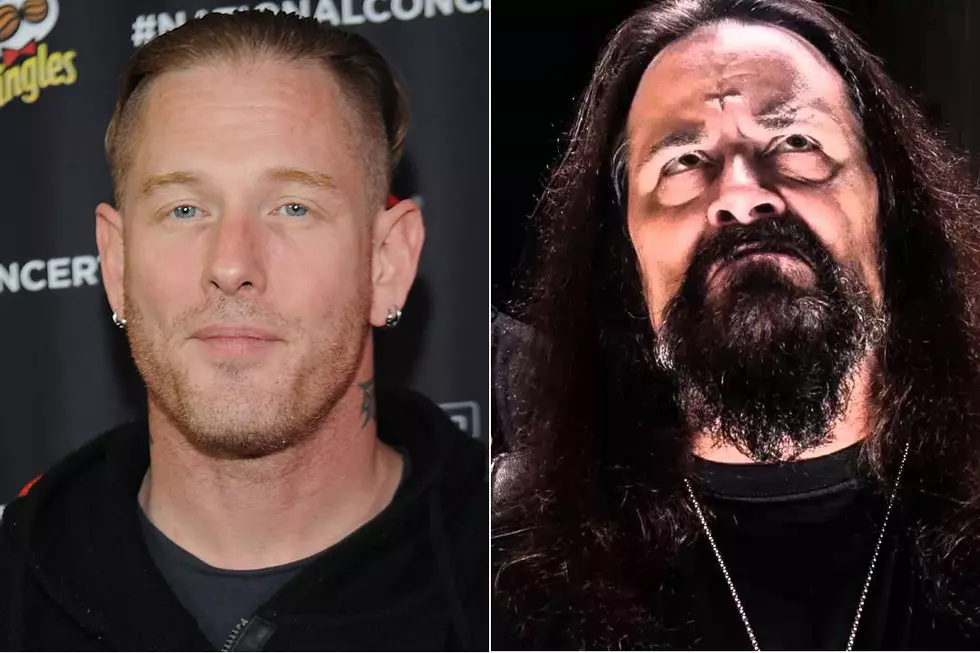 Exclusive: Corey Taylor Responds to Deicide's Glen Benton: 'Don't Say S—t That Isn't F—ing True'
Brad Barket, Getty Images / Century Media
Yesterday (Aug. 8), news broke that Deicide's Glen Benton was more than just a little unhappy with Slipknot. Benton claimed Corey Taylor and the masked titans had spoken to Benton about taking Deicide on tour, with Benton flipping out over the apparently unkept promise. We reached out to Corey Taylor for comment and the frontman gave us an exclusive response.
Glen Benton's rage toward Christianity and religion in general has always been pretty venomous and some of that bile splashed onto the masks of Slipknot this week. "Not to f—ing bust balls, but I'll bust balls," Benton said on Talk Toomey. "Slipknot: 'Oh we're going to take you guys out man, we're going to take you guys out dude.' Yeah, blow me. That's what I say to you. F—ing blow me Corey Taylor and all you f-gs. OK. 'Oh we're going to take Deicide out on tour with us and blah blah blah.' Blowing air up our asses, back in the day. You know what, you never did a f—ing thing for us."
We needed to get the other side of this story, so we sent out a message to Corey Taylor asking if he would like to comment. Taylor responded:
Out of respect to Glen and Deicide, I honestly don't remember making a promise like that. I'm not saying someone else in the band didn't say it. All I know is I didn't. Being the singer I guess I'll be the target.

If he wants to talk specifics we'll talk specifics. We take submissions for tours. I see them all. Deicide has never submitted for tours, that I can remember. He wants to be pissed at me, go ahead- get in line. Everybody's pissed at me. But don't talk s—t on my guys- and don't say s—t that isn't f—ing true.
Slipknot are currently touring North America with Marilyn Manson and Of Mice & Men, making up dates which needed to be postponed for Corey to recover from spinal surgery. For the full list of dates, click here.
See Where Slipknot's Albums Landed on the Top 100 Hard Rock + Metal Albums of the 21st Century
10 Legitimately Satanic Metal Acts