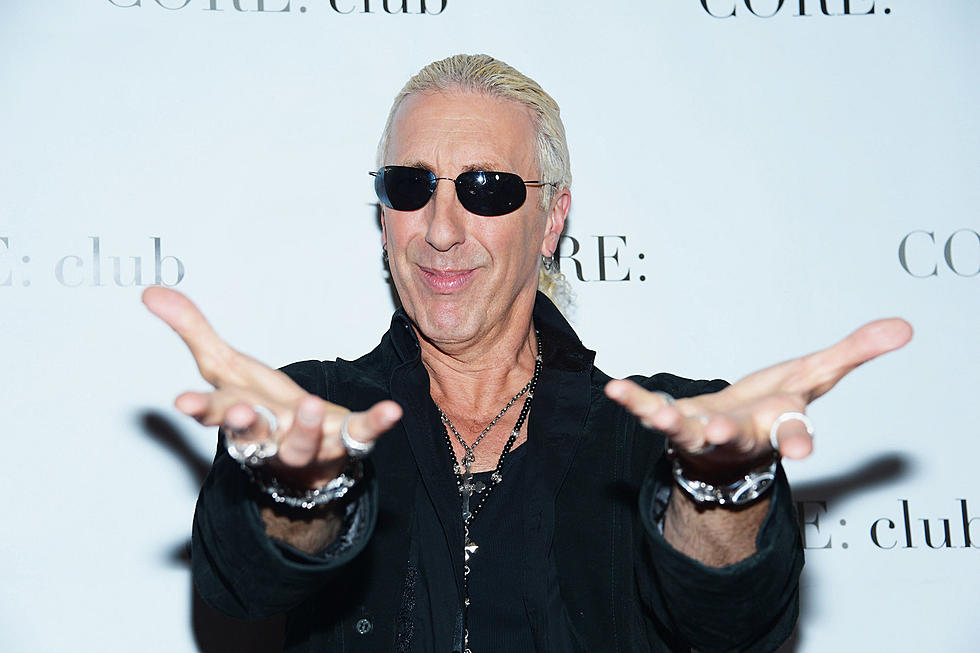 Dee Snider Discusses Aging in Rock, Bands That Reunite After Farewell Tours
Michael Loccisano, Getty Images
Dee Snider recently called out or alluded to KISS, Ozzy Osbourne and Scorpions when voicing his disdain for rock artists who continue to perform after mounting a farewell tour. His answer came in a live Q&A interview with Rock City Music Company.
Snider's no-holds-barred response emerged after the musician, author and Twisted Sister singer gave his thoughts about aging in rock. The 68-year-old suggested that he'd rather stop performing than give a subpar performance later in life.
Watch the video near the bottom of this post.
READ MORE: Dee Snider Issues Statement After Split With San Francisco Pride Parade
"I didn't lose the passion for the music," Snider says when asked about bands that stay past their expiration date, as transcribed by Loudwire.com.
"I didn't lose that at all," he continues. "My last two [solo] albums — Leave a Scar (2021) and For the Love of Metal (2020) — were stronger."
However, the Twisted Sister icon has "lost the willingness to get old onstage," he says.
"I don't want you guys to watch me age out," Snider adds. "I read a review once that said — and it was a positive review about the Twisted reunion. … But it said when a band reunites and is good, it makes you feel young again. But when they're bad, it makes you realize how old you have gotten."
He continues, "People coming to see Twisted, coming to see me — people are smiling. I'm not a bitcher or moaner, but I've had knee surgery, shoulder surgery, throat surgery, neck surgery. I can't lift my arms. It hurts when I throw the horns. So I'd rather walk off with dignity and leave you guys with a positive memory, saying [you] wanted more, than to overstay [my] welcome and say, Gee, why doesn't the guy get off the fuckin' stage?"
No More Farewell Tours
Snider also compared his explosive onstage performance style to that of the fellow rock heavyweight Alice Cooper, whom the Twisted Sister singer says "slinks" and "strolls" on the stage.
Further, he went on to single out or suggestively hint at KISS, Ozzy Osbourne and the Scorpions for continuing to perform after each had already embarked on extensive farewell tours in the past.
"I don't wanna be ever strolling the stage," Snider states. "We've seen that with some of the people we love. I've seen people singing 'Crazy Nights,' and they're not so crazy anymore. I'm not going to name names."
He adds, "I always bitch about people who retire — sell us the 'No More Tours' shirt, Ozzy! — and then come back a few years later. We love you! We love you! That's bullshit. And people say, 'Well, you know, that's fucked up.' No, stay forever, man — stay forever. We don't want you to leave. We don't want you to do a three-year farewell tour — Scorpions! — and then say you changed your mind."
Snider Said the Same to Loudwire
Earlier this year, Snider imparted the same sentiment in an interview with Loudwire, proving that his specific opinion on the matter is steadfast.
Ironically, however, Twisted Sister also recently reunited after a farewell tour. But the band has only performed at an induction ceremony so far.
"Once you sell the 'No More Tours' shirt, you're out!" Snider told Loudwire Nights in January. "And I say also, you don't have to leave! Blue Oyster Cult have jackets that say 'On Tour Forever.' God bless you! Alice Cooper says he looks forward to singing, "I'm 80" — God bless him! The Rolling Stones? Keep going, baby! Scorpions — they changed their mind. Metallica? Keep going!"
He added, "But don't announce the retirement. Don't take the payday, and don't come back three years later and say, 'We changed our mind,' when you wrote it in blood."
You can subscribe to Loudwire's newsletter or download the Loudwire app to stay up to date with all of the latest rock and metal news.
Video of Dee Snider's Q&A With Rock City Music Company - Aug. 10, 2022
10 Rock Music Myths + Urban Legends That Were Debunked
What's your favorite rock music myth or urban legend that you picked up by word of mouth? Did you believe it when you first heard it? And when did you learn it wasn't true? Here are 10 of the most pervasive rock music legends and myths all rounded up for you in a nice little list. Check it out.