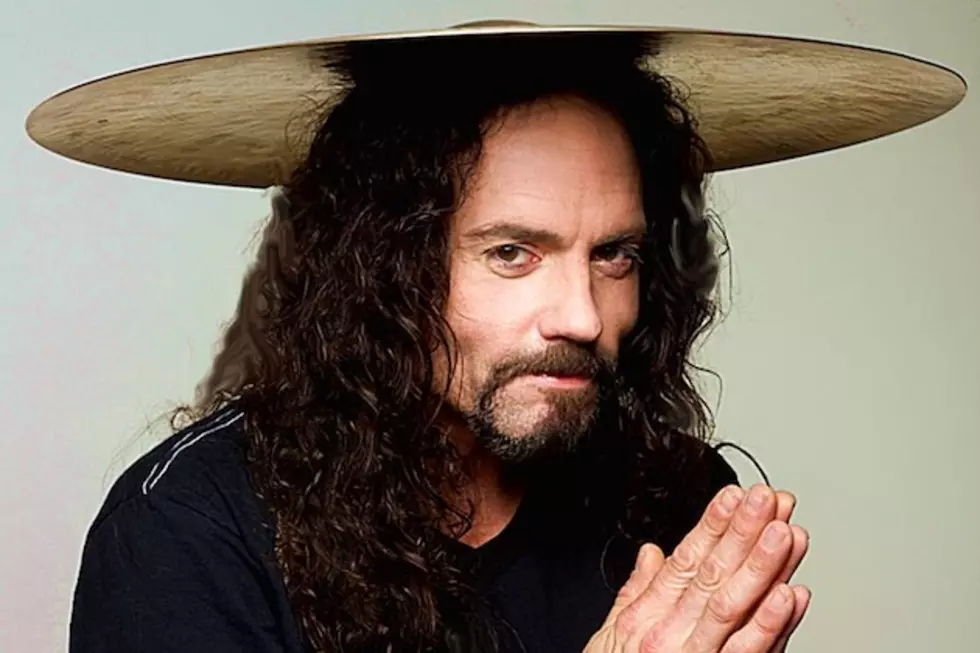 Drummer Nick Menza Cites 'Unfair Deal' as Reason for Not Returning to Megadeth
Facebook: Nick Menza
Megadeth have revealed their new lineup for the next album, but for those wondering, the possibility of reuniting with drummer Nick Menza was definitely something that was on the table. In fact, in a new statement, it's revealed that Menza went so far as to play with the band back in December and laid down some drum tracks for Megadeth's new music. But ultimately the reunion didn't occur because Menza says he was not offered a fair deal.
The drummer reveals the behind-the-scenes negotiation and how things went down in a statement from his management, sharing his disappointment that he was not able to return. A few weeks back, Menza was among the first to offer his congratulations to Lamb of God's Chris Adler weeks before the stickman was officially announced as the band's new drummer for their upcoming album. Check out the statement from Menza's management below.
To my fans, I hate disappointing all of you who have been asking and hopeful that Marty Friedman and I would rejoin Dave Mustaine and David Ellefson to resurge the classic 'Rust In Peace' lineup. I was totally ready and excited to get back in Megadeth. I went to Dave's house/studio in San Diego this past December and we jammed for the weekend and It was totally cool. We instantly fell right back into our musical groove together. We have great chemistry; It's a magical thing! And, yes, that's me, the "mystery" drummer whose face is hidden in the YouTube videos Justis Mustaine posted as seen below.

A few weeks after this we all got together with our old manager Ron Laffitte for a dinner meeting at the Anaheim White House restaurant during N.A.M.M. It was great seeing Ron and Marty. We all talked about the plans for a new record and touring and I made it known I was into rejoining and making this my priority. I was pumped, and even went as far as recording drums on five new Megadeth songs Dave had sent me.

As soon as got home and it was time to sit down and negotiate my terms in writing, I was offered a very unfair deal that was so wrong. They didn't feel I was worth anything to the band. Dave blocked my emails, changed his number and then, apparently, Ron Laffitte was fired as the band's manager. Here is one of my favorite bands and a huge part of my life achievements and I was shut out for wanting a fair deal.

I am really blown away how this band conducts business. A band is about a group of people who have respect for one another, sense of loyalty, comradely, and most of all honor and trust! "I'm not a puppet I have integrity, loyalty, and honor. That's who I am! There's much more to this story, and I could now add the final chapter to my book "Nick Menza Megalife: Countdown To Resurrection," by J. Marshall Craig.

Despite this dark final chapter, I wish Megadeth the heartiest of health, happiness and success with their future plans. As for me, I am moving on with a new band of other fellow former Deth members, as well as a few surprise players, and producer.
Menza has endured a couple of starts and stops with the band. He first joined Megadeth in 1989 for Rust in Peace and stayed with the band for the next nine years. Following the reissue of the entire Megadeth catalog, Menza was invited to reunite with Megadeth in 2004, but he was fired after several rehearsals and replaced by Shawn Drover, who remained behind the kit until last fall. There had been plenty of speculation that Menza and guitarist Marty Friedman might return after the exits of Drover and guitarist Chris Broderick last fall, but just last week it was confirmed that Chris Adler and guitarist Kiko Loureiro would fill out the lineup.
According to Menza's manager, Robert S. Bolger, the drummer's as-yet-unnamed new group with fellow former Megadeth players Chris Poland and James LoMenzo will be revealing their other players and name in the coming weeks. In Menza's own Facebook post about the Megadeth situation, he assures one fan that the new project is coming soon.
You Think You Know Megadeth?
See Which Megadeth Guitarists Make Our 50 Greatest Rock + Metal Guitarists