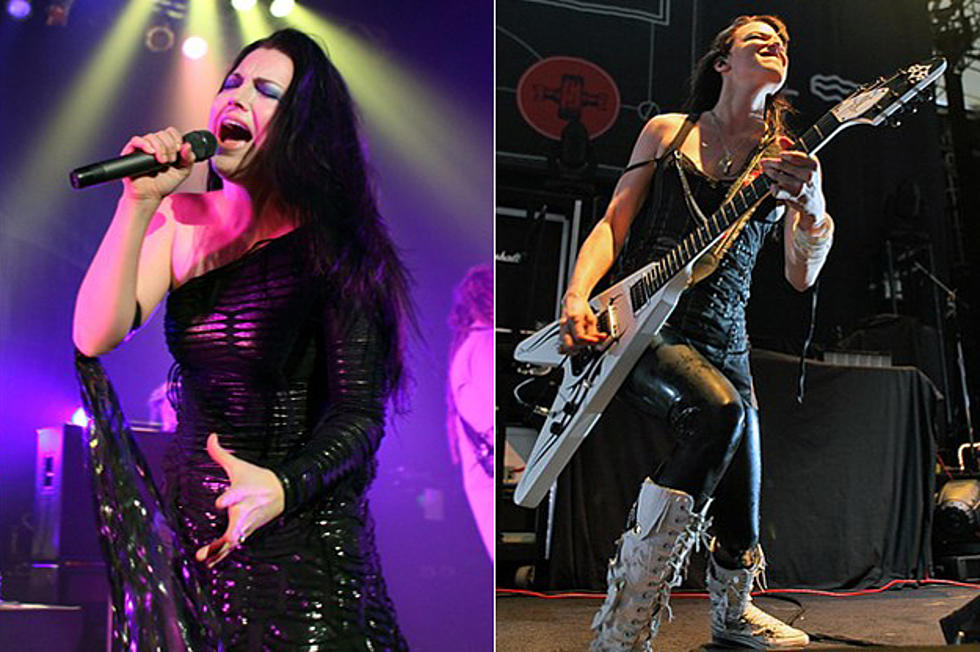 Evanescence's Amy Lee + Halestorm's Lzzy Hale Team Up on 'Break In' in El Paso
The moment that many have been waiting for on the Carnival of Madness tour finally came to fruition Saturday night (Aug. 18) in El Paso, as Evanescence's Amy Lee and Halestorm's Lzzy Hale united their powerful voices together on one song.
The track in question was the Halestorm favorite 'Break In,' Lzzy sitting and playing the piano while Lee sang from the side of the instrument.
Both artists have been very complimentary of each other even before the tour began, so after the duet it didn't take anyone by surprise when both took their Twitter accounts to discuss the experience.
Hale posted, "El Paso tonight was the first night I've ever had a duet with a woman. Amy Lee rocked it with me on 'Break In'! Love her!"
Lee responded, "I loved singing with you. Your voice shreds and that is my SONG right now! Thanks for letting me 'Break In' on your set tonight ;)."
Hale tweeted back, "The pleasure was all mine! It was so beautiful! You rule, babe! I'm so grateful for your friendship. You brought new life to 'Break In.'"
Lee recently told Fuse, "We played with Halestorm, I went on the side of the stage just to hear her sing and she sounded incredible, unreal, like one of those old classic rock voices and I was like 'Wow, she's great.'" The singer went on to add, "It's cool to have another female on the road. Not just because it inspires me musically – because it does – it makes me feel this sort of pride and 'yeah, go get'em' when I see a chick rocking. Also, she's really down to earth. I'm looking forward to hanging out and getting some girl time in."
Watch Evanescence's Amy Lee and Halestorm's Lzzy Hale Perform 'Break In' in El Paso