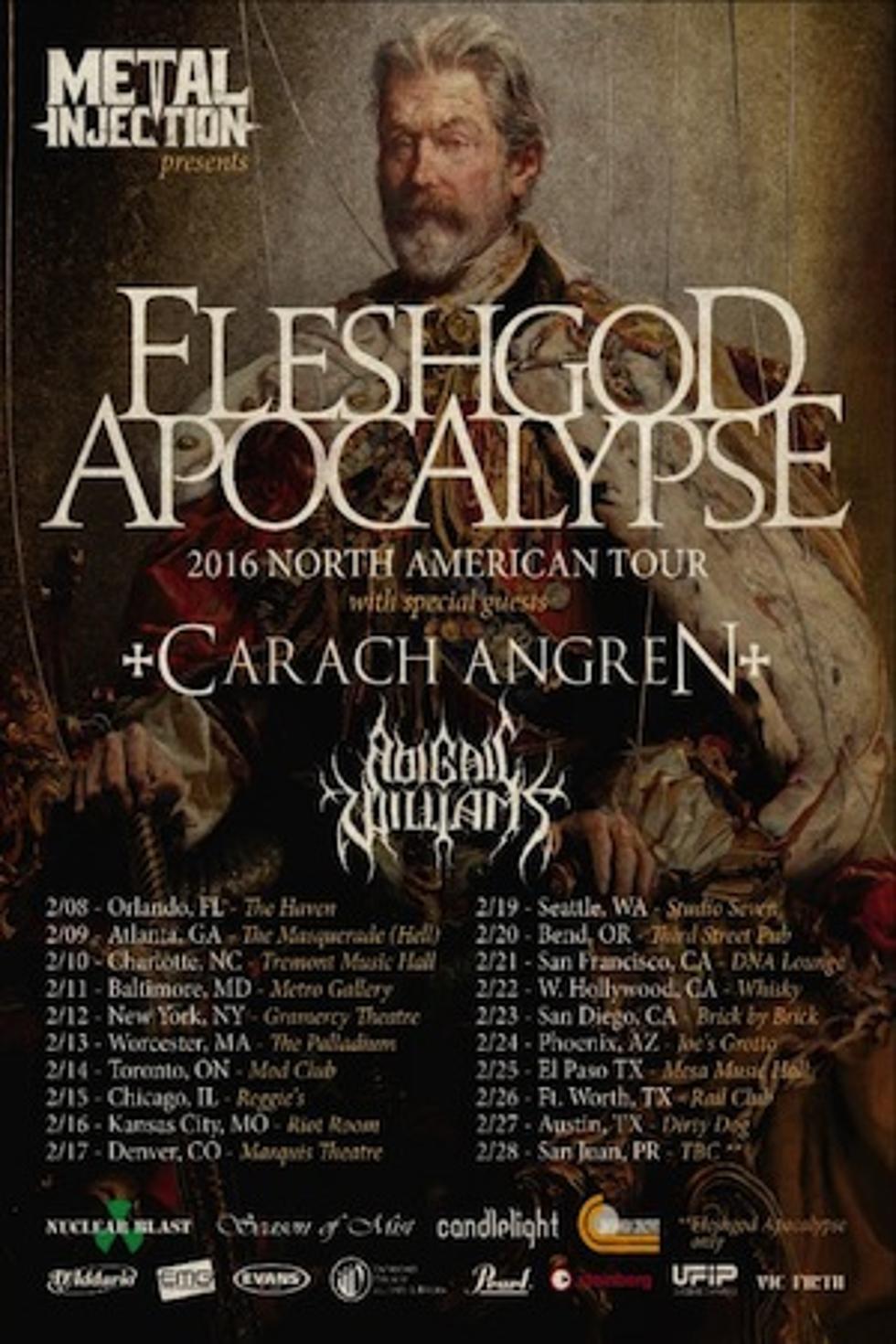 Fleshgod Apocalypse Announce 2016 North American Headlining Tour
Nuclear Blast / Metal Injection
Fans of symphonic extreme metal will have to try to contain their excitement as Fleshgod Apocalypse will be teaming up with Carach Angren and Abigail Williams for a run across North America starting Feb. 8 in Orlando, Fla. and coming to a close on Feb. 27 in Fort Worth, Texas. Fleshgod will be out supporting King, their fourth album which is expected to arrive in early 2016 through Nuclear Blast.
Excited for the tour, the band stated, "We are super stoked to finally return to the U.S. and Canada! To celebrate the release of our upcoming album, King, we are going to play a special show for you. Lots of new elements and features will be presented during an extended set, which will include songs from Labyrinth and several classics!"
Speaking about their tourmates, they added, "Also, it will be great to share the stage with our dutch brothers from Carach Angren and the crazy American black metal act Abigail Williams. We already know it's going to be a blast! See you there and hail to the King!"
Carach Angren and Abigail Williams both have 2015 releases to support, This is No Fairytale and The Accuser, respectively. Carach Angren are a three-piece orchestral outfit who are a spectacle live with frontman Seregor conducting the madness from behind his guitar in an animated fashion. Though Abigail Williams no longer employ the use of keyboards in their music, The Accuser still fits in with the overall grandiose aspect of the tour, inducing a trance-like state with their blackened hypnotic dirges.
Ecstatic to be a part of the tour, Carach Angren released a statement, saying, "We are very thrilled to return the horror to the USA & Canada! After bringing Death to the Phantom Ship [referring to their appearance on the upcoming 70,000 Tons of Metal cruise] in Florida we will set foot on mainland for the entire month of February. Our first visitation last year was met with your incredible support and now we will finally bring This Is No Fairytale alive to you, embedded in well known chapters from our previous horror stories."
Fleshgod Apocalypse 2016 North American Tour
2/08—Orlando, Fla. @ The Haven
2/09—Atlanta, Ga. @ The Masquerade (Hell)
2/10—Charlotte, N.C. @ Tremont Music Hall
2/11—Baltimore, Md. @ Metro Gallery
2/12—New York, N.Y. @ Gramercy Theatre
2/13—Worcester, Mass. @ The Palladium
2/14—Toronto, Ontario @ Mod Club
2/15—Chicago, Ill. @ Reggie's
2/16—Kansas City, Mo. @ Riot Room
2/17—Denver, Colo. @ Marquis Theatre
2/19—Seattle, Wash. @ Studio Seven
2/20—Bend, Ore. @ Third Street Pub
2/21—San Francisco, Calif. @ DNA Lounge
2/22—W. Hollywood, Calif. @ Whisky
2/23—San Diego, Calif. @ Brick by Brick
2/24—Phoenix, Ariz. @ Joe's Grotto
2/25—El Paso Texas @ Mesa Music Hall
2/26—Ft. Worth, Texas @ Rail Club
2/27—Austin, Texas @ Dirty Dog
Top 25 Extreme Metal Albums of All Time
10 Amazing Death Metal Vocalists You Can Actually Understand