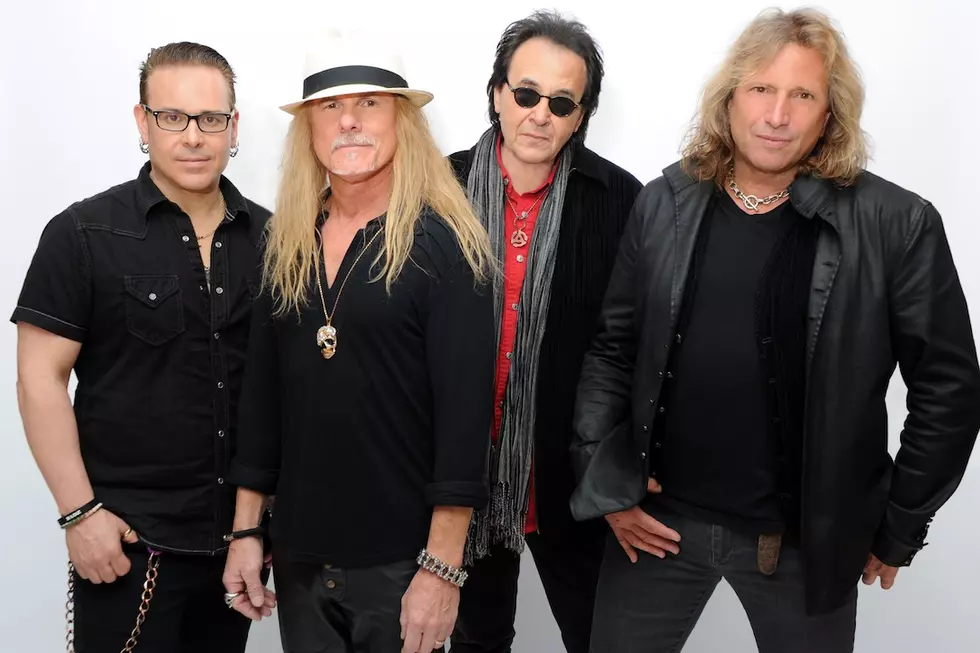 Four By Fate, 'I Give' – Exclusive Song Premiere
Photo Credit: Tracy Ketcher
Four By Fate will be releasing their debut album, Relentless, on June 3 through The End Records. While this will be the group's first release, the project has been in the works for over three decades. The disc features what are thought to be the last known drum tracks ever laid down by late Twisted Sister drummer A.J. Pero, including the song "I Give," which Loudwire is premiering in the player above.
"I Give" kicks off with Pero's ferocious playing style on full display as he aggressively pounds the skins. Dreary guitar work enters the fold and the full band comes in together on the first note of the verse. The grungy song boasts a riff played with hopeless abandon, ringing chords out right when the song feels like it is just about to receive a jolt. The tension is relieved and the uplifting moment comes in the soaring chorus that truly lets singer-guitarist Tod Howarth's voice shine and dries up the rain left behind from the verse.
Speaking about the song's theme, Howarth stated, "The inspiration for this song literally comes from when I was donating blood. As with the title of the CD, we/I 'give' all that we can to get this music out to our faithful followers and then some! As the lyrics say, 'I give my heart.. I give my blood.. And I give my voice...' Those are our true offerings!"
The band is rounded out by bassist John Regan, guitarist Patrick James Gasperini (Pound, Flywheel) and most recently, drummer Rob Affuso (Skid Row). Relentless also saw outside musicians collaborate with the group, including original drummer Stet Howland (W.A.S.P.) and Sean Kelly (Helix). Pero entered the fold when Howland was involved in an automobile accident which prevented him from laying down his drum tracks. The late drummer played on six of the 13 tracks on the album.
A.J. Pero died of a heart attack on March 20, 2015 while in the bunk of his tour bus while on the road with Adrenaline Mob.
See A.J Pero + Other Rockers We Lost in 2015
Mike Portnoy on Playing With Twisted Sister + Honoring A.J. Pero