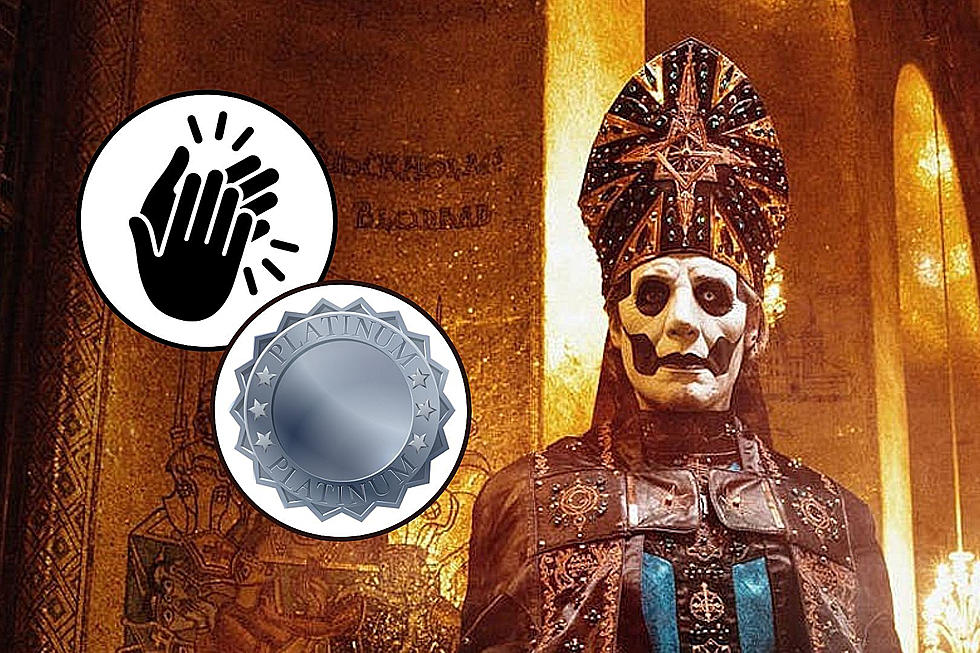 Ghost Officially Earn Their First-Ever Platinum Single in the U.S. (And You Probably Know Why)
Mikael Eriksson / Warmworld, iStock/Getty Images / ChrisGorgio, iStock/Getty Images
Ghost's viral song "Mary On a Cross" has officially been certified platinum by the RIAA, giving the band their first-ever such honor in the United States.
The song received the certification yesterday (Sept. 7), just five days shy of the third anniversary of its release as part of the Seven Inches of Satanic Panic 7", which also features the B-Side "Kiss the Go-Goat."
How Ghost's "Mary On a Cross" Went Viral
While received well at the time of release, "Mary On a Cross" didn't immediately ascend to become an undeniable fan-favorite. That changed during the summer of 2022, however, when the track became a viral sensation on TikTok. Suddenly, the song began racking up streams on in-demand platforms (YouTube, Spotify, Apple Music, etc) and even cracked the Top 10 on Spotify's Viral 50 Global playlist.
By mid-to-late September last year, "Mary On a Cross" hit No. 90 on Billboard's Hot 100 Songs chart, making it the first time a Ghost song had appeared on this chart.
In response to all the success, Ghost released an official music video for the 2019 single in mid-December of 2022.
READ MORE: Rock + Metal Songs That Went Viral on TikTok in 2022
What Tobias Forge Thinks of Ghost's Viral Success on TikTok
Speaking with Detroit's WRIF last September, Ghost frontman and visionary Tobias Forge confessed that he didn't even understand what TikTok was until the month prior. He was aware of its existence, but needed to be brought up to speed quickly in order to better wrap his head around how it just made one of his song go viral around the world.
While Ghost's social media accounts are very active, Forge, personally, shies away from it altogether.
"I already felt in 2008, when all that stuff sort of appeared, that that was not for me," he told WRIF, "So I just live a lifestyle that is a little bit more old school, if you will," the vocalist explained. "But I also understand the meaning and the mechanisms that drive people to use that and why it's important and all that, and why it's important for us. So I do not criticize it from that standpoint."
5 Other Bands Ghost's Tobias Forge Has Been In
Forge has played a lot of different styles over the years.
100 Best Rock and Metal Albums of the 21st Century
Loudwire's picks for the best rock and metal albums from 2000 to present.