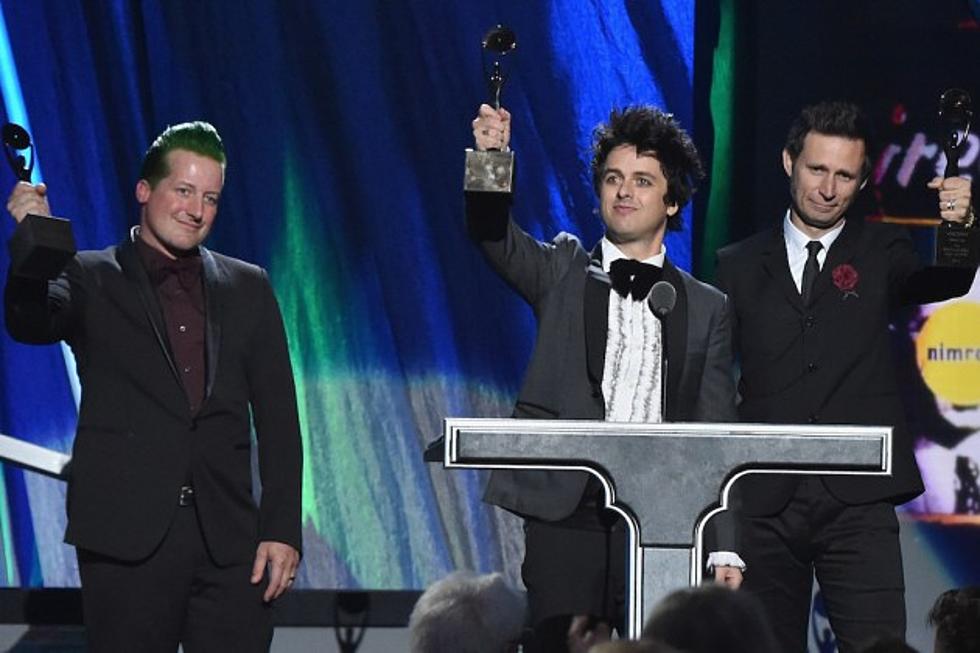 Green Day Accept Rock and Roll Hall of Fame Honor With Eyes on the Future
Mike Coppola, Getty Images
Green Day talked about their indie roots, while accepting induction into the Rock and Roll Hall of Fame tonight, but made clear they aren't done yet.
"Music is the force that gets us up in the morning; it's also the s– that keeps us up at night," Tre Cool said. "With every beat of the drum, our love for music gets even stronger. Veing inducted into the Rock Hall is an amazing honor."
Frontman Billie Joe Armstrong took to the podium last, after bandmates Tre and Mike Dirnt. "I feel like I'm at line at the DMV or something," he quipped, before admitting: "I'm kind of lost for words right now. The gratitude I feel right now is overwhelming."
Armstrong also followed Tre and Dirnt in making special mention of Larry Livermore of Lookout Records, the indie label that released 1992's Kerplunk before Green Day signed a major label deal with Reprise. "Larry, you've been so great to us," Armstrong said. "Thank you so much. You opened your door. For kids like us and other kids playing in rock and roll bands, to have that independent spirit – it's just so great."
Green Day (who remain with Reprise, some two decades later) revived the fast and furious sounds of '70s-style punk with Dookie, their 10 million-selling 1994 major-label debut, then set a new standard for the neo-punk movement a decade later with the Grammy-winning American Idiot – their unique update of the classic rock-opera form.
In between, Nimrod made the Top 10 in 1997 on the strength of the hit "Good Riddance (Time of Your Life)." Then 21st Century Breakdown, released in 2009, went to No. 1 the Billboard charts. Green Day's most recent trio of albums, ¡Uno!, ¡Dos! and ¡Tré!, were all issued in 2012.
You Think You Know Green Day?
Hard Rock Smackdowns: Watch Billie Joe Armstrong Dropkick a Concertgoer