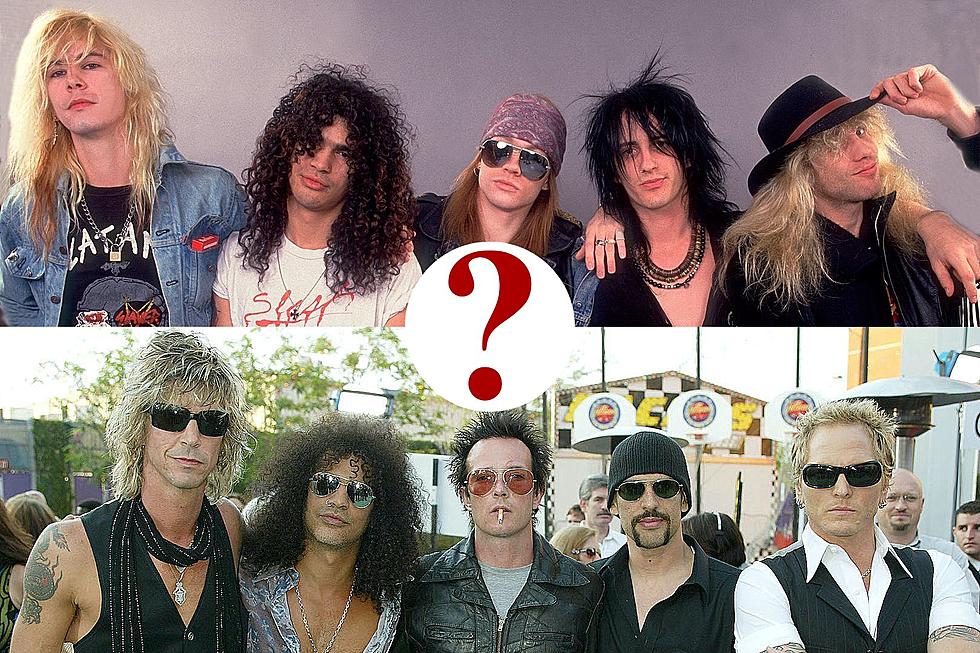 Guns N' Roses Fans Share What They Thought of Velvet Revolver
Paul Natkin, Getty Images / Kevin Winter, Getty Images
Before Slash and Duff McKagan rejoined Guns N' Roses in 2016, there was a lot of division within the band's fanbase. A lot of people remained loyal both to Axl Rose and Slash and McKagan, though, and some GN'R fans have taken to the internet to share their thoughts on the supergroup Velvet Revolver.
Slash, McKagan and former Guns drummer Matt Sorum formed Velvet Revolver together in 2002, along with rhythm guitarist Dave Kushner and Stone Temple Pilots vocalist Scott Weiland. The band was short-lived, having only released two albums, Contraband in 2004 and Libertad in '07, but the supergroup made a powerful impact with hits such as "Slither," "Fall to Pieces" and "She Builds Quick Machines."
Rose was not on good terms with his former bandmates at the time, and he reportedly issued a press release in 2005, calling Weiland a "fraud" [via MTV]. Weiland issued a statement of his own in response, writing, "What we're talking about here is a frightened little man who once thought he was king, but unfortunately this king without his court is nothing but a memory of the asshole he once was."
Meanwhile, Rose released the long-awaited Guns N' Roses album Chinese Democracy in November of 2008, which featured contributions from a revolving cast of musicians that had played with the singer since Slash and McKagan left the group in the late '90s. Velvet Revolver had gone on hiatus right around that time, following the departure of Weiland a few months prior, and they never reformed for another album again.
For a long time, it didn't seem likely that we'd ever see Slash and Rose share a stage together again. But, the guitarist and McKagan have been back in Guns for seven years now, and they've actually been performing the Velvet Revolver song "Slither" with Rose regularly over the last few years. Thus, a curious Guns N' Roses fan took to Reddit earlier today to ask what other fans think of Velvet Revolver and their music.
"One of the best things about this years gig was getting to hear Axl sing VR. I tried to like them, I really did and I liked the music, but it always just sounded like Guns without Axl to me. It sounded odd — like listening to a Britney [Spears] song, but sung by Shakira (maybe not the best example, but you get the idea). Hearing Axl finally get to sing those vocals was like someone had finally put the jigsaw together right and it was wonderful!" one person wrote.
"I agree. I think the material would have really been elevated if Axl had been the vocalist," someone else commented on the aforementioned response.
Another user commented that they love Velvet Revolver, and it was actually the supergroup that got them into Guns N' Roses in the first place. "Saw [Velvet Revolver] in a sweaty student union in Liverpool. I've seen GN'R a couple of times since but I really miss the small venue style," they added.
On the other hand, another fan pointed out that Velvet Revolver showed them that Guns N' Roses' internal issues were not all Rose's fault, as many had speculated once he was the only original member remaining.
READ MORE: 10 Unbelievable Supergroups That Actually Almost Happened
"I see them as proof that the dysfunction in GN'R was a team effort (not only on Axl's part), considering how it took only 3 years for VR to spiral into a chaotic ball of infighting itself. I like the band overall, but there's a reason their second album sucks despite the talent involved. They all hated each other after the first one," the individual elaborated. "It was a mess. Everyone was constantly relapsing, they were fighting with each other about random petty shit, Scott was missing shows."
The rest of the comments are an expected mix bag of feelings, with some saying they never cared for the group, and others calling them a good "placeholder" for Guns N' Roses. You can check out the rest of the responses on Reddit.
All 23 Musicians Who've Been in Guns N' Roses
Hope you got some time to get through this one.