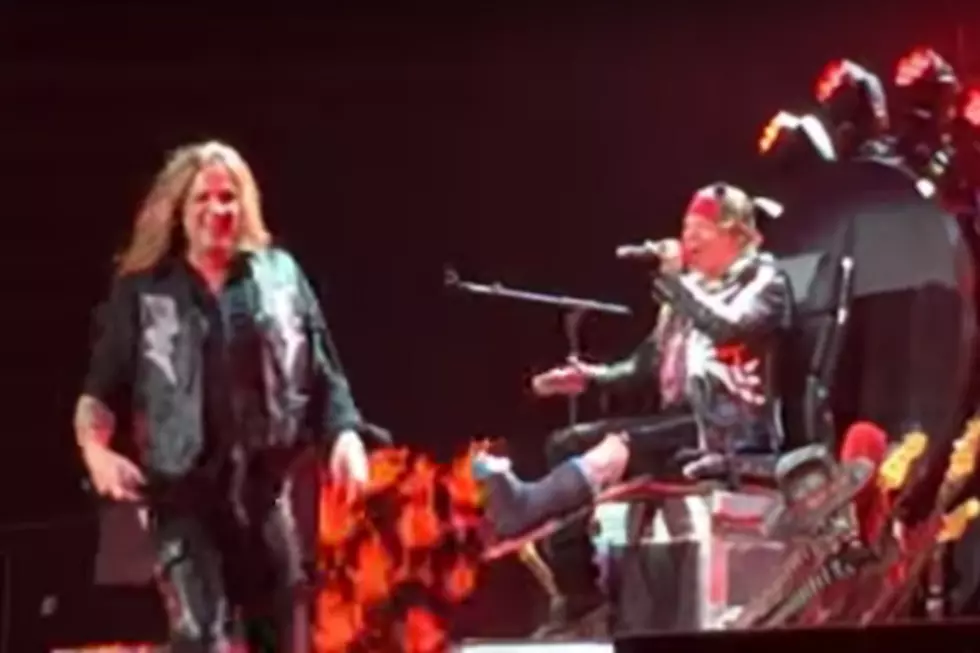 Guns N' Roses Jam 'My Michelle' With Sebastian Bach at Las Vegas Gig
YouTube
Guns N' Roses continued their return to the stage with a second Las Vegas show on Saturday night (April 9). The arena show saw a surprise appearance by Sebastian Bach, who joined GN'R onstage to sing on "My Michelle."
Guns N' Roses' reunion tour (featuring original members Axl Rose, Slash and Duff McKagan) has already been eventful, kicking off with an intimate club show at the Troubadour in Hollywood, Calif., and a pair of Vegas gigs. Axl Rose actually broke his left foot at the Hollywood gig and has since been forced to borrow Foo Fighters frontman Dave Grohl's now-legendary throne. Axl even sent out a tweet thanking Grohl for lending his custom throne:
GN'R's April 9 gig in Vegas consisted of a massive 25 songs that featured a few changes from the set played the night before. "My Michelle" was performed near the end of the band's set, and fans cheered Sebastian Bach on as he took the stage and shared his enthusiasm with the Vegas crowd. Axl and Sebastian traded vocal lines on "My Michelle" while Slash showed some great energy by darting across the arena stage.
Check out fan footage of Guns N' Roses jamming "My Michelle" with Sebastian Bach above. For all of Guns N' Roses' reunion tour dates, click here.
12 Unforgettable Axl Rose Onstage Moments
20 Best Guns N' Roses Song Lyrics