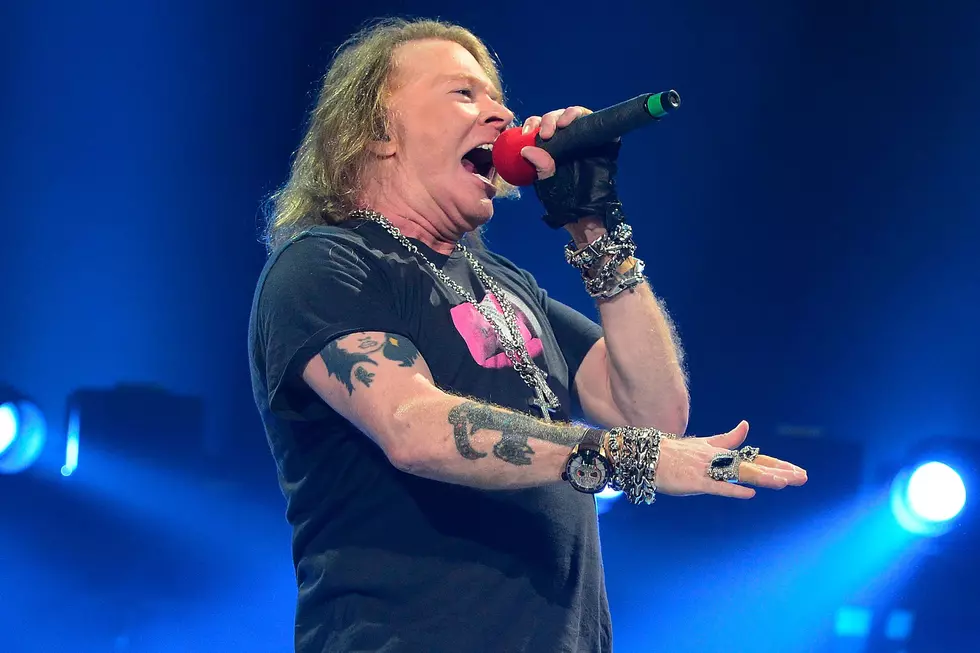 Guns N' Roses 'Slither' Through First Live Velvet Revolver Cover
Jeffrey A. Camarati, Getty Images
"We're gonna try something — hope you like it," said Axl Rose before Guns N' Roses ventured into related territory, covering a Velvet Revolver song for the first time on the opening night of the European leg of their ongoing '...Not in This Lifetime' tour
Over the weekend, a 15-second clip (seen below) emerged of GN'R rehearsing Velvet Revolver's Contraband standout, suggesting that the group was ready to branch out in their cover song selection. Rose's lower register is within range of Scott Weiland's signature croon and he gets some aid from Duff McKagan who handles the backing vocals.
Watch the performance in the video above.
Velvet Revolver released two albums, Contraband (2004) and Libertad (2007) and never landed on a permanent singer after Weiland departed in 2008. Franky Perez was a strong candidate and told Loudwire in a recent interview, "Getting that gig with Velvet Revolver was gonna be life changing, but what's crazy is that losing it was even more so. It opened doors and introduced me to people that I probably wouldn't have met otherwise. I have had more success in the last eight years than I've had in the entirety of my career."
Guns N' Roses will issue a mammoth Appetite for Destruction box set on June 29 featuring 73 tracks, flags, rings, lithographs, vinyl and a lot more.
Guns N' Roses, "Slither" Rehearsal Clip
See Axl Rose & Scott Weiland in the Top 66 Hard Rock + Metal Frontmen of All Time
10 Most Destructive Guns N' Roses Moments