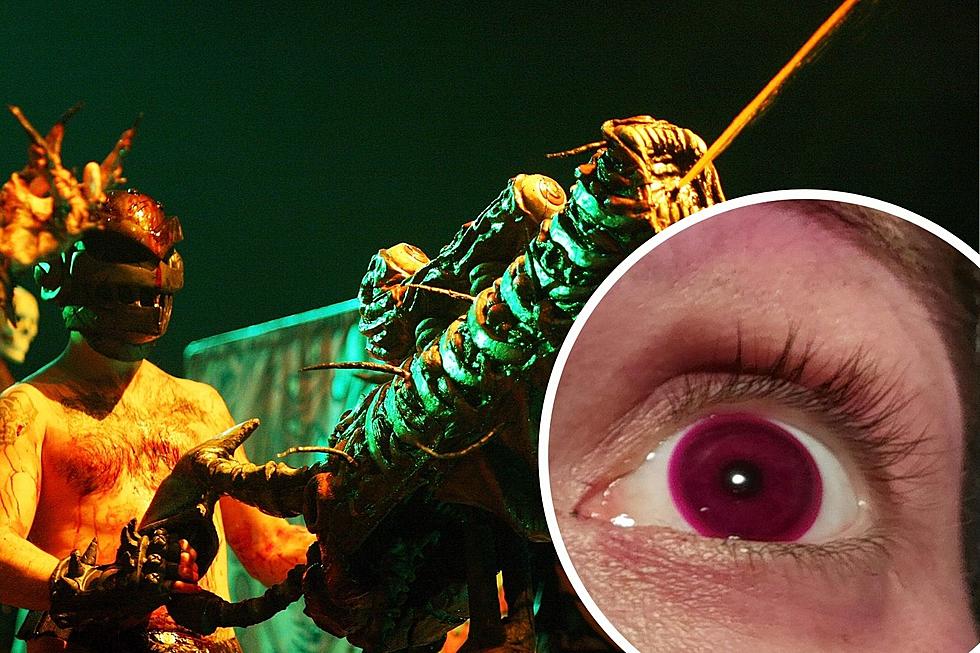 GWAR Fan Left With Stained Contacts After Standing up Front at Recent Show
Roger Kisby, Getty Images/DaniWolfe via Reddit
A GWAR fan who stood near the front at a recent show has taken to social media to showoff her stained contact lenses.
The post gained a lot of attention on the Oddly Terrifying subreddit, which is described as "A place for pictures and videos that are not the ordinary type of terrifying, but *oddly* terrifying." The post received 13,000 upvotes and nearly 600 comment as of posting this.
'They Were Normal Contacts at the Beginning of the Night'
Reddit user DaniWolfe recently shared a closeup pic of her eyes in the r/oddlyterrifying  subreddit. The photo is accompanied by the text "my contacts after a GWAR concert."
The image shows her eyes now have a magenta tint to them thanks to the various fluids GWAR tends to spray into their crowds.
"They were normal contacts at the beginning of the night," the post says.
My contacts after a Gwar concert
byu/DaniWolfe inoddlyterrifying

For some in the comments, it was their first introduction to GWAR and what happens at one of their shows.
"Like is the blood and shit from other people in a mosh put type scenario or are they like the death metal equivalent to a Gallagher show where they just fling buckets of blood and jerk off onto the fans from the stage," Reddit user DHLthePhoenix0788 asked.
Splattered Clothes on Social Media Following GWAR Shows
Do a location search for a specific venue on just about any social media platform following a GWAR show and you will find some of the best photos from people who were standing in the first few rows in front of the stage.
A 2022 Unilad article covering GWAR's stage antics provided tips that would supposedly help give concert-goers a better chance of being sprayed during a show.
"One fan who went to see the band in action described on Twitter choosing to wear white after being told they'd 'have a better chance of getting covered in blood,' while another seemed to provide for that recommendation as they wrote: 'I made a homemade GWAR shirt when I went to see them, white tee that I just wrote GWAR on and it was covered in blood at the end,'" the article said.
The Most Shocking Rock + Metal Moments of the '90s
The wildest moments of the '90s.
Gallery Credit: Lauryn Schaffner
The Most Shocking Rock + Metal Moments of the '80s
The wildest moments of the '80s.
Gallery Credit: Lauryn Schaffner