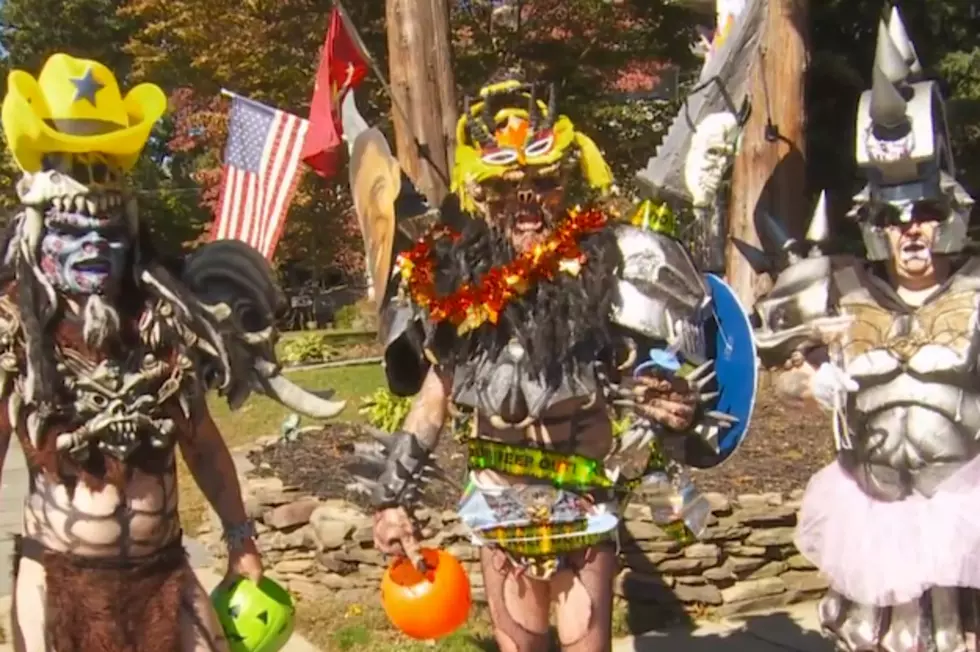 GWAR Terrorize Suburbia in Hilarious Trick-or-Treating Adventure
Fuse TV
Intergalactic metallers GWAR provide planet Earth with a number of generous contributions, and although the band tends to hate the human race, they certainly provide us with an entertaining alternative to our typically mundane existence. Along with amusing us with their music and iconic stage show, GWAR created another must see piece of amusement, as the band once documented a pre-Halloween round of trick-or-treating.
Unaccustomed to many Earthly traditions, GWAR chose to give trick-or-treating a shot for the very first time, bringing Fuse TV along with them to film the occasion. Although GWAR were grossly misinformed of when trick-or-treating is socially acceptable, the space monsters went door to door in the beautiful suburbs of New Jersey.
GWAR front-thing Oderus Urungus didn't really wear a costume for the occasion, instead choosing to cover himself in colorful boas and a giant Barack Obama cutout mounted on his battle armor. Bassist Beefcake the Mighty donned a pink tutu for his costume, as new GWAR shredder Pustulus Maximus bought himself a giant cowboy hat for his first Halloween on Earth.
READ MORE: 10 Songs to Scare Off Trick-or-Treaters
Needless to say, hilarity ensues as GWAR proceed to pillage the neighborhood in search of tasty treats. To watch GWAR terrorize families, insult helpless suburbanites, run from their banana-people foes and collect a heroic amount of candy, check out the video below!
GWAR Go Trick-or-Treating in Suburbia [via Fuse TV]
23 Rock + Metal Icons You Can Easily Be for Halloween
Doesn't take much to look like these rockers.