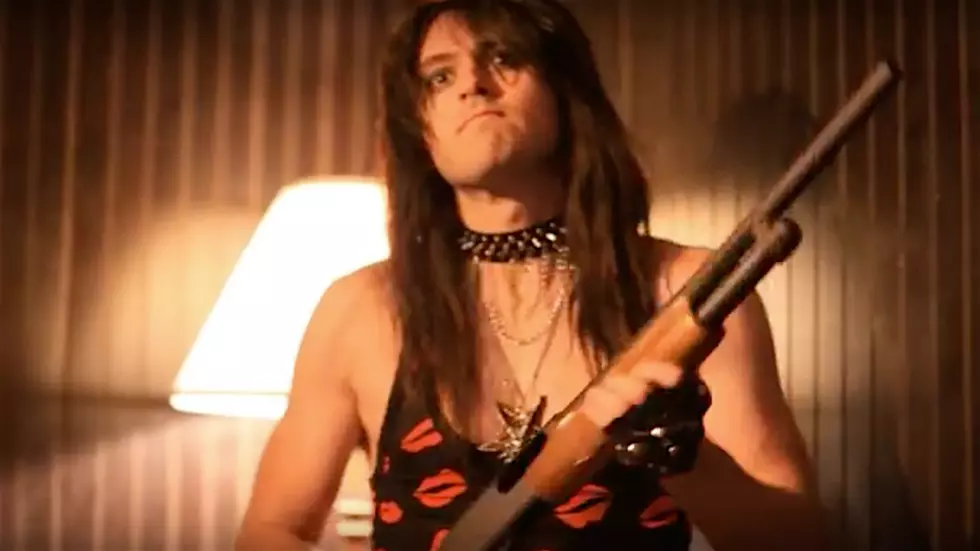 'Hairmetal Shotgun Zombie Massacre' – Exclusive Movie Trailer Premiere
YouTube: thatdamnvargas
Prepare for blood, because we've got the exclusive premiere of the trailer for Hairmetal Shotgun Zombie Massacre!
The upcoming indie film is part Evil Dead and part Heavy Metal Parking Lot, pitting a drug-addled hair metal band against a hoard of the undead. The band travels to a remote cabin to record its debut full-length album and pile narcotics into their bodies. Things quickly take a turn for the worse as zombies begin to overrun the cabin, so the hair metallers must fight to stay alive and maybe even secure a record deal.
Writer / director Joshua Allan Vargas offered us a detailed statement on his film:
'HMSZM' is our love letter to heavy metal and the splatter films of the 80's that we grew up watching, stuff like 'Evil Dead' and 'Night of the Demons,' along with the heavy metal horror films of the '80s like 'Black Roses' and 'Rock N Roll Nightmare.'

We were able to secure Tom Araya through his wife, Sandra, who is a dear friend of mine that I've known since I was a little kid. She talked Tom into it and he wound up hooking us up and doing the movie for $6,660 dollars. Her and their daughter, Ariel, were zombies in the movie.

Randy Blythe and David Vincent came about by my late friend Corey Mitchell, who was one of the most amazing people to ever walk the planet. He told them about it and they agreed to do it. We shot their scene at the 2nd Housecore Horror Fest the day before Corey died, so that scene in particular is one of my favorites because it was essentially a parting gift from a good friend. Corey gave us the venue for an hour to shoot their scene and it was a blast. All their lines were improvised and they killed it. Randy's lines had everyone cracking up.

The music for the band in the movie was done by Marzi Montazeri and Tim "Ripper" Owens. Marzi is a good friend of mine and I had approached him to do the music for the band. We started talking about singers and Ripper's name was brought up almost immediately. I always LOVED Judas Priest's 'Jugulator' album and think Ripper has an AMAZINGLY powerful voice. When we approached him about it he was super cool and gave a great performance. I can't wait to turn that stuff loose. We had some other awesome bands like Warbeast and Black Tora contribute music, as well. Dobber Beverly and Sean Gary from Oceans of Slumber wrote a few awesome tracks for the movie, as well.

The idea came about as an almost "drunken joke" of a movie that Jvstin (Co-writer) and I would ramble about when we were wasted 11 years ago. He would go on to work in bands while I would go on shooting movies and music videos and as the years go by, when the movie would come up, it became less of a drunken joke and more of something we saw as a way in which to draw from our personal experience working with music/musicians and poke fun of it all in a way that celebrates it's absurdity as much as it ridicules it.

We shot it over 10 days in November of 2014, with 5 additional days in March of 2015 to do a lot of the stunts and pyro stuff. The cast, particularly the guys in the band were amazing to watch work. All but two of them were actual musicians, as well as actors. The rhythm guitar player, Garret West, is actually the singer for a prog band called, Anova Skyway that is super trippy. So that definitely added to them being able to really get into their characters.
Co-writer Jvstin Whitney adds:
I wanted to make a movie that catered to metal heads. For years we've been going to conventions and noticed that was absent. They'd always book rockabilly or horror punk bands which seemed boring, try-hard, and out of place. I asked myself 'why the hell didn't these conventions book metal bands? That makes more sense and I know fifty bands that would play this thing for a weekend pass.' Every metal head I know loves horror movies, and there aren't enough movies that acknowledge the love of both audiences. So we decided to fix that problem.
Check out our exclusive premiere of the trailer for Hairmetal Shotgun Zombie Massacre in the clip above!
'Dark Days': A Conversation With Lamb of God's Randy Blythe
See Where Slayer's Discs Landed on the Top 80 Hard Rock + Metal Albums of the 1980s