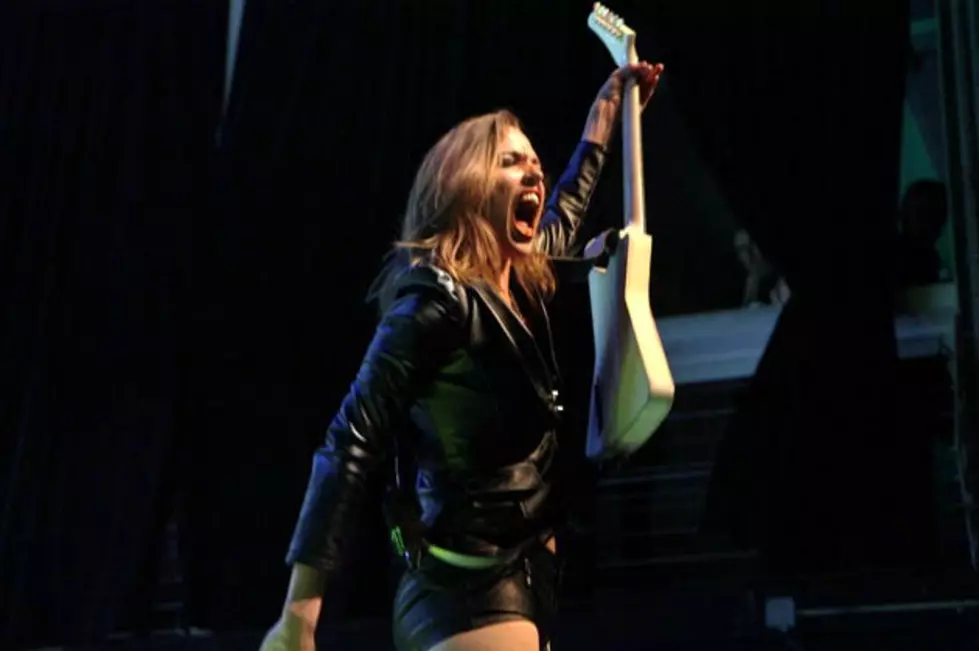 Halestorm Heat Up Fans in Chilly New York City With Help From Redlight King + Stars In Stereo
Liz Ramanand, Loudwire
There's no rest for the weary and that couldn't be truer for the members of Halestorm. If they aren't off winning Grammys or recording cover EPs, then they're on the road. Lzzy Hale and the gang are meant to be headliners and they proved that with their stellar performance at New York City's Terminal 5 over the holiday weekend.
The band appeals to anyone and everyone, as fans of all ages and all walks of life packed Terminal 5.  Some fans in the front row flew from England just for the show and they were not disappointed, especially with the group's 20-song setlist. The chaos of 'Love Bites (So Do I)' kicked off the band's set and they performed other tracks from 'The Strange Case Of…,' such as 'Mz. Hyde,' 'Freak Like Me' and 'Rock Show,' just to name a few.
When Lzzy Hale put down the mic to perform 'Break In,' a male fan shouted that he wanted to have her babies. After having a laugh, the singer said, "I love when a man wants to have my babies, that's some romantic s---.' She then dedicated the song to the science-defying man.
They played older favorites for die-hard fans such as 'It's Not You,' 'Dirty Work,' 'Innocence' and 'Nothing to Do With Love.' They also performed a hauntingly tender version of 'Familiar Taste of Poison.' Despite battling a cold, Lzzy sounded and looked incredible.
If you thought animal from the Muppets was out of control behind the kit well then you've never seen Arejay Hale's untamed, uncontrollable presence behind the skins. Mr. Hale's solo is a dream for percussion nerds (such as yours truly) who would be glad to see a solo show of him just rocking out and drumming for an hour. His multi-tasking skills, unique antics and managing to still keep a beat make him one of the most entertaining drummers in rock today.
Whether he's pounding away with normal drumsticks, his hands (or these big ass drum sticks he brings to the stage) Arejay Hale is a percussive monster. During the solo, he shouted to the crowd. "This is the part of the show where I kick your asses" and that he did, as he broke his bass pedal.
The band also performed their renditions of Fleetwood Mac's 'Gold Dust Woman,' Judas Priest's 'Dissident Aggressor' and Daft Punk's 'Get Lucky.' Their encore included 'I Miss the Misery' and their raise your glass / let's kick some ass anthem 'Here's To Us.'
In Halestorm, every member has their own magnetism whether it's bassist Josh Smith's calm and cool demeanor onstage or guitarist Joe Hottinger's edgy and endless supply of skill when it comes to shredding.  When your head finally stops spinning from Arejay's constant energy, big sister Lzzy Hale can suck you in with sensual melodies and spit you out with poisonous shrills.
Supporting act Redlight King charmed the crowd with the fusion of rock and blues. They had a warm and soulful presence which captured fans. Frontman Kaz offers up a down to earth, old school charisma to go along with his raspy voice. Redlight King are on tour in promotion of their new album 'Irons in the Fire.'
Openers Stars In Stereo are road dogs, as they have made their mark on New York City by passing through with the likes of Bullet for My Valentine, P.O.D. and Drowning Pool earlier this year. The band continues to progress onstage and they were a perfect fit on this bill since their contagious tunes feature a great blend of melodic and dreamy vocals with rock riffs.
Go here to see a list of dates where you can catch these bands on tour, and see our pics from the NYC show below.
Check Out Photos of Halestorm, Redlight King + Stars In Stereo Performing in NYC: