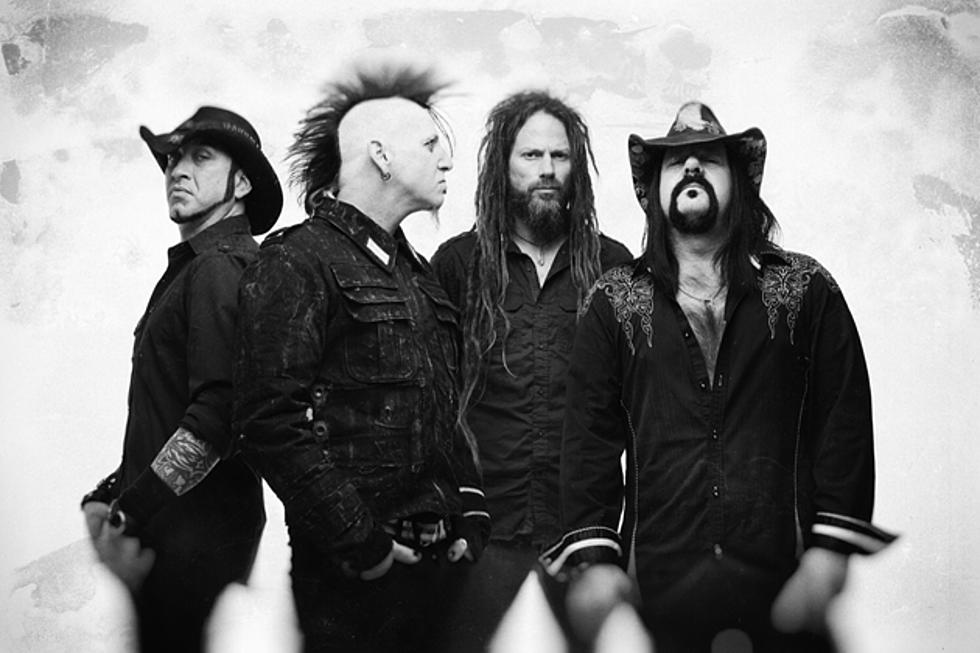 Hellyeah Stream New Songs 'Sangre por Sangre' + 'Cross to Bier'
Eleven Seven Music
Hellyeah have shared a pair of thunderous new songs from their upcoming fourth album 'Blood for Blood,' which isn't out until June 10. These two tracks -- 'Sangre por Sangre (Blood for Blood)' and 'Cross to Bier (Cradle of Bones),' the latter of which was made available for free download -- will certainly tide you over until the release date gets here.
'Sangre por Sangre,' which is essentially the title track, slays, with frontman Chad Gray delivering his verses in an almost militaristic, pointed way. He lets it rip during the choruses, and his voice, Vinnie Paul's rhythmic roar and Tom Maxwell's shreddy guitar power the song. As for the primal scream that closes the song, Gray goes thermonuclear and lets out a howl from the pit of his belly. It's memorable and vicious, just like the fans like it.
'Cross to Bier (Cradle of Bones)' is faster but an equally as angry track. It's also anthemic, thanks to the communal chant and crunchy guitars. If these two songs don't get the blood (or sangre) coursing through your veins, you might want to check for a pulse. 'Sangre por Sangre' is serving as the lead single to rock radio, while 'Cross to Bier' is being geared toward the metal audience.
Despite the recent lineup changes, the band is as tight and as virile as ever, and it sounds as though the players are exorcising some internal demons through their songs. That's always a good thing for fans. Turn the knobs and crank 'em as loud as you can.
Listen to Hellyeah 'Sanger por Sangre (Blood for Blood)'
Listen to Hellyeah 'Cross to Bier (Cradle of Bones)'