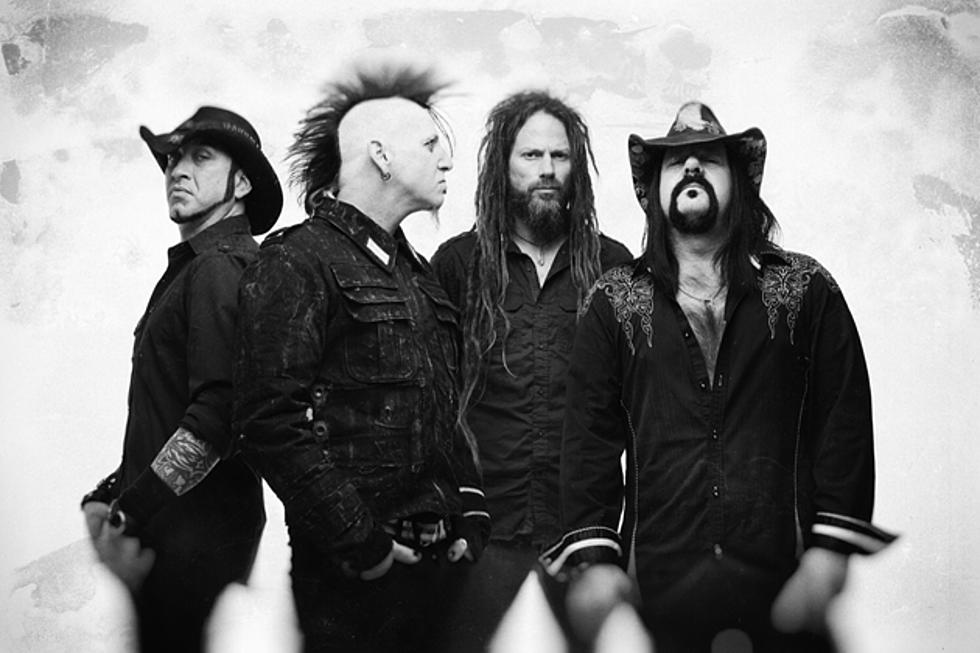 Hellyeah's Vinnie Paul Talks 'Blood for Blood' Album, Band Brotherhood + Lineup Change
Eleven Seven Music
When history is revisited, this will be one of the key periods for Hellyeah. The band has undergone a lineup change, necessitated by their musical vision, and they've come out of the studio with the 'Blood for Blood' album, one of their most cohesive records to date.
While the album doesn't come out until June, we were fortunate enough to get an early listen, and we talked with drummer Vinnie Paul in-depth about 'Blood for Blood.' He spoke about a number of the key album tracks, the decision to move forward with a new lineup and his thoughts on playing the new material live on tour with Avenged Sevenfold. Check out our chat with Hellyeah's Vinnie Paul below.
Can you talk a little bit about the vision you had going into this album?
Well, we definitely felt like it was the most important record of our career. We knew that we had to deliver the very best record. After the first two previous Hellyeah records, the first two were really directionally all over the place. We really enjoyed doing them, we did something outside what we had done in our previous bands, songs like, any of them basically would not fly in Pantera or Mudvayne. We really got an opportunity to get that out of our system. And with our last record 'Band of Brothers' we really felt like got focused, got back to our metal roots, what we wanted to do with the record.
With this record, it's a further extension of it. Still a very metal record, but at the same time, probably the best songs we've ever written as a band. We really feel like, top to bottom, the record speaks for itself man. It really came out great.
The album has such a great flow. Producer Kevin Churko worked with you on this disc. Can you talk about his input?
He was awesome, man. It was the first time we worked with an outside producer with Hellyeah. I pretty much produced the previous records. Really felt like it was at a point where we needed somebody else to come in and really help us and find our sound we were looking for and Kevin was perfect. He came and fit right in, everyone fell in love with him real fast. You learn to trust the guy because he's got such a great track record. He's a really cool dude.
I think he got the very best out of all of us. Chad [Gray] really wanted someone to push him to a whole new level for writing lyrics, singing lyrics, melodies, everything he did. Kevin was the perfect find for him.
'Blood for Blood,' the song. Such a great track to come out of the gate with. Talk about that track, and how that came to be the leadoff song.
The main thing I'm excited about is playing it live. We just shot the video a few weeks ago and that's the first song we've really been able to play through it as a complete song instead of building it in the studio. It's going to be awesome live, it'll be a great live track. A lot of energy, and like you said, the record has a really good flow and that just felt like the right track to be the first song on the record.
'Blood for Blood,' it's a statement. We're out for blood on this record and we felt like it's a great way to start.
It's very metal, but at the same time it's got a solid groove. The flow of any record is very important and the way these songs all have worked together, there are songs on there that are obviously a little more mellow but darker or deeper. It's part of the roller-coaster ride, but for any good roller-coaster, you have to have peaks and valleys. That's how the record worked, and we're really excited about the fact that it does have such a good flow to it. 'Blood for Blood,' it's a statement. We're out for blood on this record and we felt like it's a great way to start.
You have this tour coming up with Avenged Sevenfold, and they've got a huge following ...
They're probably the biggest metal band going today. They have an incredible following, we've been friends for a long time. I sent Matt [singer M. Shadows] three of the tracks before we got the tour and I'm pretty positive that's what nailed the tour for us. He loved them. He hit me up right away and said he was going to take us out with them, which was very awesome to be able to go and play 15, 16, 17 thousand seat arenas full of people that dig f---in' heavy metal. It'll be awesome. It's hard to do this day in age. To be on the bill with them is really great.
For you personally, in terms of playing live, what songs do you really want to see how they translate?
Any of the songs off the new record. Usually with any record there's four or five songs that are obvious that are going to be killer live. We work them up, do them live and they're good. But with this record, when we started talking about the live set, we said, "Well, you know, we know we can't play a lot of the new songs right out of the chute because the record isn't out yet, but let's learn every one of them and have every one of them ready to go." I'm really excited to get together with the guys and start rehearsing and doing these songs. I know they turned out awesome in the studio, they won't be hard to duplicate or replicate live. We're excited about getting it together and getting it going.
It's cool that you're prepping all of the new songs for your live shows. I would love to see the record top to bottom live at some point. And with the flow, it feels like that could work and be a great live experience.
That would be awesome, dude. If we could get to the point where we're moving into the headline status and played all those songs top to bottom, that would be f---in' great.
'Moth' has to be one of my favorite tracks I've heard this year. I think that'll be huge for you guys. Talk about that track and how it came together.
It's in different time signature. It's in 6/8. I don't think I've ever ventured onto anything in Hellyeah with 6/8. It was a different mood. I remember when I first played the demo for Kevin, just the music, he was like man there's something really special there. It's really dark but it's also beautiful.
That was the first song Chad felt drawn to musically. He wrote the lyrics, sang the words to that song first. That was an odd choice even by Kevin. He was like, man I thought for sure he was going to dig into the real heavy stuff out of the chute and he really felt drawn to that song. It's a song basically about -- there are so many things in life that you know are wrong and you're going to get burned but you have to give it a try, whether it's relationships, jobs, this, that or another. It's like a moth, it sees that flame and it's drawn to it even though it's made out of paper and he's going to get torched when he gets there. That's kind of what the song is all about.
'Say When' is another solid song on this record, especially for you on the kit. Talk about having a song like that where you get a little more attention.
Yeah man, it'll be a challenge live. I remember the first time I played it all the way through, we finished and I was completely out of air and I was leaned over and Kevin comes on the headset because he can't see me in the room, it's a blind area where the drums are. He's like, "Are you breathing hard?" I said, "Yeah man." He goes, "Want to do that for me again?" I said, "No man." [laughs] I told him to give me a minute, let me catch my breath.
'Say When' is a pretty exciting song on the drums. I don't think I've really come up with anything that extreme or creative since 'Far Beyond Driven.'
I haven't been on the road in a couple of months. Once you get your road legs underneath you, you're good. But when you've had time off, you find yourself like any athlete or musician, breathing a little harder than you normally do right out of the chute. That's a pretty exciting song on the drums. I don't think I've really come up with anything that extreme or creative since 'Far Beyond Driven.' So I'm really excited about it. The guys loved it and it's going to be a challenge live every night, but I'm into it.
You're recognized in metal as one of the greats for your drumming prowess. At this stage, do you find you're still learning new things? Is it still a challenge for you?
You continue to learn all the time, I just came up with that drum thing and the minute I came up with it, I had the idea of how I wanted the guitars to go. Those things don't come along all the time, they're hard to come across. 'Becoming' from Pantera or 'Say When' was one of those things where once I came up with the drum thing. "Ah I got to use that." We have to build a song around that, it has to be a special moment.
We now know there has been a lineup change. I'd think that would bring you, Chad and Tom even closer together. Can you talk about that?
It really brought us together. We finished the Gigantour with Megadeth and Black Label, which was a f---in' great tour. We really didn't want to take any time off, man. We felt like we had really got some momentum and the fans were really into where we were going and what we were doing musically and we got into the studio about three weeks after that tour was over and it just really became obvious to us that Greg and Zilla, they weren't really in the same head space as us.
So, for us to make this record we had to part company with those guys. I think Tom really f---in stepped up to the plate and shined all the way through and same with Chad. It really did pull all three of us together we focused on making the best record we could possibly make.
I think it'll be the best version of the band ever and we're really excited about getting back on the road and getting some touring going.
Now that we finished that we've got Kyle [Sanders] in the band, Kyle is a good friend. we've known him forever, he's an awesome bass player. He's awesome on stage. Really didn't want to go through any kind of auditions, we just knew that we wanted someone that was a bro that would fit right in and as soon as we called him before we could say, "Do you want to do it," he's like, "Yeah I'm in." That worked out perfect. We'll have a touring guitarist that's going to go out with us, we haven't announced that yet, we know who he is and he's a great player, great singer and a really good compliment to Tom on guitar. You'll know about him in another week or so. Anyway, I think it'll be the best version of the band ever and we're really excited about getting back on the road and getting some touring going.
With Kyle, there's a long history. Talk a little about coming across him back in the day and what you saw in him as he's come along in his career.
Chad had known him for a very long time. Bloodsimple was on Chad's label. Bloodsimple toured with Hellyeah many times and Monstro had a couple of tours, always had an opportunity to see him play and he's a super cool dude. He knows how to drink and have a good time and have a good time like the rest of us and like I said, when it was obvious that we were going to have to make some changes, he was the only guy that came to mind.
Our thanks to Vinnie Paul for the interview. Hellyeah's new 'Blood for Blood' album is due in stores on June 10 via Eleven Seven Music. Dates for their spring trek with Avenged Sevenfold can be found here. And don't worry metalheads, we also discussed Pantera with Vinnie Paul. Stay tuned for that part of the interview coming soon.