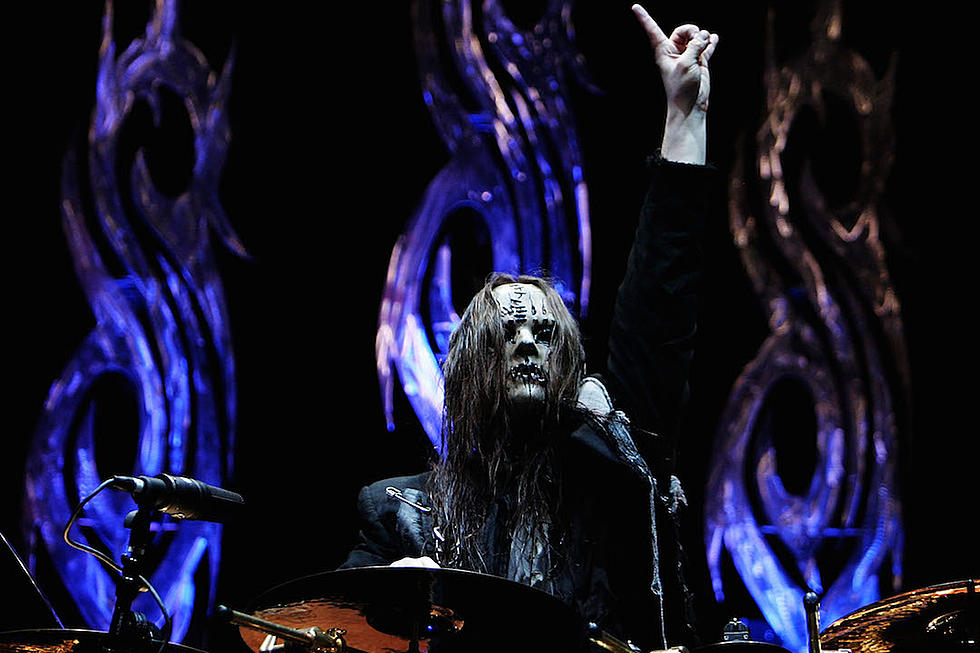 Joey Jordison: 'I Had to Be Carried to the Stage' for Last Slipknot Shows
Lisa Maree Williams, Getty Images
Earlier this week, Joey Jordison disclosed he suffered from transverse myelitis, a neurological disorder that rendered him unable to play the drums toward the end of his Slipknot career. Holding back tears a the Metal Hammer Golden Gods awards, he described the effects brought on by the disorder and thanked his fans for their continued support. Going further into detail, the icon told Metal Hammer he had to be carried to the stage for what turned out to be his last shows with Slipknot.
"It was at the end of the memorial shows we did for [bassist] Paul Gray," Jordison began. "We were in Canada, at the end of my last run of shows with Slipknot and something happened to me, but I didn't know what it was. I was super ill. You can be sick and still play, but this was something I'd never felt in my life before."
Skipping forward, he continued, "We found out what I have is transverse myelitis — a neurological condition that hits your spinal cord — and it wiped my legs out completely. It's like having your legs cut off, basically. I played those last couple of shows and it scared the living s--t out of me. I didn't know what it was."
The drummer came under fire from fans appearing to be intoxicated onstage for these shows, but Jordison vehemently denied this, stating, "I wasn't even drinking. Everything was straight-laced and f--king perfect. Everything was on point," adding, "But I had to be carried to the stage. The pain was something I'd never experienced in my life before, and I wouldn't wish it on my worst enemy."
Jordison was let go from Slipknot on Dec. 12, 2013 and has since been replaced by Jay Weinberg, formerly of Against Me! He stormed back this year with two new bands, Vimic and Sinsaenum. Vimic's debut album, Open Your Omen, is expected to arrive later this year and Sinsaenum's Echoes of the Tortured will be released on July 29.
See Where Joey Jordison Ranks Among the Top 50 Hard Rock + Metal Drummers of All Time
11 Unforgettable Joey Jordison Slipknot Moments