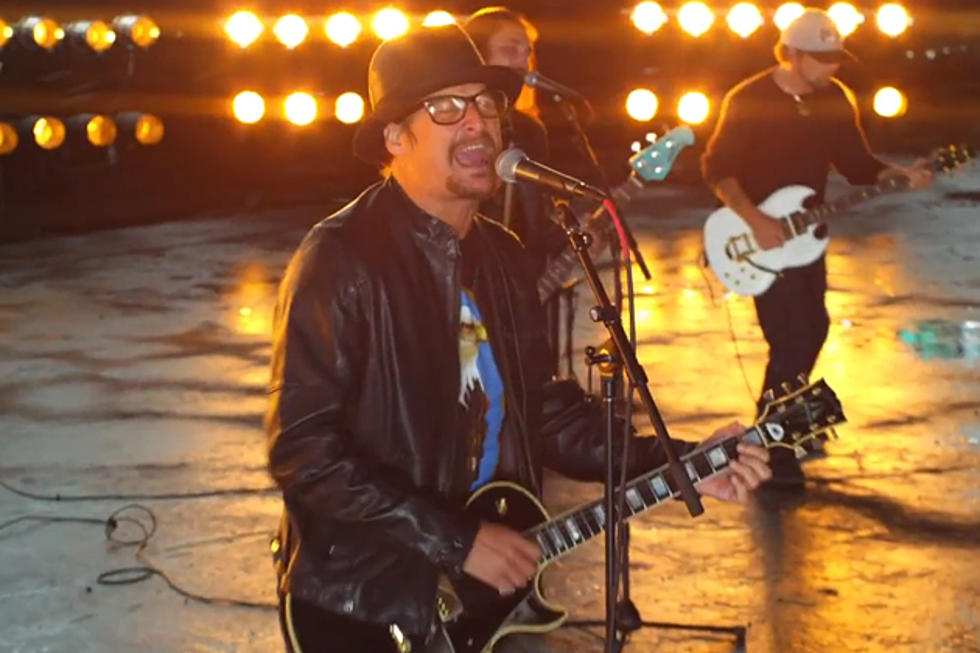 Kid Rock to Re-Record 'Devil Without a Cause' Album, Premieres 'Let's Ride' Video
YouTube
"Control" is a key word in the music industry these days, and Kid Rock is the latest musician to make sure he's got a handle on his past hits by re-recording them for future usage. Acts like Squeeze, Def Leppard, and Electric Light Orchestra have re-recorded past favorites in recent years to maintain control over their songs, and Rock is following suit with the music from his breakout album, 'Devil Without a Cause.'
The musician is planning to celebrate the 15th anniversary of the album in Aug. 2013, and he tells Billboard that having ownership over the master recordings played a key -- but not the only -- role in the decision. Rock says it also gives him the ability to add to what fans remember from the record as well.
He explains, "Some of [the songs] will be exactly like they were an some of them will have the sensibilities of what we've learned playing those songs live for 15 years. I'm not going to say they're going to be better than the originals. That's tough to top. But I think there's something special about them that people will dig, whether it's 'Bawitdaba,' 'Cowboy,' 'Only God Know Why,' '…Bullgod,' 'Welcome 2 the Party,' … We've twisted them up so much to where it's very interesting, very cool."
Rock says that one song that will definitely have an updated version is 'Wasting Time,' and he adds, "I think we'll have a monster single with the way we're doing 'Wasting Time' now, without any of the samples and stuff. I think that could be a really big song. It's just really cool." The singer also stated that a tour built around the 'Devil Without a Cause' album could be in the works as well, but nothing is set as of yet.
In addition to re-recording 'Devil Without a Cause,' Rock says he may change things up for his next album, revealing that he would open the process to outside writers. He explained, "Right now I'm thinking I might do a record like I've never done. I might actually go get song submissions and do four or five country tunes, like country rockers, just get a Nashville producer for those. Then I'm thinking about getting some of my buddies in the hip-hop business to produce four, five tracks of that, getting my old school buddies like Reverend Run, D-Nice, to write rhymes for me. I would not write anything on the record but just do this half-and-half record, country and hip-hop."
Meanwhile, Rock has a new album to support. 'Rebel Soul' just arrived in stores, and the musician is promoting the new single, 'Let's Ride.' The video for the track just surfaced online, and can be seen below.
Watch Kid Rock's 'Let's Ride' Video