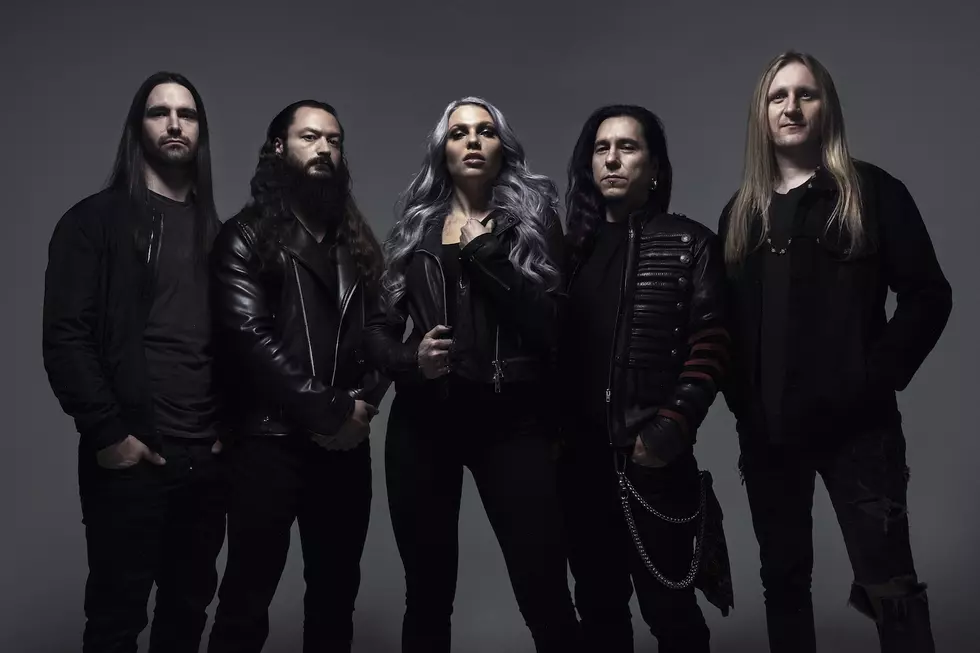 Kobra and the Lotus Adopt New Sound on 'Evolution' Album, Debut New Song
Dan Sturgess of Sturge Media
Kobra and the Lotus have undergone a slight shift in sound, as recognized by the title of their forthcoming record, Evolution. Hear what they've got to offer with the new song, "Burn!," below.
The song drifts away from Kobra and the Lotus' metal leanings of past, digging into deep, rolling grooves of modern day hard rock. This platform lets frontwoman Kobra Paige take the spotlight with her dominant set of pipes.
"We've never done a record like Evolution. We've flown demos over the Internet back and forth or started a few ideas prior to hitting the studio," Paige said of the writing process. "This time, we were all working together in the flesh for the full duration of the writing process. It's a collision of everything we love. We feel like it's the freshest and most timeless thing we've brought to the table."
Speaking further about the band's shift, she commented, "The new body of work sets the tone for the music going forward. Sonically, it's still heavy. It highlights the showmanship and maintains the edge. At the same time, it's approachable. It pays tribute to our influences, but it takes the next step. So, it's a reintroduction to us and a rebirth. A firm goal was to build a strong identity and update everything. We just want to be Kobra and the Lotus; that's what we're doing."
"It's about all of the reasons you hold yourself back," Paige went on. "You literally need to burn all of those feelings, stories, excuses, and obstacles keeping you from being your own authentic self. It's super personal. It's a product of growing and arriving as a person. I'm realizing who I am. It's symbolic of the rebirth."
Evolution drops on Sept. 20 on Napalm Records. Pre-order your copy here and see the band's upcoming tour dates below.
Kobra and the Lotus, "Burn!"
Kobra and the Lotus, Evolution Album Art + Track Listing
01. "Evolution"
02. "Burn!"
03. "We Come Undone"
04. "Wounds"
05. "Thundersmith"
06. "Circus"
07. "Wash Away"
08. "Liar"
09. "Get the Fuck Out Of Here"
10. "In the End"
11. "Tokyo" (Japan Version Only)
Kobra and the Lotus Tour Dates
Aug. 29 — Nashville, Tenn. @ Mercy Lounge
Aug. 31 — Charlotte, N.C. @ Amos' Southend
Sept. 02 — Huntsville, Ala. @ Sidetracks Music Hall
Sept. 03 — Columbus, Ohio @ Skully's Music Diner
Sept. 04 — Lakewood, Ohio @ Phantasy
Sept. 05 — Rochester, N.Y. @ Montage Music Hall*
Sept. 06 — Stafford Springs, Ct. @ Stafford Palace Theater
Sept. 09 — Laconia, N.H. @ Granite State Music Hall
Sept. 10 — Hampton Beach, N.H. @ Wally's
Sept. 11 — Portland, Maine @ Aura
Sept. 13 — Harrison, Ohio @ The Blue Note
Sept. 14 — Flint, Mich. @ The Machine Shop
Sept. 15 — Grand Rapids, Mich. @ The Intersection
Sept. 18 — Kansasville, Wis. @ 1175 Sports Park & Eatery
Sept. 19 — St. Louis, Mo. @ Delmar Hall
Sept. 20 — Lombard, Ill. @ Brauer House
Sept. 22 — Lexington, Ky. @ Manchester Music Hall
Sept. 25 — New York, N.Y. @ Sony Hall
Sept. 26 — Harrisburg, Pa. @ Club XL Live
Sept. 27 — Lynchburg, Va. @ Phase 2
Sept. 29 — Warrendale, Pa. @ Jergel's Rhythm Grill
Oct. 01 — Atlanta, Ga. @ Variety Playhouse
Oct. 03 — Wichita, Kan. @ Wave – Indoor Stage
Oct. 05 — Golden, Colo. @ Dirty Dogs Roadhouse
Oct. 06 — Albuquerque, N.M. @ Sunshine Theater
Oct. 09 — Las Vegas, Nev. @ Bunkhouse*
Oct. 10 — Ramona, Calif. @ Ramona Mainstage
Oct. 11 — Los Angeles, Calif. @ The Whisky
Oct. 12 — Los Angeles, Calif. @ The Whisky
Oct. 16 — Tucson, Ariz. @ Encore
Oct. 17 — Roswell, N.M. @ The Liberty*
Oct. 18 — Oklahoma City, Okla. @ Diamond Ballroom
Oct. 19 — Waco, Texas @ The Backyard
Oct. 20 — Dallas, Texas @ Gas Monkey Bar & Grill
Oct. 22 — Houston, Texas @ House of Blues
Oct. 23 — San Antonio, Texas @ The Aztec Theater
Oct. 24 — Corpus Christi, Texas @ House of Rock
Oct. 25 — Lafayette, La. @ The District
Oct. 26 — Miramar Beach, Fla. @ Village Door Music Hall
Oct. 30 — Orlando, Fla. @ Hard Rock Live
Oct. 31 — Savannah, Ga. @ Victory North
Nov. 01 — Ft. Myers, Fla. @ The Ranch
*Kobra and the Lotus headlines
2019's Best Rock Albums... So Far