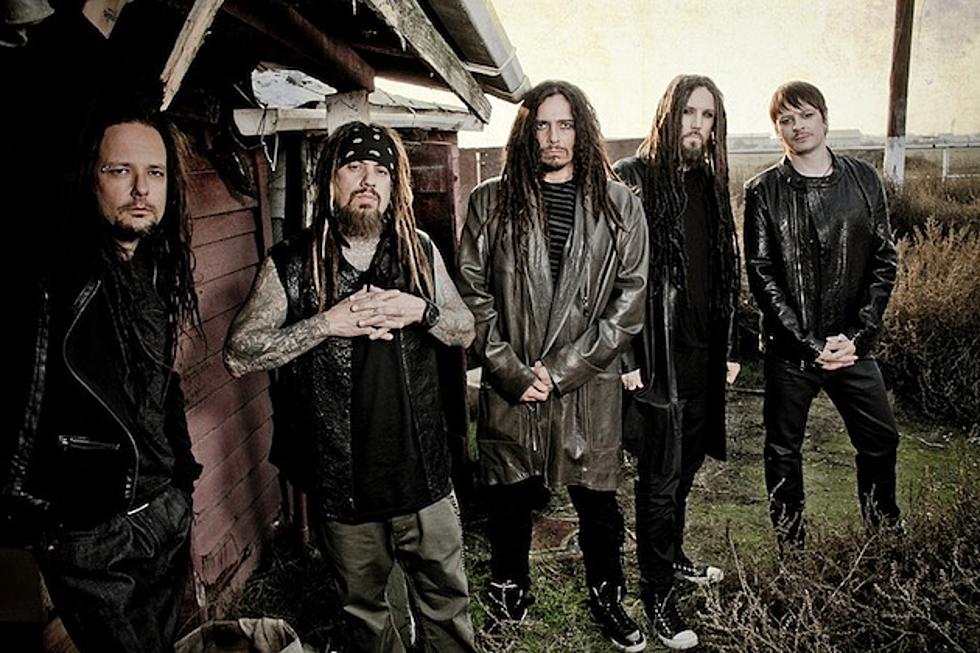 Korn Announce Headlining 2013 U.S. Tour Dates With Brian 'Head' Welch in Lineup
Roadrunner
Korn have just announced the latest phase of original guitarist Brian 'Head' Welch's integration back into the band's touring lineup. Although Head's spot in Korn isn't permanent quite yet, all signs point to great things ahead. With that sentiment in mind, Korn have just revealed a batch of tour dates which will feature Head performing headlining U.S. shows with the band for the first time since 2004.
Korn recently announced that Brian 'Head' Welch would be joining them for a number of European festival dates this summer, along with U.S. festival gigs at Rock on the Range in Ohio, Rocklahoma in Oklahoma, and Rock Fest in Wisconsin. Now, more fans will be able to check out Korn's reunion with Head during a series of more intimate headlining U.S. shows in May (see the dates below).
"We're taking it slow," Head told us during our recent interview with the guitarist. "I'm just saying anything is possible right now … As far as right now, it's all good. It's all good and I've never seen my family so positive and healthy and happy." Head capped his thoughts on a possible permanent reunion with Korn by offering the line, "Hearts change, and reconciliation is now."
Along with interviewing Head, we extended an invite for him to be a guest columnist for Loudwire, which the Korn guitarist and Love & Death frontman graciously accepted. "I'd really like to journal where this road back to Korn carries me," Welch wrote in his inaugural 'HeAd's KoRner' column. "I'd love for all of you to travel with me back into the family that I left behind so long ago. I'd love for you to be with me as I return to the boys to see if this idea totally crashes, or turns into a long-term thing — either is very possible at this point to be totally honest."
Check out Korn's updated U.S. tour itinerary with Brian 'Head' Welch below:
Korn 2013 U.S. Tour Dates with Brian 'Head' Welch:
5/15 - Belle Vernon, Pa. @ Rostraver Ice Garden
5/17 - Columbus, Ohio @ Rock on the Range
5/18 - Big Flats, N.Y. @ The Summer Stage at Tag's
5/21 - Silver Springs, Md. @ The Fillmore
5/22 - Montclair, N.J. @ The Wellmont Theatre
5/23 - Bethlehem, Pa. @ Sands Bethlehem Event Center
5/24-26 - Pryor, Okla. @ Rocklahoma (exact date TBA)
5/25 - St. Louis, Mo. @ Peabody
7/19 - Cadott, Wis. @ Rock Fest
Click here for Korn's European dates.