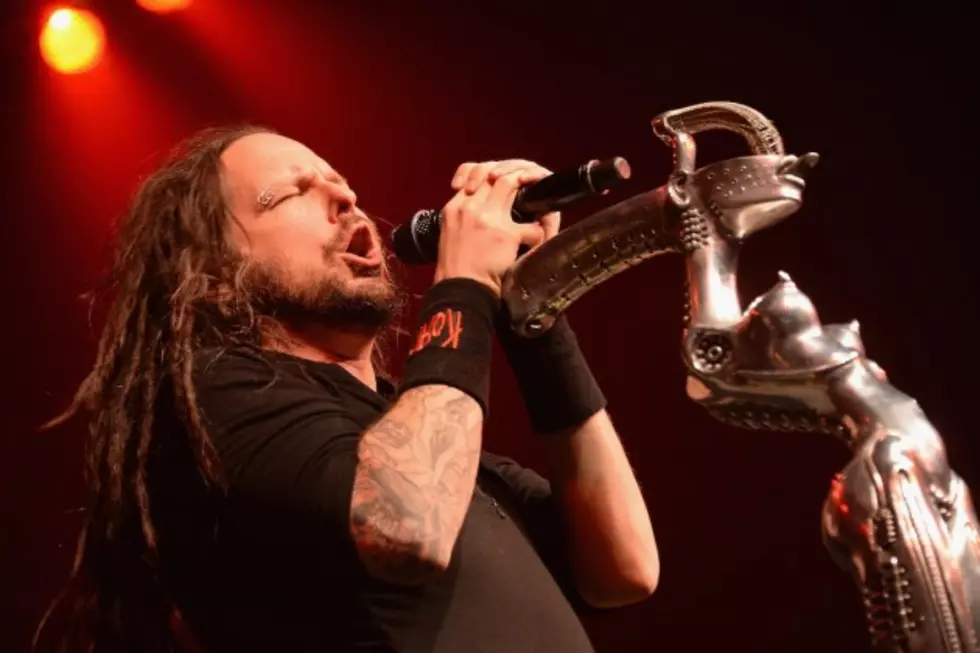 Korn's Jonathan Davis Talks 'So Unfair' Track, Songwriting + Misconceptions
Theo Wargo, Getty Images
Korn just keep rolling with their latest hit album, 'The Paradigm Shift.' After a monster tour with Slipknot in late 2014, and frontman Jonathan Davis took a few minutes to chat with 'Loudwire Nights' host Full Metal Jackie on the biggest misconceptions about the bands, Jonathan helping to increase awareness for juvenile diabetes with the new track 'So Unfair' and his personal songwriting process. Check out the chat below.
Jonathan, what's different about your creative mindset when you're writing a song like 'So Unfair,' specifically for the purpose of activism by increasing awareness about juvenile diabetes?
You know, I didn't really try to get any creative headspace when I was doing that song. It just kind of happened. The lyrics are just kind of talking about my son. I mean, my son Jesse was crawling around underneath my feet while I was doing the vocals. He and I were in the room when I was doing most vocals on 'Paradigm Shift.' I don't know, I just got inspired to write about it at that time and it just kind of happened. So I did it and it just kind of turned into this thing.
It's just the way I get my albums out, how I feel them, so it's kind of just the way I deal with the fact that my son has Type 1 Diabetes and he is going to have it for the rest of his life. Hopefully they will find a cure, but right now I am just trying to bring about awareness and do what I can do to help him and all kids. So that's how the song kind of got started.
Most parents don't have a celebrity platform to bring attention to issues such as juvenile diabetes. Do you feel increased responsibility to be involved, not just as a parent but more so because you're a parent with tremendous means of generating support?
I don't ever try to get involved in stuff like that, but this is coming straight from the heart for me and I felt that if I can use me being in a band to help out, I felt I would use it, but honestly, this just started out as me dealing with the fact that he had this disease and then it turned into something else. It wasn't supposed to be a song to raise awareness. It wasn't supposed to be about any of this s--t. It was supposed to be a song of me dealing with the fact that my son had this disease, and that's all it was. Then when we did the record, we were cutting songs and stuff and I listened to the song and I thought that I could do something cool with this and then I thought about raising awareness and all of that stuff. But I am glad that I have that opportunity and I'm glad that I can raise awareness to help do something for those kids. There is a lot of good stuff going on at JDRF (Juvenile Diabetes Research Foundation) right now and there is a lot of new treatments and good things happening, so I'm really excited about that.
The perception about bands like Korn and Slipknot is most likely pretty debauterous. What would surprise people the most about what really goes on when these two bands interact backstage?
Back in the day, I think, when we were young, it was crazy and debaucherous, but as we got older and started to have families and stuff like that. That stuff just started to get old and I think it's about, for me personally, it's more about the music and art form and going out and helping people. I think I've helped a lot of people going through what they are going through and the music just makes them feel a little better and to me, that's what it's all about now. And I think the big misconception is that bands like us and Slipknot are crazy and going out and partying and all of that stuff. Yeah, we did do that when we were younger, but now it has settled down and I think that could happen to anyone with age and I think there are more important things
Looking at the entirety of what Korn has accomplished, what aspects of where you are now did you expect in the early days? What's been the biggest surprise?
I think the biggest surprise is that I am still here 20 years later doing this and I didn't expect anything out of this in the beginning and it has blown up so huge and I have had an amazing career and I don't see any signs of it slowing. We still love doing what we do and still love touring and making music. I mean, I am in the car now on my way to Europe. I'm always on the go and I love doing what I do and the whole thing is one big surprise for me.
From a creative standpoint, what makes the benefit of longevity so important to each new project for a band like Korn?
You stumped me Jackie [Laughs].
When you're looking at the music you're writing for records, are you thinking about 'I want this to stand the test of time?' Or do you think about ...
No, I don't think period, I just do. I know it's cheesy sounding, but I don't try to think so long. I don't let my mind get away with that, because once you start thinking like that then you start stonewalling. Maybe this would be better, maybe this would be better. I mean, that's just me personally and I would tear the song apart until it's not even a song anymore. I mean, for me, when we do our songs, I do what's necessary and then walk away from it and then maybe come back a little later. But overthinking songs can mess up a great song.
Thanks to Korn's Jonathan Davis for the interview. Korn are currently touring Europe and you can catch all of their upcoming dates here. For more on 'So Unfair' and Jonathan Davis' support for the JDRF and how you can help, click here. Tune in to Loudwire Nights With Full Metal Jackie and Tony LaBrie Monday through Friday at 7PM through midnight online or on the radio. To see which stations and websites air 'Loudwire Nights,' click here.