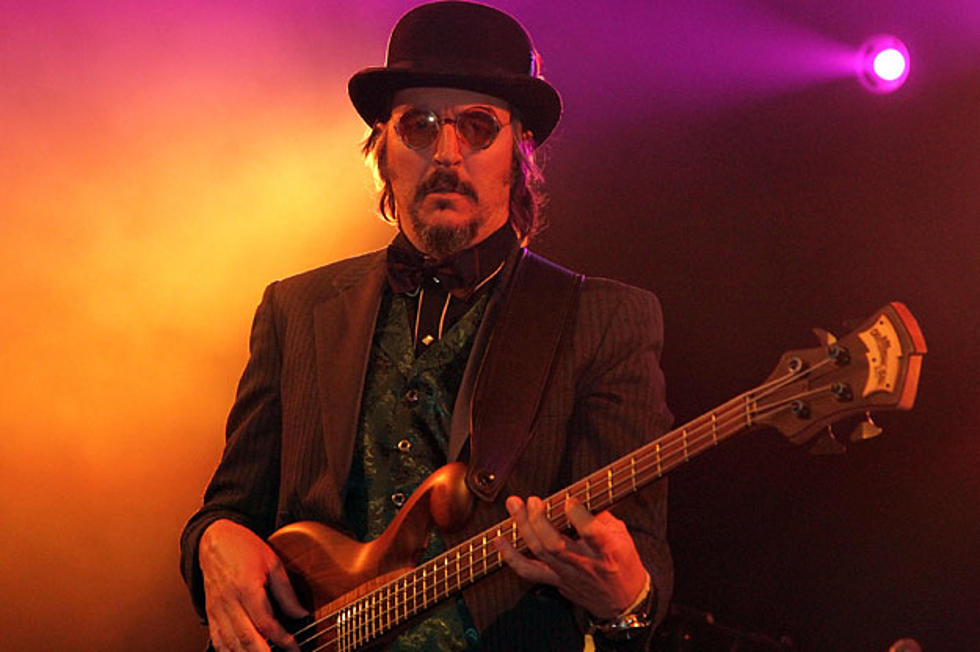 Les Claypool's Pachyderm Bass Raises $50K for Ailing Nephew
How much is a prize item like one of Les Claypool's basses worth to you? Now add in the fact that he's auctioning it off for his ailing two-year-old nephew who is suffering from a rare form of infant leukemia. After putting the bass on the block, the Primus leader found out just how much it could get, as the auction just ended with the winning bid going for $50,599.99.
Claypool recently put the final prototype for his Pachyderm four-string bass, and it is the design by which all future Pachyderm basses will be modeled after. The Primus leader had been playing the bass live over the past year, and added that it was a "fabulous feeling and sounding instrument."
The musician stated that he didn't want to stand by while watching the trouble his brother's family is going through as their son Matthew continues his bone marrow transplant therapy at St. Jude's Hospital in Memphis. While the medical bills pile up, Claypool came up with the idea of auctioning off the bass to raise funds and he was pleasantly surprised at the outpouring of support.
Shortly after seeing some of the returns, he posted a message stating, "Only part of this auction is about the money. My brother needs all the financial help he can get but more than anything he needs uplifting elements in his life. Matthew's situation is so fragile that every week is another roller coaster ride. Unfortunately recent news on Matthew has been not so good and having this auction gives my Bro something exciting to help distract him from the ebb and flow of the emotional tide that comes with watching his toddler son struggle."
He added, "Also, I think the more we are aware of this new wave of infant leukemia, the more we all become conscious of our environment and what we choose to expose ourselves to. It REALLY warms my heart and brings a tear to my eye to witness all these folks rallying around this boy via this instrument. Yesterday was an emotional day for all of us. I'm sure the last 30 minutes of this auction next week will be like watching the Niners (he's a big SF fan) win the Superbowl for my brother and his family."