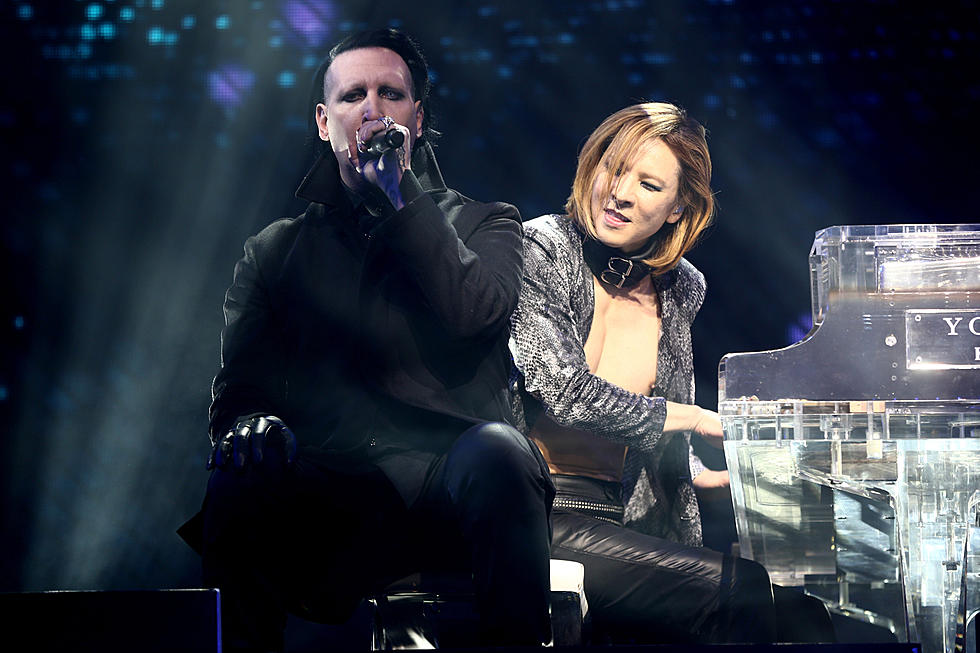 Marilyn Manson to Guest on X Japan Album, Plus News on Motionless in White, AC/DC + More
Rich Fury, Getty Images
In addition to the big stories we covered today, Wire-to-Wire provides you with some of the other key rock and metal news items from May 6, 2018:
- Apparently Marilyn Manson's guest appearance with X Japan at Coachella was just the beginning. Consequence of Sound reports that Manson will make a guest turn on the upcoming X Japan album. The group is reportedly eyeing "late summer or early fall" for their still untitled disc, which will be their first new album in 22 years.
- Motionless in White have revealed that longtime bassist Devin "Ghost" Sola has exited the band. The move will not affect their touring, as former bassist TJ Bell will return for their upcoming Vans Warped Tour shows.
- AC/DC's Back in Black is one of the biggest selling albums in chart history, and it just got another boost. With the classic album being reissued on cassette for Record Store Day, Billboard reports the album just re-entered the Billboard 200 Album chart at No. 152.
- Kudos to KISS guitarist Tommy Thayer. The musician will be awarded an honorary doctorate from Pacific University at a May 19 ceremony at Hanson Stadium on the Forest Grove Campus. Thayer has served on Pacific's Board of Trustees since 2005 and has helped organize the annual Legends celebrity fundraiser for the university over the past decade-plus. Prior to accepting the award, Thayer will also give the keynote address at the undergraduate commencement ceremony.
- Jack White had a little fun on The Late Show With Stephen Colbert Friday night (May 4), participating in a bit where he helped perform supposed full versions of commercial jingles. Watch here. White also played "Ice Station Zebra" during his appearance on the late night show.