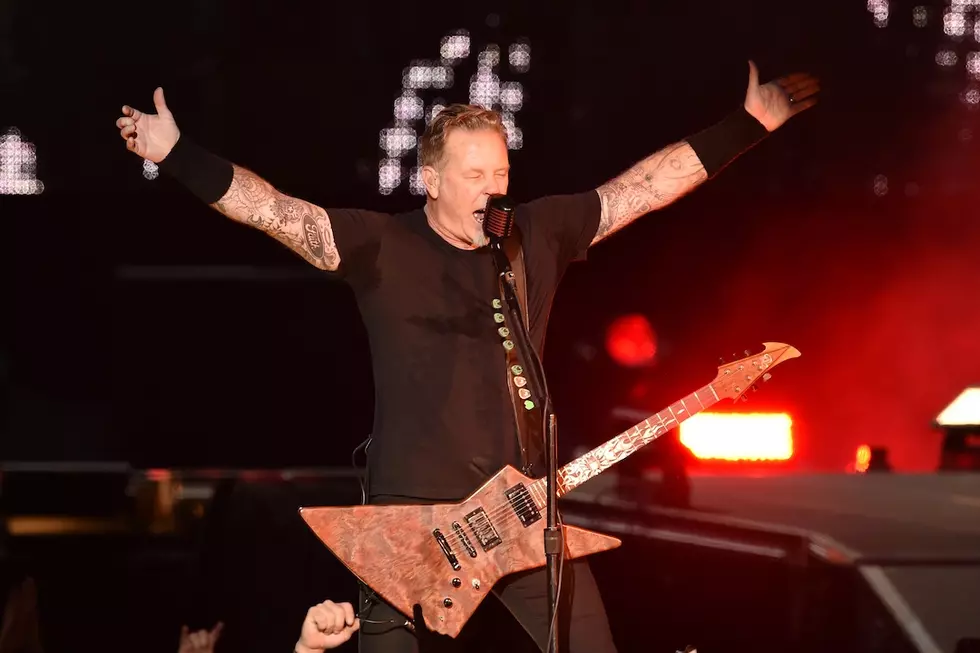 Metallica's James Hetfield Contributes Voice to 'Skylanders Academy' Netflix Series
Kevin Winter, Getty Images
The popular video game series Skylanders is making the leap from console to animated Netflix series, akin to the move made by Angry Birds. Dubbed Skylanders Academy, the series has enlisted a wealth of actors, actresses and musicians to lend their voices to the game's characters. Among the voice artists is Metallica frontman James Hetfield, who is enjoying a banner 2016 thus far.
The Activision Blizzard, Inc. series has expanded their reach by transforming the game into an animated program, making its debut in the fall later this year. Hetfield joins a star-studded cast which also includes actor Justin Long (Dodgeball, Jeepers Creepers) voicing Spyro the Dragon, Ashley Tisdale (High School Musical) voicing Stealth the Elf, Jonathan Banks (Breaking Bad, Better Call Saul) voicing Eruptor and Norm MacDonald (Saturday Night Live) voicing Glumshanks. Hetfield's role is unspecified at this time.
"Skylanders Academy gives us the opportunity to approach narrative storytelling with the same level of quality and excellence that millions of Skylanders fans have come to expect from the game," Activision Blizzard Studios Co-President Stacey Sher commented. "We're inspired by our fans' excitement for these characters and have worked hard to bring these characters to life with stories our fans will love."
The series will explore the world of the Skylanders heroes, who team up together with unique abilities to combat and thwart evil in their universe. These heroes will also run the Skylanders Academy and oversee cadets as they train them in the "Skylander way."
Skylanders Academy is not the only benefactor of Hetfield's contributions. The Metallica frontman made a guest appearance on Heart's "Beautiful Broken," a re-recorded track from Heart's 2012 effort Fanatic and the title of their forthcoming record. Hetfield trades lines with Ann Wilson, giving the track a distinctive edge and bite.
10 Unforgettable James Hetfield Moments