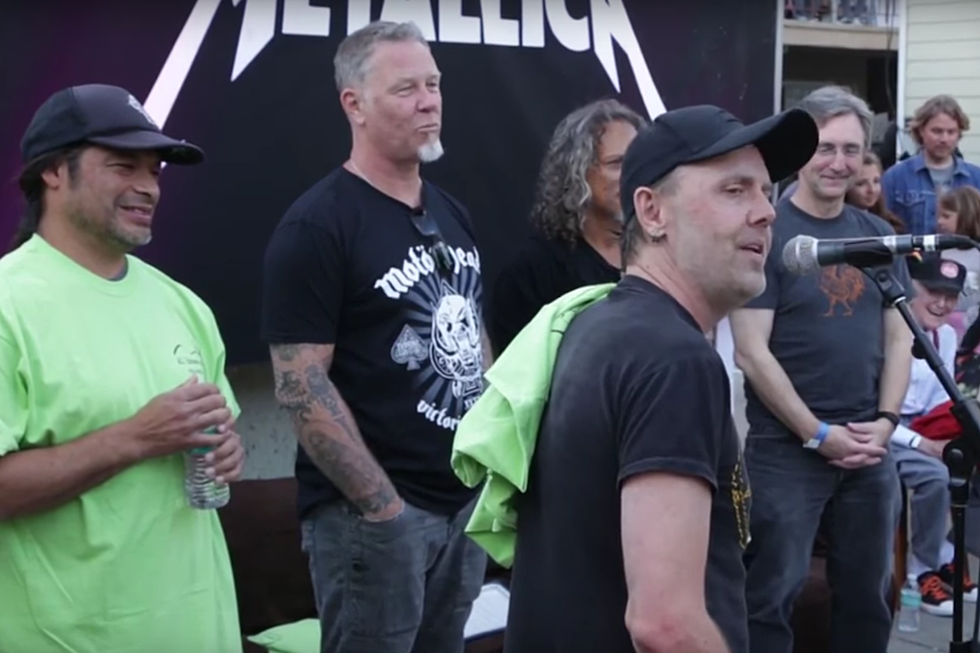 Metallica Revisit Home From 1980s, Receive Proclamation From Mayor
YouTube: MetClub TV
The year has already been huge for Metallica as they have celebrated the 30th anniversary of the landmark Master of Puppets, served as Record Store Day ambassadors for 2016 and have a new album on the horizon. After performing at the record store Rasputin Music for Record Store Day (April 16), the group took a trip back to El Cerrito, Calif. to revisit their home from 1983 through 1986.
Metallica spent time in the house's garage writing the classics Ride the Lightning and the aforementioned Master of Puppets. Though the garage at 3132 Carlson Boulevard has since been taken down, Lars Ulrich quipped in the video above, "Maybe we would finish the new record quicker if we were in that f--king garage," after stating, "A couple years ago we thought it would be cool to come over and see if we could buy the garage from the people that lived here and we were going to put it inside HQ."
One of the attendees, Brian Lew (co-author of Murder In The Front Row: Shots From The Bay Area Thrash Metal Epicenter) detailed the even on a Facebook, stating, "The band found a way to rent the old Metallica Mansion in El Cerrito for the weekend and brought in a production company to recreate the theme of the old metal days when James [Hetfield], Lars, Mark Whitaker [Metallica sound engineer] and Clive The Dog called it home. Beyond amazing. Sadly THE Garage is long gone and a three unit apartment / garage sits on the spot behind the house now... but it was one last party at 3132 Carlson... and they amazingly rented out the new three car garage to serve as the bar for the event."
The band took turns addressing the crowd and reflecting on their time in the house and the hours spent writing and rehearsing the would-be classic records in the garage. Guitarist Kirk Hammett got emotional behind the mic as he panned over the crowd and saw "some of the same old faces I saw back in the '80s!" The day also marked the anniversary of Hammett's first show with Metallica.
The mayor of El Cerrito, Greg Lyman, was also on scene to present Metallica with a proclamation as he recognized their close-knit ties to the California city.
The day preceding Record Store Day was full of nostalgia for Metallica as the remastered editions of Kill 'Em All and Ride the Lightning hit the shelves. A deluxe boxset was made available, including hardcover books bursting with archival photos and detailed notes alongside vinyl editions of the albums and special live CDs and more. Videos of Hetfield and Ulrich unboxing the sets can be seen here.
See Where Metallica's Albums Landed on the Top 80 Hard Rock + Metal Albums of the 1980s
10 Unforgettable James Hetfield Moments