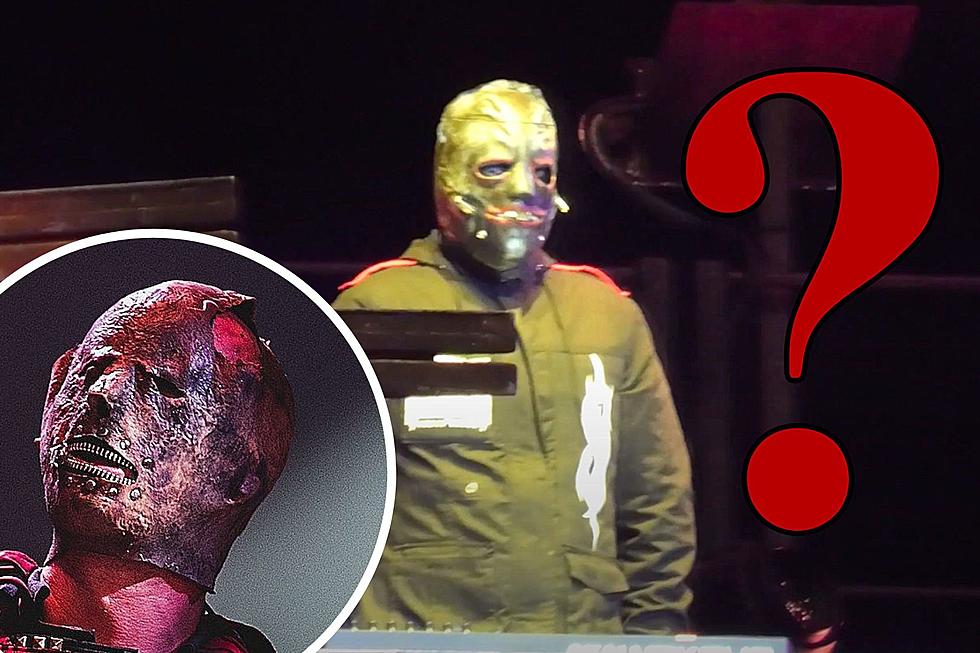 Michael 'Tortilla Man' Pfaff May Have Accidentally Revealed Identity of Slipknot's New Keyboardist
YouTube: Bahomar / Anthony Scanga
Less than a month after splitting with Craig Jones, the identity of Slipknot's new mystery keyboardist may have accidentally been revealed in a photo posted by percussionist Michael "Tortilla Man" Pfaff.
On June 7, moments before stepping onstage at a festival, Slipknot issued a statement indicating they had parted ways with Jones, who was a member of the group for 27 years. Shortly after the news had spread, the band deleted the statement and, once their set wrapped up, they posted a professional headshot of the latest addition to the group.
Fans quickly began to speculate who this new member is, and those who suggested that former Ghost keyboardist Zac Baird, who has also toured with Korn and collaborated with Evanescence, might have been right all along.
Pfaff, whose identity wasn't confirmed by the band until three years after he joined, knows what it's like to try to maintain anonymity. However, it appears he was much better about keeping his own identity a secret than that of his new bandmate.
On the Slipknot Reddit page, a photo emerged of Pfaff in the band's dressing room, which was first shared on the musician's Instagram story before being removed. A metal rack where each member's stage clothes were hung has several signs affixed at the top, each for a respective Slipknot musician. The names read, from left to right, Sid, Za— (name cut off), Mick, Pfaff and Corey. One other sign between Mick and Za— is obscured entirely.
Presumably, since nobody else's name in Slipknot has the letters Z and A next to one another, this sign is there for the keyboardist. Naturally, fans have been eager to link the sign with Zac Baird.
you guys might be right about zac baird…
by u/Economy_Tonight5882 in Slipknot
Of course, it's entirely possible that the new keyboardist is not Baird and is, instead, someone else with a Za— name, either first or last. Could this be one big troll move? Are Slipknot aware fans think the new member is Baird and this is their way of messing with everyone?
Even if it is Baird, it could be a long time before Slipknot come out and say it.
Speaking about Jones' replacement in mid-June, Slipknot's Corey Taylor told Chaoszine, "Obviously any time you have a change like that, it makes you kind of have to lean into adversity a little bit. We took a little more time to figure things out, and obviously [find a] new guy. [He's] good, really good — a total musician. But it took him a second to kind of find his way. But now he's killing it. He's really, really good."
New Masked Rock + Metal Bands You Need to Know About
New masked bands you should uncover.
The Evolution of Slipknot's Terrifying Masks