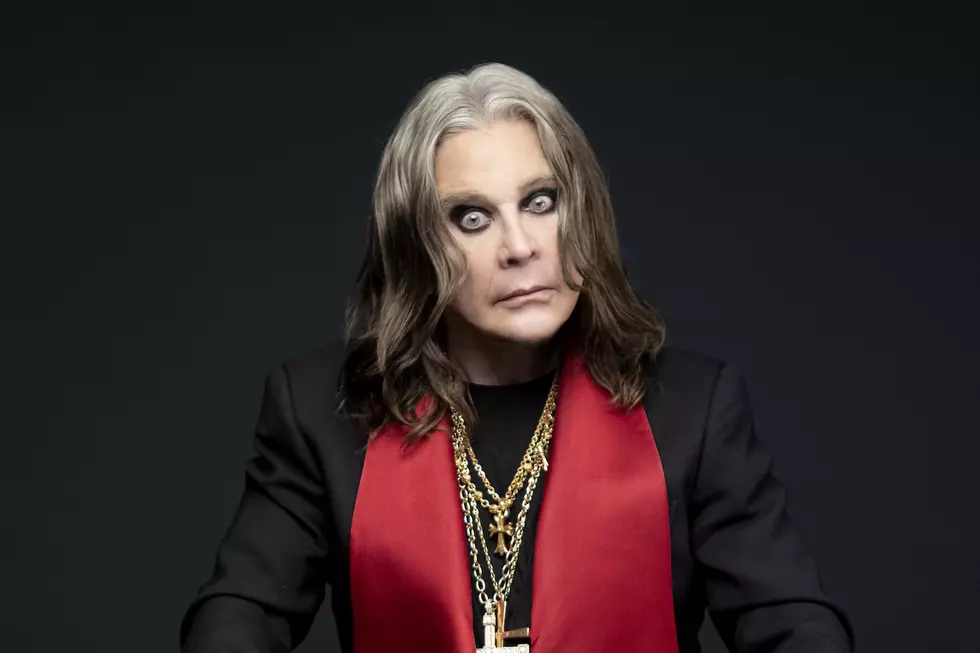 Ozzy Osbourne Reveals Next Album Will Be Mostly Guest Free
Epic Records
As we saw on Ozzy Osbourne's Patient Number 9 album, there are still iconic rock stars that would love to work with the Prince of Darkness. But Ozzy has revealed that after that star-studded collection, his next album will primarily focus on himself.
The singer recently spoke with Brent Porche of Philadelphia's 93.3 WMMR, discussing his plans for his next studio album, which he hopes to begin recording early next year.
For the album, Ozzy will once again partner with producer Andrew Watt, but says that Watt's status has become more in-demand since they first worked together on 2020's Ordinary Man album. "Being laid up for about five years because of the surgery thing and the fall I had, I was going nuts. So I met Andrew Watt and we did a couple of albums together. And I'm waiting for him to get free to do another album. 'Cause everybody wants to use him now," said Osbourne.
Unlike the last two albums, Ozzy said more advance preparation will go into this new set. "Personally, I like to get stuff [worked out] before I go in the studio. But the last couple of albums I had to do differently. A lot of it was done as we went along," he explained. And as for guests on the upcoming album, Osbourne stated, "It's gonna be maybe one," though keeping the identity of that person a secret.
Back in September, Osbourne revealed his intent to do another studio album, noting to Metal Hammer, "I'm getting myself fit. I've done two albums fairly recently [2020's Ordinary Man and 2022's Patient Number 9] but I want to do one more album and then go back on the road."
READ MORE: Ozzy Osbourne Gives a Shout-Out to One His Favorite New Rock Bands
Further discussing his timeline, Osbourne commented,  "I'm just starting to work on it now, and we'll be recording in the early part of next year. I want to take my time with this one."
Given Osbourne's impressive guest list on the last two studio albums, who would you like to see return for another collaboration? Or would you prefer Ozzy's guest be someone stepping in for the first time? Drop your guesses and wishlist in the comments section.
True or False: Which of These 18 Legendary Rock + Metal Stories Actually Happened?
Rock and metal music is full of legendary stories about certain artists that may or may not have happened, in all actuality. Can you guess which ones are true and which ones are false? Sometimes it's hard to tell, but we all definitely heard these stories out in the schoolyard at some point. Keep scrolling for the legendary rock tales and their corresponding answers, and see how many you get correct.
Gallery Credit: Philip Trapp