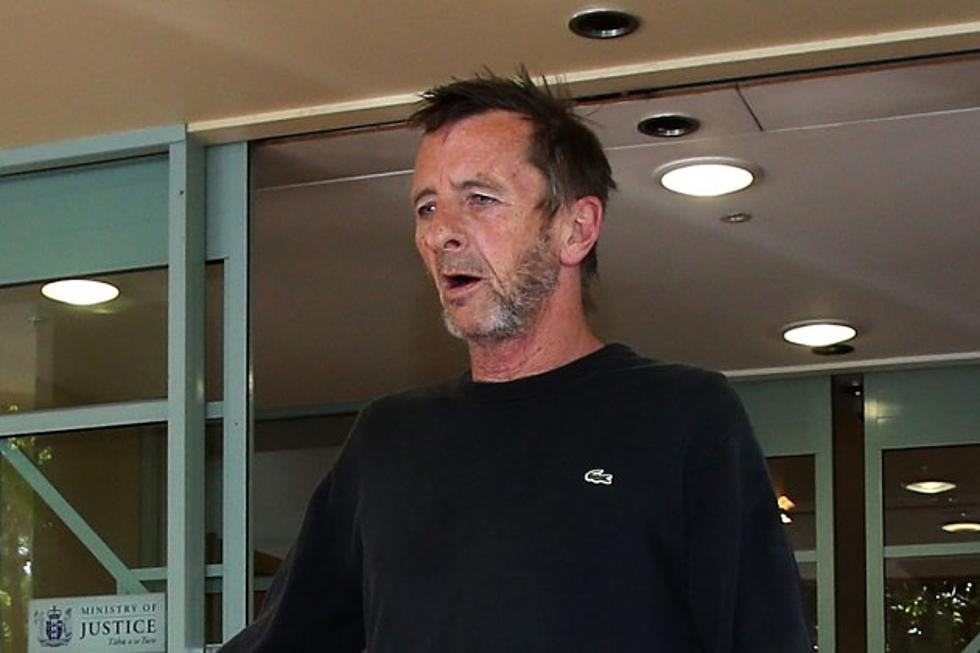 Police Arrest Estranged AC/DC Drummer Phil Rudd in New Zealand [Updated]
Joel Ford, Getty Images
Update: According to the Otaga Daily News, Phil Rudd has been remanded on bail after allegedly being caught consuming and possessing alcohol, a violation of his home detention conditions. The report also stated that prostitutes were present at Rudd's home at the time of his Saturday night arrest. Rudd was ordered to undergo drug and alcohol testing by police as a condition of his bail. The rocker is expected to reappear in court on Aug. 3 and he was warned by Judge Louis Bidois that any further offenses could result in a change in his home detention sentence.
AC/DC drummer Phil Rudd, who was recently sentenced to home detention, has once again been arrested in Tauranga, New Zealand.
According to New Zealand's Stuff, the band's estranged drummer was taken into custody at his home on Saturday night (July 18). Details are sketchy on what led to the arrest, but Rudd's attorney, Craig Tuck, told the media, "All I can say is he has been arrested and will be appearing on Monday at 10AM in the Tauranga District Court. That's all I can say for now and that's all I am telling everyone who is calling." The Bay of Plenty Police Department also refused to add any details about the arrest until after the drummer had his day in court.
Earlier this month, Rudd was sentenced to eight months' home detention by Judge Thomas Ingram. The sentence came after Rudd pled guilty to drug possession and threatening to kill relating to a late 2014 arrest. The rocker had been found in possession of methamphetamine and cannabis and there had been a revelation that the drummer had threatened to kill an employee after becoming agitated by the poor sales of his solo album.
Rudd had argued during the sentencing that time away from AC/DC would do significant financial damage to him, but the judge stated that there was nothing suggesting that he was still a member of the band. Rudd did appear on the band's current Rock or Bust album, but onetime AC/DC drummer Chris Slade has returned to the band during Rudd's absence. Rudd's lawyers had begun to appeal the sentence prior to his new arrest.
During the sentencing, Ingram told the drummer that if he ran afoul of the detention, he'd return to prison. "I stone cold guarantee that's where you'll end up. I'm not your headmaster, I'm not your father, I'm a judge," said Ingram. As of Saturday night, the drummer was still behind bars.
Angus Young + Brian Johnson Talk Malcolm Young's Absence
See Where Phil Rudd Ranks Among the Top 50 Rock + Metal Drummers