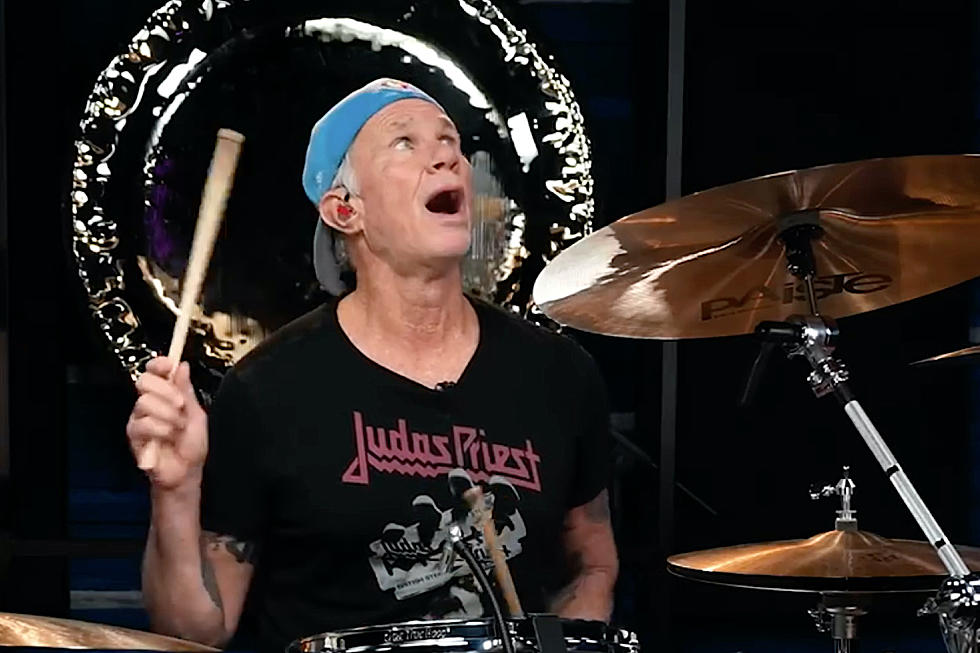 RHCP's Chad Smith Crushes Drum Cover Without Even Knowing the Song – 'Was That My Chemical Romance?'
YouTube: Drumeo
Red Hot Chili Peppers' Chad Smith displays his musical talent in a new Drumeo video that shows him crushing a cover song on drums — on the very first take — without even listening to it first.
"It's some kinda emo thing — I don't know what the fuck it is," the Red Hot Chili Peppers drummer quips when asked to guess the track after he finishes playing it, incorrectly presuming the artist is My Chemical Romance. He then learns the song is actually Thirty Seconds to Mars' 2006 hit "The Kill."
Watch the video toward the bottom of this post.
READ MORE: Unexpected Rock + Metal Covers
Prior to his valiant attempt, Smith says to the viewer, "Here comes some music that I've probably never heard before. And I'm gonna try to play along to it and do my best. Take a good musical stab at it and see if I can make sense out of it."
After playing the Thirty Seconds to Mars song, the drummer exclaims, "What the fuck was that?! Is that like, My Chemical Romance or something?"
Drumeo often puts drummers to the test with blind song run-throughs. In 2022, a funk drummer nailed Tool's "Schism" without hearing it first.
Last year, Red Chili Peppers released two studio albums, Unlimited Love and Return of the Dream Canteen. They are on tour throughout the world right now. See the dates down below.
Under the video, find Loudwire's list of ridiculous metal covers of classic songs. Get the Loudwire newsletter and Loudwire app for more.
Chad Smith Hears Thirty Seconds to Mars for the First Time ("The Kill" Drum Cover)
Red Hot Chili Peppers 2023 Tour Dates
Sept. 27 – Hershey, Pa. @ Hersheypark Stad.
Sept. 30 – Bridgeport, Ct. @ Sound on Sound
Oct. 31 – San Jose, Costa Rica @ Estadio Nacional
Nov. 4 – Rio de Janeiro, Brazil @ Nilton Santos
Nov. 7 – Brasilia, Brazil @ Arena BSB
Nov. 10 – Sao Paulo, Brazil @ Estadio do Morumbi
Nov. 13 – Curitiba, Brazil @ Couto Pereira
Nov. 16 – Porto Alegre, Brazil @ Arena do Gremio
Nov. 19 – Santiago, Chile @ Movistar Arena
Nov. 21 – Santiago, Chile @ Movistar Arena
Nov. 24 – Buenos Aires, Argentina @ River Plate
10 Ridiculous Metal Covers of Classic Songs
Here are 10 ridiculous metal cover versions of classic songs. In the list below, you can read about the original tune first, with each song entry followed by the info about its corresponding ridiculous metal cover. Are you ready? (Click on the listen links to hear any version.)