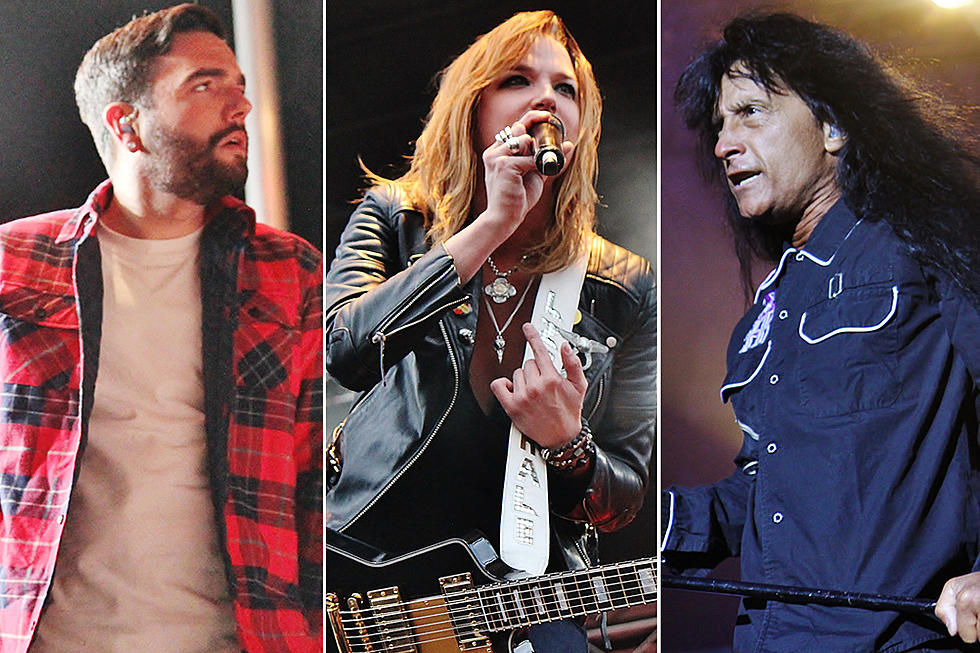 Rock'N Derby 2016 – Day 2: A Day To Remember, Halestorm, Anthrax + More
Liz Ramanand, Loudwire
The second day of Rock'N Derby 2016 was jam packed with bands, and if the music wasn't enough, you could dig into some delicious food, watch a wrestling match or check out the exciting and gritty demolition derby races.
On the Derby Stage, A Day to Remember headlined and threw a massive party complete with loads of confetti. Frontman Jeremy McKinnon not only paid attention to cameras but serenaded and engaged with fans. The entire show was a sensory overload with huge beach balls overtaking the festival grounds and stage as well as fans crowd surfing nonstop. Female fronted act Halestorm took the stage just prior for some rockin' riffs, soaring vocals and catchy tunes. The band brings sass and serious talent wherever they go. Lzzy Hale and her gang provide a compelling show that is not to be missed.
Nearby the concert stage, the demolition derby took place with some decked out band cars. One of the members from A Day to Remember even took part as a driver in the event. The derbies never had a dull moment as a tire flew off one of the cars and a couple of small fires broke out.
Over on the Rock'N Stage, the almighty Anthrax took command for a mind blowing set. While frontman Joey Belladonna reached epic high notes, bassist Frankie Bello high jumped around the stage and guitarist Scott Ian kept fans invigorated by yelling at them …but in a caring way, of course. With decades of music under their belt, Anthrax continue to set the bar when it comes to playing live and their force is completely undeniable. Old school rock acts Extreme and Sebastian Bach also performed earlier in the day. Foo Fighters drummer Taylor Hawkins had some fun playing well known rock tunes in his cover band Chevy Metal.  All That Remains also delivered a lively set towards the beginning of the day while Avatar stole the show as one of the best acts of the weekend. With facepaint, charisma, limitless dynamism and a hint of creepiness we can only hope that one day Avatar have a festival of their own.
The indoor Upstate Concert Hall Arena Stage also housed some incredible bands as Beartooth ripped apart the stage. Metal band For Today also provided a pummeling set for fans as did New York's own Stray From the Path. Another New York based band that commanded the stage was female fronted act Cilver who are gearing up for the release of their debut album Not the End of the World.
Check out photos of some of the bands who performed in our gallery above and stay tuned for our coverage of the third and final day of Rock'N Derby 2016!